photos by Jenna R. Dana
I remember the day my mother gave me my first Thelwell book. It was a vintage book that she had for some time and passed down to me the day I received my first pony. It is only fitting that I was introduced to the world of Thelwell at exactly the same time I was introduced to the world of ponies – the cute, adorable, spirited, stubborn and (sometimes) nasty little creatures that they are.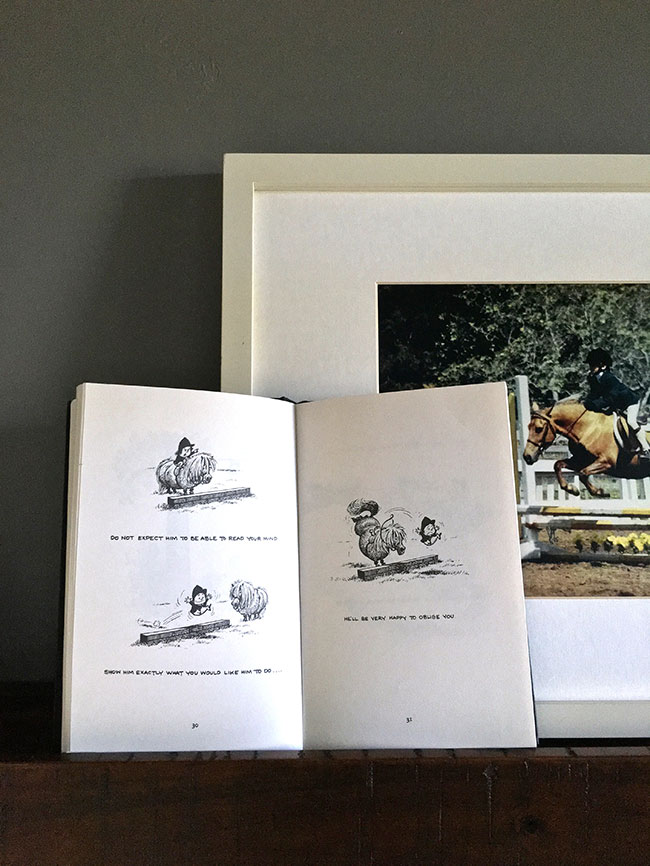 Having spent a number of years upon the backs of full-size horses, I had developed a strong obsession with riding. But I was small. Very small. And my petite size got the wheels turning in the minds of my parents. A pony, they thought, would be ideal for their daughter. They were not pony people. They were horse people. And they were blindly and blissfully unaware of the nature of the pony. So I received my darling "Dusty" for my 8th birthday and all of our worlds seemed to change instantly. She was flashy, had a lust-worthy thick mane and tail, and a stout 12.2 hands high build. She was forward – very forward – and loved to jump. But she was also challenging, strong-willed, eyebrow raising, and full of piss and vinegar. That precious little ill-tempered pony pushed me and made me the rider I am today. She was every bit the quintessential Thelwell pony.
Pony people know Thelwell. But horse people are not as familiar with this celebrated, entertaining and iconic artist. And I have come to realize that (gasp!) today's pony generation is not nearly as familiar with the Thelwell world as the pony generation of my past. So, a little Thelwell schooling is certainly in order.
Norman Thelwell was a British cartoonist and illustrator whose on-point depiction of ponies and their riders brought him unending fame. Born in 1923 in Birkenhead, Cheshire, Norman Thelwell took to art at an early age and preferred drawing and painting to any other school subject. In 1941 Thelwell joined the army and recalled always traveling with his sketchbooks. He spent his early career working as an art editor, an art teacher, a cartoonist and a freelance art contributor. In 1952, Thelwell became a contributor to the popular satirical magazine Punch, and, so it seems, the rest is history. With Punch magazine, he embarked on a 25-year relationship resulting in nearly 2,000 cartoons. "He loved to draw animals and horses," says Thelwell's son, David Thelwell. "And when asked to do a few pony cartoons, the whole thing took off. He covered many subjects in the cartoons and was bemused by the popularity of the pony ones."
Norman Thelwell spent his childhood in a shipbuilding city. To escape their day-to-day urban environment, sometimes the family stayed on a farm in North Wales for the summer. As a child he developed a love for the countryside and for the farm animals. But Thelwell was not a horseman, which makes his witty and seemingly knowledgeable portrayal of horses and ponies so intriguing. "Towards the end of the war [my father] was sent to India and while spending time in the foothills of the Himalayas, [he] rode a horse," says David Thelwell. The horse bolted downhill and 'put him off for life' says his son. "Maybe that's why he was so impressed with the fearless nature of little children riders," he continues. Norman Thelwell once observed, "I've had the misfortune to be mounted, and actually it's been a quite hairy experience on several occasions." He often questioned the popularity of riding and wondered why "children take to the saddle like the hordes of Genghis Khan." He was able to illustrate the horse-riding obsession with deadly clarity and true comic genius.
Like any good cartoonist, he meticulously researched his subject and came to know a great deal about riders and their mounts. He developed a keen understanding of the unique relationship between a horse and a human, while always keeping a safe distance. He was never inspired to get back in the saddle. "For a cartoonist, it is better to comment on a subject when you are standing on the sidelines and not involved in the action," says David Thelwell.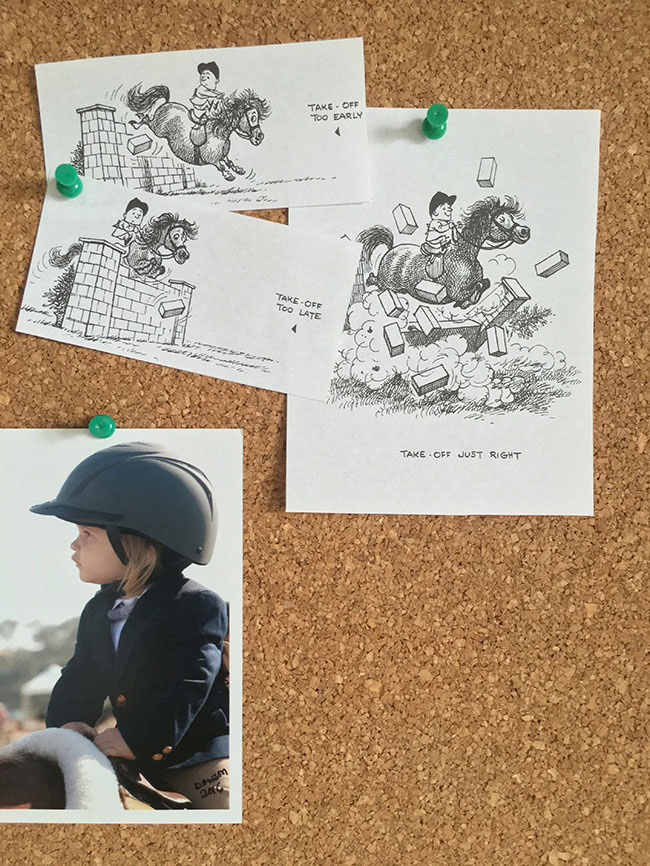 In an interview Norman Thelwell spoke of the moment the 'Thelwell Pony' was born. "One day I did a pony drawing and it was like striking a sensitive nerve. The response was instantaneous. People telephoned the editor and asked for more. Suddenly I had fan mail. So the editor told me to do a two-page spread on ponies. I was appalled. I thought I'd already squeezed the subject dry. I looked at the white drawing block and wondered what on earth to do. In the end I dreamed up some more horsey ideas and people went into raptures."
He possessed a knack for characterizing the good and the bad, the ups and the downs, the wins and the disasters of riding, with perfect embellishment. A sore loser placing a set of shoes and nails on the seat of the winning peer's saddle, the bloodied fallen hunter, the insulting untidy rider. But Norman Thelwell was also an accomplished and skilled landscape portrait artist who painted stunning works of the British countryside. When reviewing the popular pony cartoons, if you look past the cartoon and the humor itself, you can see the talent and beauty in the background landscapes. Nevertheless, it was always the four-legged ponies which he described as "dangerous at both ends and comfortable in the middle" that attracted the masses.
The Thelwell name soon became synonymous with children and their little fat ponies. His first collection of cartoons, Angels on Horseback, was published in 1957 and the Thelwell Pony thus entered the language and the libraries of equestrian enthusiasts across the globe. Additional books followed, along with columns, cartoons, and Thelwell merchandise. The Thelwell mantra spoke to learning how to get into a saddle, and studying the art of staying there. And now the original book that started it all, Angels on Horseback, is preparing to celebrate it's 60th anniversary with new releases and new licensed merchandise. The Thelwell art is now available on equestrian belts, boot socks and pony pads. The sharp social comment that popularized his name in the 1950s has succeeded in resonating with multiple generations and still rings true today. Times may have changed, but the pony-child relationship has not.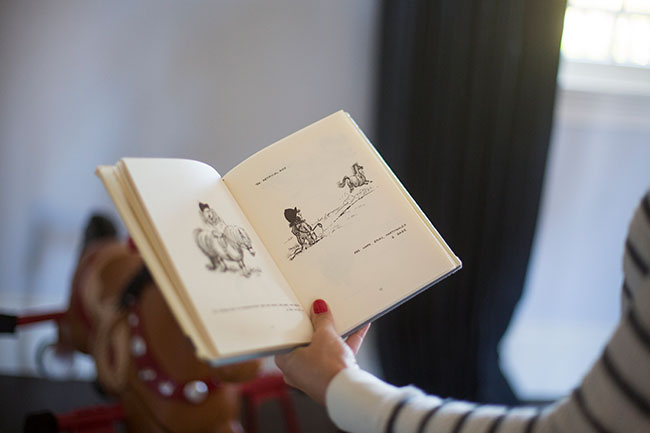 As a pony-riding child, I adored these books. And as an adult, I enjoy them even more. It only seems fitting, that all these years later, this same Thelwell-Pony-owning little girl is now a Thelwell-Pony-owning adult. We surprised our children this summer with their very own cute, adorable, spirited, stubborn and sometimes nasty little pony, which we affectionately call Kevin. As loving and pony-understanding parents, we are confident he will make them into exceptional riders. He is challenging, strong-willed and full of piss and vinegar. He is also every bit the quintessential Thelwell Pony.
With the 60th anniversary of Angels on Horseback taking place this year, there is a resurgence of Thelwell, breeding a new generation of Thelwell lovers. It is a pony-mad world, and we all might as well have a little cheeky fun with it.
All Thelwell Cartoon Imagery © The Thelwell Estate 2017. Reproduced by permission of NewTack Strategies, Inc.