Photos by Will Draper
While Rebecca Yuhasz Smith, owner of the eponymous handbag and equestrian lifestyle company Rebecca Ray Designs, is only the third owner of her horse farm, the farm itself has enjoyed quite a fulfilling history. Built in the early 1920s, the farm is located in picturesque Moreland Hills, Ohio, which is part of the Chagrin Valley.
THE EVOLUTION OF HEMLOCK LANE AT VALLEY HIGH
Well-known architect, Dominick Benes of the Hubbell-Benes Architectural Firm, designed and built the farmhouse to serve as his country home. His firm designed most of the influential commercial and civic buildings in Cleveland during this period, including the Cleveland Museum of Art, Wade Park Cultural Circle, and the West Side Market. Benes named his farm "Valley High," and Smith notes that there have not been any architectural changes to the house since Benes' ownership. "Benes was also a Master Gardener, and many of his designs and trellises are still here. We have enormous Japanese Maples that were said to have been a gift to him from the City of Cleveland," says Smith.
After Benes' death in the mid-1940s, the Temple family purchased the farm, and Dr. and Mrs. Temple were avid preservationists who also raised world class Arabians and show dogs. "They grew and canned most of their food on this property. We have heirloom apple, peach, and pear orchards, as well as a significant Concord grape vineyard. I can a variety of fruits each year."
The Temples kept the name "Valley High," so Smith wanted to hold onto this historical tie. "My parents had long ago established our kennel name for the English Setters we raise as "Hemlock Lane," so we named the farm "Hemlock Lane at Valley High" to honor the original farm, Benes, and the Temples – all who so dearly loved this property."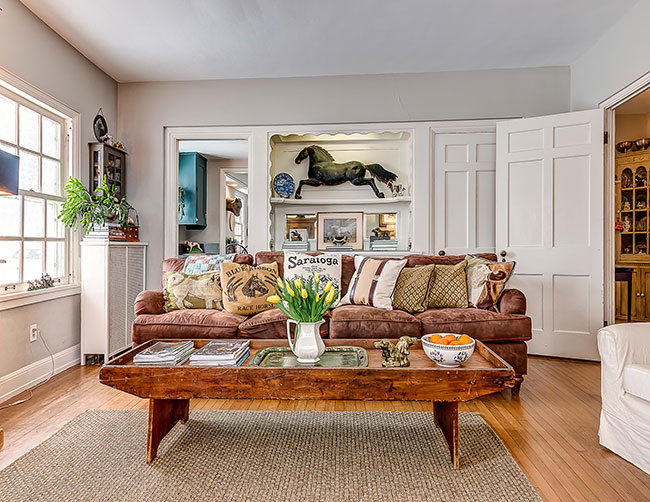 ECLECTIC ROOTED IN TRADITIONAL
It's hard to believe by looking at the photos, but Smith's house has yet to be renovated. After they moved in, they gave the interior a brief freshening up, but they quickly set their sights on the barns and outdoor living areas. The property had been vacant for twelve years before they moved in, so they began by rebuilding the pasture fencing and updating the water lines, electricity, and pumps.
"We raise AKC Champion English Setter Show Dogs and show Percheron Draft Horses, so getting our animals settled and comfortable was key. The ceiling height of the original barn was a problem as every time our 18 hand Percherons walked in the barn, the hames from their harnesses knocked out every light bulb down the center aisle. So a new, state-of-the-art barn and kennel facility was a priority. But, we wanted them to look like they had always been here on the property, so we designed a barn with reclaimed brick floors, European stall fronts, and all in our "Hemlock Lane" colors of deep, dark green. The kennel has radiant floor heat and slate floors, and we have a fabulous tack room that doubles as an entertaining space."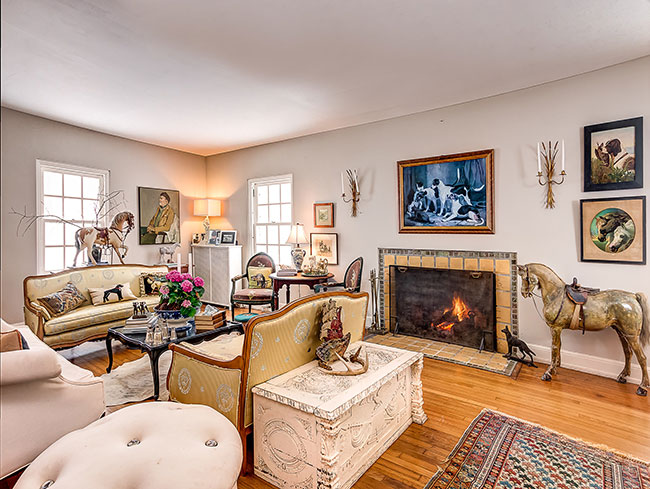 Despite its lack of in-depth updates and renovations, Smith's home is warm, inviting, and a true reflection of the family that resides within. The Smith family lives the sporting life, and the design, décor, and overall functionality mirror their love of the outdoor life.
"My style is eclectic, but is certainly rooted in traditional design. I like to use the color black as a subtle anchor, and you'll always see it in each of my rooms as it tends to give the eye something to rest on; it grounds a room. I adore mixing high and low, and I always prefer to buy vintage or antique if I can. I've been collecting forever, and my collections have always served as an incubator of inspiration for my designs for my company Rebecca Ray Designs." Smith invests in sporting art that features both horses and dogs. As members of the Chagrin Valley Hunt where her daughter, Elizabeth, and her husband, Derek, are whippers-in, Smith also has a renewed interest in foxhound and foxhunting pieces.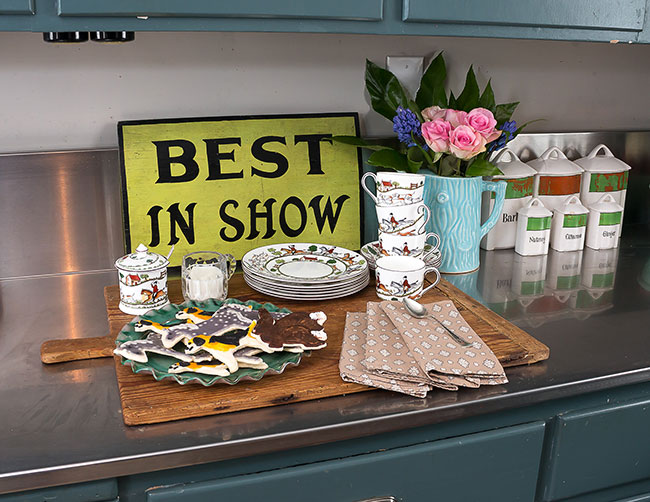 A STORY OF WHAT MOVES YOU
Smith notes that a home should be more than just four walls and a roof – it should tell the tale of where you've been and where you're going. It is a place to hold your memories. "A home should tell a story of your travels, your interests, and what moves you."
One piece in particular that does just that is the large horse weathervane that is proudly on display in her family room. "My husband and I found that piece at a flea market in France; it had been on the front of a wrought iron estate gate. At over three feet long, it is quite substantial, and we carried it all over Europe with us. I carried it home on the plane in the overhead bins. Airport security was not happy with me and debated for some time about whether or not his tail could be used as a weapon. Between my tears and our language barrier, they finally relented!"
Other favorites that add equestrian character to Smith's home are the primitive pieces of furniture and dog art that were her grandmother's. As she was a dog show judge (as is Smith's mom), those pieces have great sentimental value. "I also have a bit of a problem with China and Porcelain! I adore entertaining both formally and informally, and I love to set a table. During the photoshoot for this article, I set our dining room table with vintage green American Stangle dishes, as well as antique Marguerite Kirmse Sporting Dog Plates by Wedgewood. The stemware is vintage green crystal and antique hand-painted Rose Medallion. The black and white Staffordshire Dogs are items that also came back on the plane with me from England."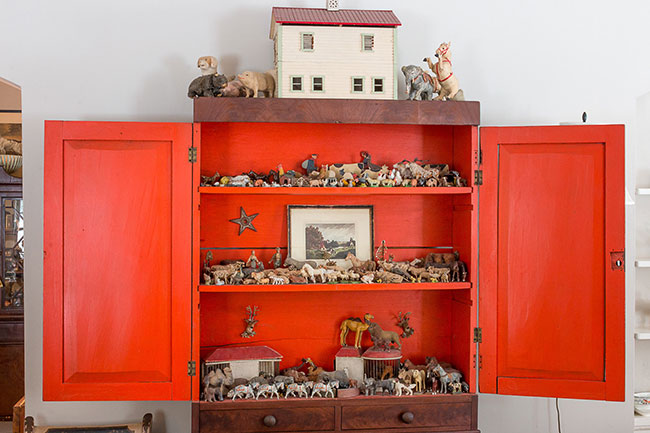 Smith has a hutch full of miniature animals she's collected since she was a child. These animals are all hand-carved and originate from England, France, and Germany. "I found the walnut and orange hutch they are displayed in at the Chagrin Falls sidewalk sale for $200. It had been last used by a florist, and it has flame orange door interiors, which I adore. If you follow my designs, you know that orange is a key color for Rebecca Ray Designs and our orange "Mary Ann Tote" with the horse head is one of our best sellers. In many ways, orange can be an anchor color like black."
BEAUTIFUL YET PRACTICAL
Smith is a self-proclaimed "detail nut," and notes that even the smallest design aspects should not be overlooked. "The more detailed finishes and styling, the more complete your look. I worry about all of the small things like tassels and tiny pieces of art that just seem to finish a space. Layering and accessorizing is key."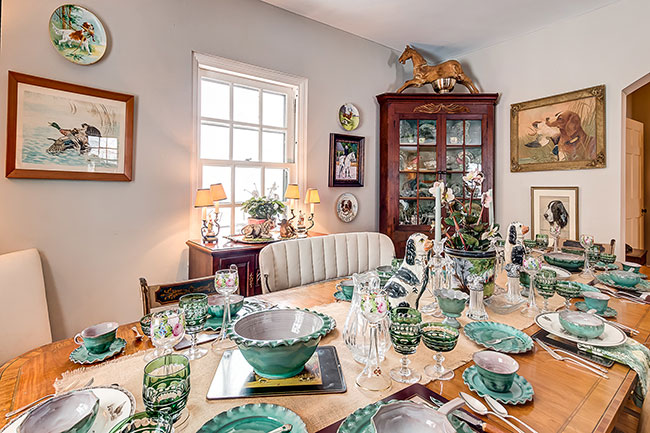 Large home renovations are on the horizon for "Hemlock Lane at Valley High," and Smith looks forward to expanding the house a bit so they have more room for entertaining. Like most equestrians who live on a working farm, however, Smith wants her home to be both beautiful and highly functional. "Our home has to be practical and stand up to kids and animals in the house. Much to the dismay of many of our friends, we built our dream barn first, before the house, but it was important to us to get our animals settled, as well as to live in the house a while to see what we really wanted. But our goal is to bring the property back to its former splendor, and utilize it once again as a family farm."
For now, Smith enjoys living the sporting life with her family, and decorating her home to reflect their outdoor adventures. She believes homes should showcase your hobbies and passions and recommends foraging for unusual things to use as décor. "Through the years, I have always told my design clients to buy what they love, and it will always fit. Always be on the lookout for things that you love."