Written by Gundi Younger
About twenty-five years ago, I went on an amazing safari in Africa, and I've wanted to go back ever since. So when the opportunity arose to explore Kenya's Mara Conservancies on horseback, I said yes without hesitation, as did my dear friend Philippa when I invited her to join me. She traveled from London to meet me in Nairobi to embark on the trip of our lifetimes.
Safaris Unlimited Takes the Reins
Once I decided to go, the experienced crew at Safaris Unlimited took over all the arrangements. Before I knew it, I was landing at Jomo Kenyatta International Airport, where I was greeted by a member of the crew, and transported to the charming Macushla House in the Nairobi suburb of Karen. Philippa arrived later that night, and the next morning we were transported to Wilson Airport where we met the two other safari travelers; Julie, from Wellington, New Zealand; and Susanna, a British resident of Abu Dhabi. We quickly discovered that we all shared a passion for horses; and I can now say that we are friends for life.
Meeting the Safaris Unlimited Family
We flew on a little Cessna Grand Caravan to the Maasai Mara (or as the locals call it, the Mara), and were met by Gordie Church, legendary Owner/Operator/Professional Safari Guide of Safaris Unlimited. Gordie was born in Kenya and has been going on safari since he was a young boy. His passion and respect for Africa's people, wildlife and environment is palpable in everything he says and does. He was the perfect guide for our 120 mile trip through the Mara.
When we arrived at our campsite we were warmly met by the entire crew. Gordie's beautiful wife, Felicia, and their adorable twenty-two month old daughter, Tyga said hello first. One of Felicia's many jobs was to tend to the horses, and her knowledge about, and devotion to, each animal was amazing. She had safari-trained each horse that was with the group, and had even brought along two of her young homebred horses that were just beginning their safari career.
British-born Daisy, an aspiring safari guide, was knowledgeable and helpful about anything related to the wildlife. Her smart, generous and sunny disposition entertained us endlessly. Another British-born guide, Venetia, lives in Kenya and works for Sirai Stud in Laikipia, as their specialist in modern equine reproduction. Her goal is to breed the perfect safari horse. On our safari, she was another expert on the wildlife and the horses, and she assisted with anything horse related.
There were many more people in the crew, working to make sure the safari ran seamlessly, as it always did. Each person was kind, friendly and warm, and they worked wonderfully as a team.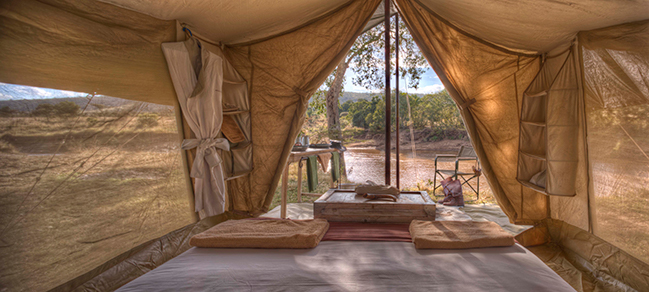 Five Star "Camping" Accommodations
During the course of our safari, we all stayed in private, canvas tents, but the word "tents" really does not do the rooms justice. These tents, custom designed and handmade in Kenya, were roomy, mosquito-proof, and simply furnished in traditional safari camping style with double or single beds, carpets and bedside tables. The beds were very comfortable, with warm feather duvets and Egyptian cotton sheets. At night, a hot water bottle placed at the foot of the bed added an extra bit of luxury. Each tent had a separate private canvas shower and toilet placed conveniently nearby. The level of service was equally impressive. We had coffee and tea delivered to our rooms in the morning, and they offered laundry service every other day. This was glamping at its finest.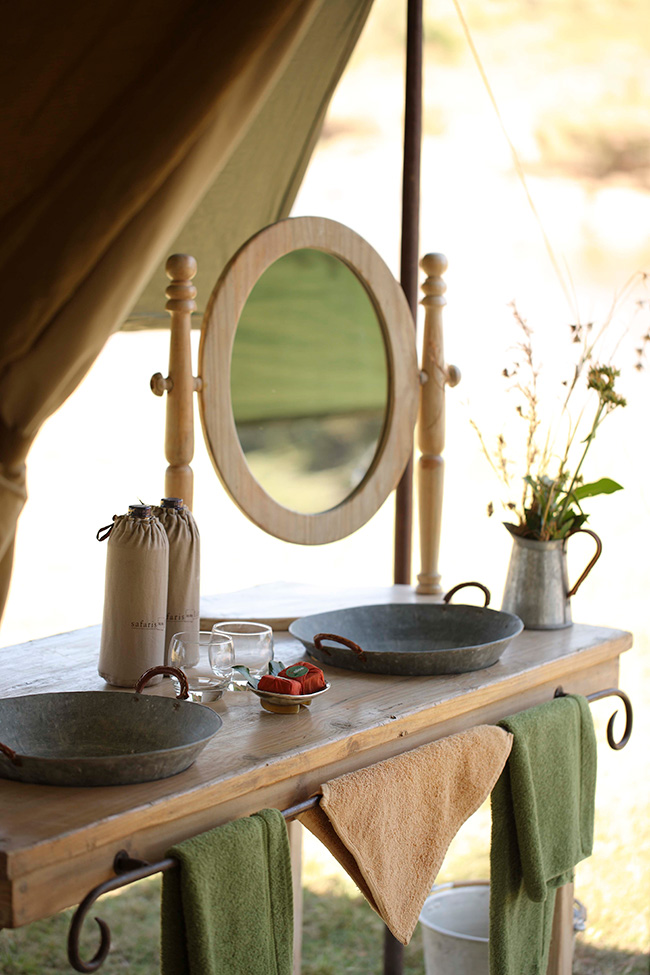 Zero Footprint on the Land
Sustainability is a big theme for Safaris Unlimited (and is of utmost of importance to Gordie), so each time we left a campground, the land was left the way we initially found it. For meals, there was not a plastic item to be found. Each meal was served on porcelain dishes, each drink was served in a glass, and only linen napkins were provided. The same eco-friendly standard was kept whether we were eating at camp, or out for a picnic during our ride in the bush.
This commitment to sustainability extends to the camp at large, which consisted of numerous guest tents, a dining tent, a kitchen and pantry tent, and several tents for the crew. The team moved our camp every other day, which meant the entire setup had to be taken down, loaded up, transported to the next campsite, and then rebuilt before we arrived with our horses. Once it was packed up, all that was left were some ashes from the fires. It felt good knowing our time in the Mara was not adversely affecting the land or its people.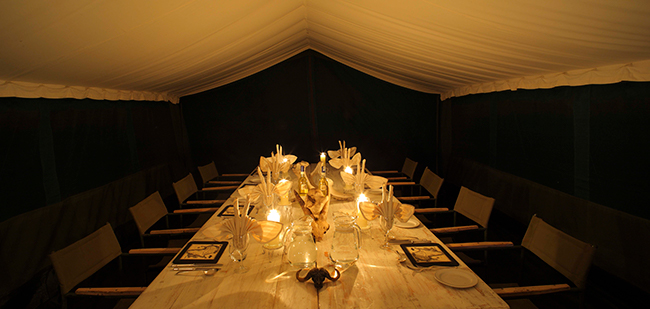 Fine Dining and Drinks
Nightly dinners were served in the dining tent, and the darkness was beautifully illuminated by hurricane lanterns and a nearby campsite fire. The table was always strikingly set with a variety of safari themed decorations, one night's decor being a warthog skull and local greenery. For each dinner we enjoyed an amazing three-course meal that was cooked over an open fire. The menus were diverse and delicious; a combination of soup, fish, lamb, beef fillet, roast chicken, freshly baked bread, fresh vegetables and fruit were served every day. Philippa is a gluten-free vegetarian, but her dietary needs were welcomed and deliciously accommodated at each meal (they even baked fresh gluten-free bread for her!).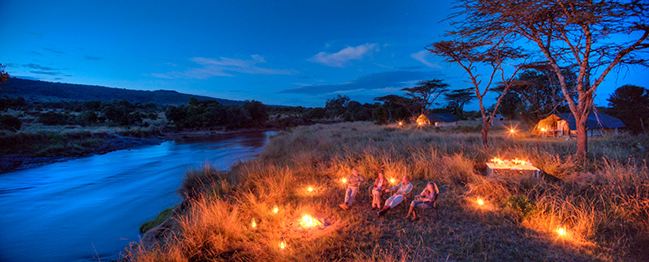 Before dinner we met for cocktails around the campfire. The iconic safari drink, gin and tonic was everyone's drink of choice. We liked to think our drinking was somewhat medicinal; the quinine in tonic water is said to treat malaria and is thought to repel mosquitos, which carry the disease. The bar was always fully stocked and we enjoyed lovely wines with dinner. While the food was wonderful, it was the lively and entertaining conversations that made our meals so fabulous. No calls. No texts. No Facebooking. Just a lot of time spent becoming close friends and learning new things about each other.
Riding Riptide
Prior to going on safari, I was asked to fill out a questionnaire about my riding experience. This helped Felicia pair me with the perfect horse, Riptide.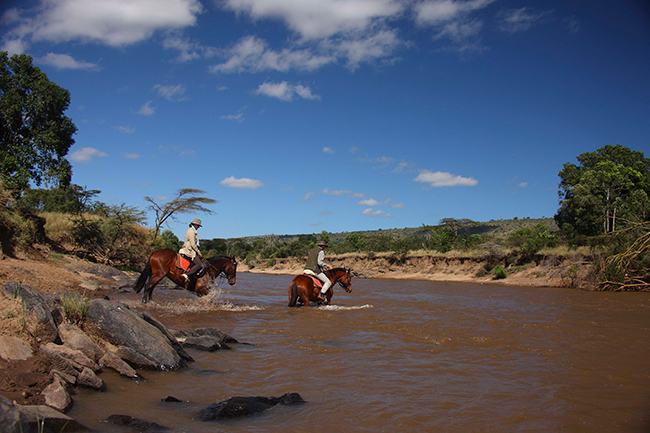 Riptide, or Rip, as I came to call him with affection, is a nine-year-old, 16.1hh Thoroughbred by the famous Argentine stallion, Pochard. Riptide is Gordie's back-up guide horse, which meant that he always wanted to be in the front, right behind the lead horse. That also meant that my gallops across the rocky and uneven plains were always fast, and we were always in front – Rip made sure of it. . .
Continue reading this article free online in Horse & Style's July/Aug '17 issue here!