Photos by Will Tee Yang
Life gets busy. Two kids, two jobs, two dogs – oh, and a house remodel! It's safe to say that my husband Matt and I are very busy at the moment. But honestly, who isn't nowadays? My circle of family and friends, even those without children or house remodels, all have a lot going on. With our culture's obsession with phones, handheld devices and social media, it's hard to slow down, live in the moment and enjoy life. So, when the opportunity arose to leave the kids with the grandparents, hop in a brand new 2017 GMC Acadia Denali, and drive to the Fess Parker Inn in Los Olivos, Matt and I didn't just say yes, we said YES! And that's what we did!
Windows Down, NPR Up
The drive from the Bay Area to central California's Los Olivos was practically a vacation in itself. After we popped our destination's address into the navigation and synced my iPhone to the Bluetooth, we were on our way. Matt and I don't often get a lot of quiet moments alone together, or even alone on our own, so we seized the opportunity to relish an NPR podcast. With the Denali's roomy seats, quiet interior and perfect climate control, it was easy to bliss out on the four-hour ride to Los Olivos.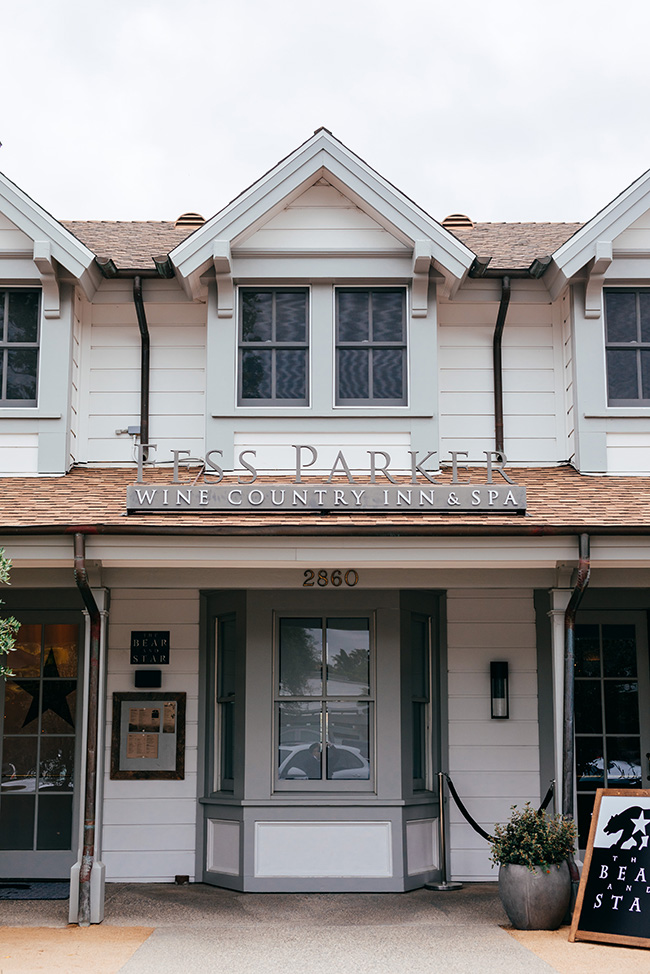 Fess Parker Magic
Just a short drive from Highway 101 is a small quaint street lined with tasting rooms, unique shops, and the crown jewel of Los Olivos, The Fess Parker Inn. As Matt and I took our first steps into the inn, I imagined that our girls must have felt the same way when they took their first steps into Disneyland. The Inn's country-style, modern farmhouse architecture gave the property a warm, magical feel. The lobby was welcoming and tastefully decorated, and the staff happily greeted us. Eventually, we made our way to a beautiful room, the Marcella Suite, which was complete with fireplace, living room and a Jacuzzi tub. After settling in, we headed to Fess Parker's signature restaurant, The Bear and the Star, where we dined on fresh in-season-only fare, crafted with a California culinary twist. It was a delicious end to our first central California day.
Dual Horse Power
The central coast is known for many things, but most definitely for their horse country and their wine. So it was fitting that our first outing on day number two was a trail ride through the Santa Ynez vineyards with Vino Vaqueros. Owner of Vino Vaqueros, Jaye Ganibi, and her staff took excellent care of everyone on our trip. All the horses were kind and well behaved, regardless of whether their riders had previous horseback riding experience or not. After we were done enjoying the panoramic views of San Ynez on our trail ride and had finished taking dozens of selfies, we had the opportunity to test drive the 2017 GMC Sierra 3500 Denali HD, with trailer and horses in tow.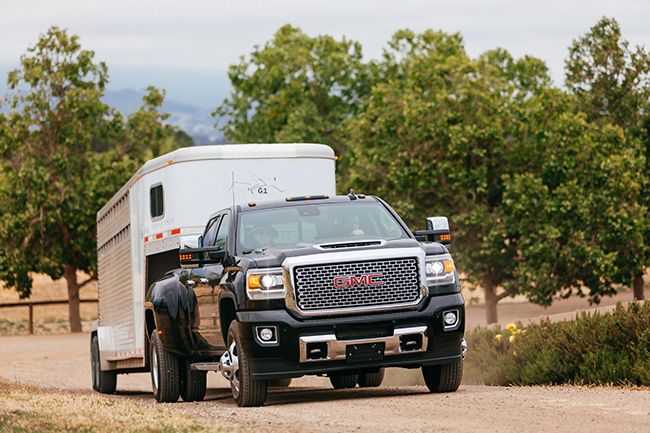 Having driven in a truck and trailer throughout the state over the past twenty-plus years, I can honestly say the Sierra 3500 Denali was the smoothest haul I have ever experienced. And the heated leather seats, wireless cell phone charger, and Bluetooth radio made the Denali, which is essentially just a big hauling vehicle, feel like a luxury sedan.
Wine Thirty
When in the Santa Ynez wine country, one must do what the locals do: drink amazing wine. Fess Parker founded some incredible wine labels produced from central California grapes, and we had the chance to try quite a few of the Fess Parker Winery wines as we strolled through the inn property. While I loved each and every sip, the Fess Parker Vineyard 2013 Viognier was my personal favorite. Our next tasting was at Epiphany, which was actually founded by Fess Parker's son, Eli in 2000. The label is a leading contemporary producer of Rhone-based and esoteric varietal wines from the Central Coast. In the beginning, this label represented Eli's "creative outlet" during his adventurous winemaking stage. In the end, and seventeen years later, I can assure you, every wine at Epiphany is delicious.
Even though it is always hard to leave my kids for a few days, it was even harder to leave Los Olivos after this incredible trip. I fell in love with Los Olivos, and the delicious food and wine the region has to offer. The only thing that eased the sting of leaving was the fact that we still had our Denali to drive for the trip home. But Los Olivos, I will be back!
This article was originally published in Horse & Style July/Aug 2017. Read the full issue online here!