Photos by Andrew Ryback
When Horse & Style became a media partner with World Equestrian Center (WEC), I travelled to Wilmington, Ohio several times to see the facility and watched as they expanded and grew it into one of the country's top horse show venues. While they are still in the process of doing more (which we can't wait to see!), the family behind WEC – the Roberts – also have ideas for expanding the WEC brand in a big way. So I excitedly said "yes" when I was asked to join them in Ocala, Florida, to stay at their Golden Ocala Golf & Equestrian Club, and see the future home of the second location of WEC.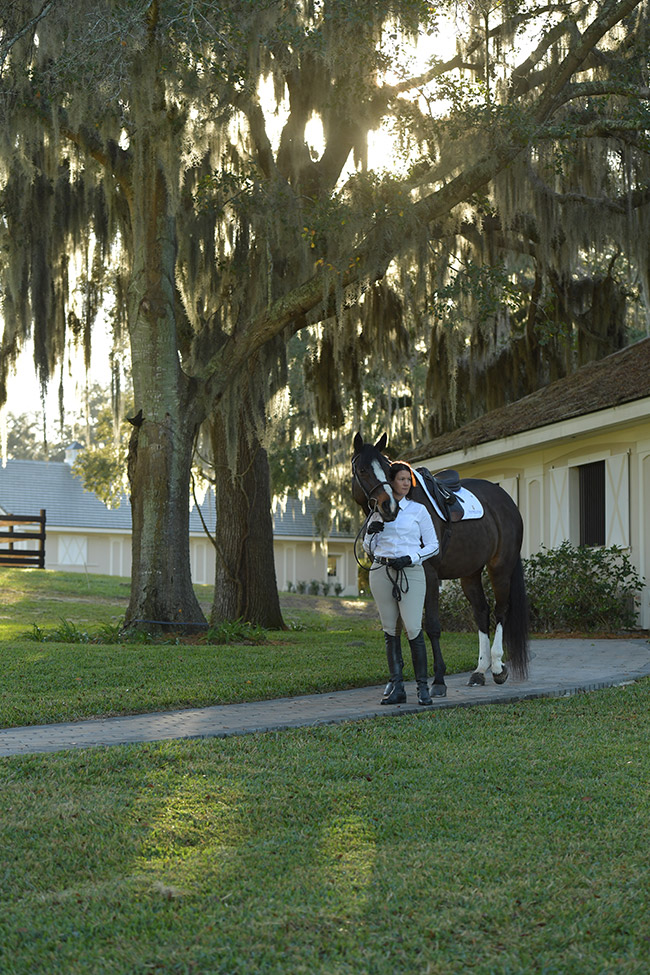 Boots & Breeches Welcome
The Golden Ocala gated community spans 1,200 beautiful acres, and offers several membership options that provide exclusive access to the property's exceptional Golden Ocala Golf Club, The Tennis Club, Golden Ocala Equestrian Center, The Fitness Center, Golden Ocala Salon and Spa, and a stately 77,000 square foot clubhouse. As soon as I entered the Golden Ocala club house, I knew that their tag-line, "boots and breeches welcome" was true. Vintage equestrian prints hung in the entryway of the lobby and throughout the club house. The subtle, yet classic equestrian details, from the gold stirrup lamps sitting on the side tables, to a brown leather chair sitting below an iconic hunt print, are meticulously placed and help to make any equestrian feel right at home.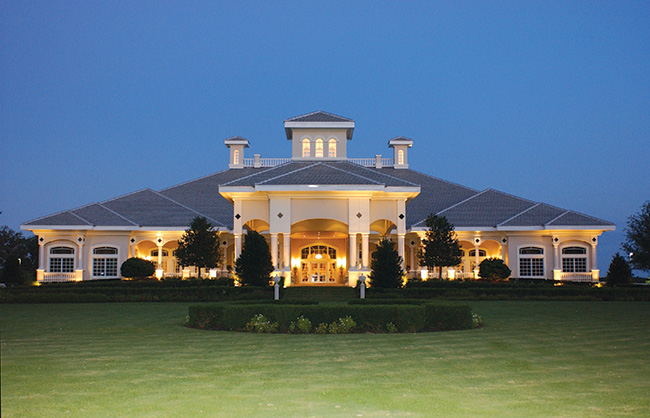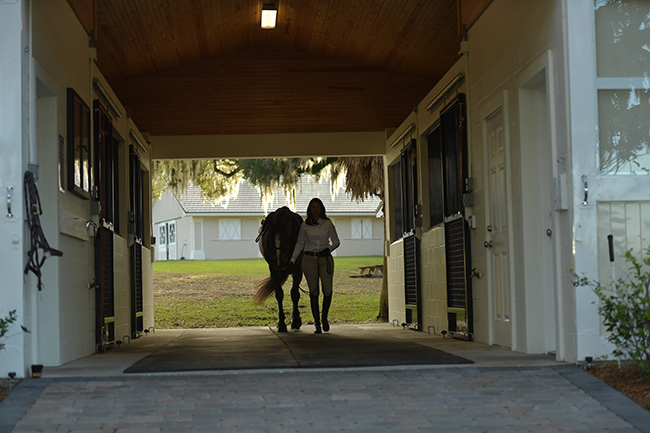 A Home Away from Barn
Every young rider (my childhood-self included), dreams of one day living in a house with their horse in their backyard. My childhood best friend and fellow barn mate and I used to design our future equestrian homes, complete with bedroom windows that opened into our horses' stalls. At Golden Ocala, those dreams can basically come true. With options of living on the property full time, or leasing a home and barn for the show season, Golden Ocala is an equestrian lifestyle playground. The gorgeous backdrop of live oaks with hanging moss provide a private and serene place to keep your horses. No need to get a horse sitter while you are on vacation, just bring them with you to Golden Ocala and enjoy a luxury vacation with your horse in tow, literally.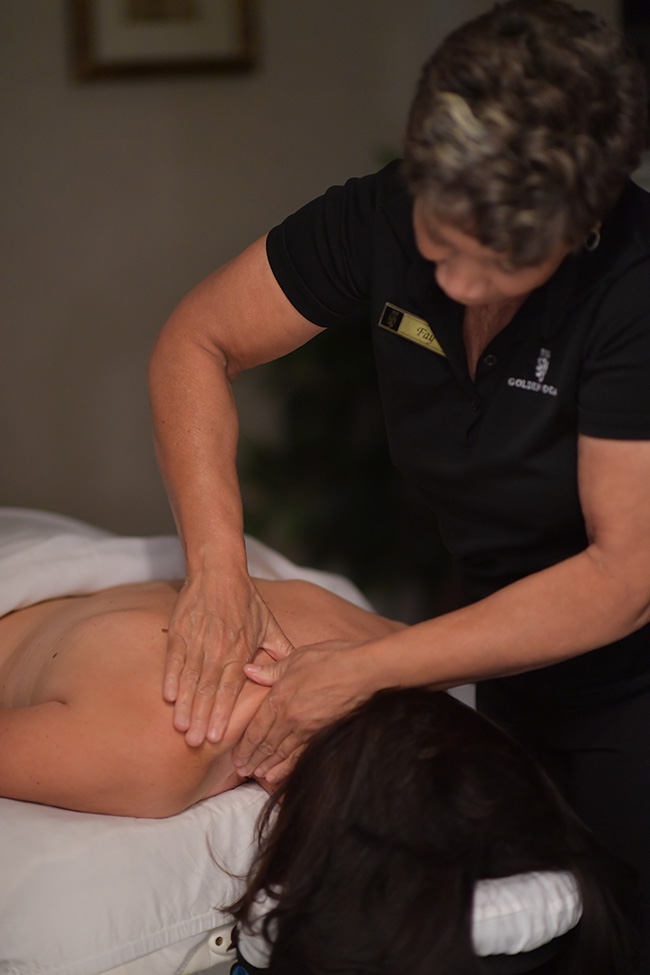 A Rider's Spa
After a long week of horse showing, what's better, or more welcome, than a spa day? The Golden Ocala Spa and Salon is meant for riders; it offers a well equipped gym, pool, and a nail and hair salon that provides almost every spa treatment you could imagine. Hungry during your time at the spa? (Afterall, a massage, facial and pedicure can be exhausting.) Pre-order your lunch and a glass of wine, and it will arrive perfectly timed in between treatments.
One of the most unique things about the Golden Ocala Spa and Salon is their Magnesphere chair. This amazing machine delivers Magnetic Resonance Therapy, which aims to activate reparative processes in specific cells and tissues. Spend an hour in this chair and I dare you not to feel relaxed, or fall blissfully asleep, like I did. Truthfully, I had to be gently woken up by one of the lovely staff because it was time for me to move on to my next treatment! Having the opportunity to spend the day at the spa left me relaxed, pampered and beautified – something that all equestrians deserve to feel once in a while.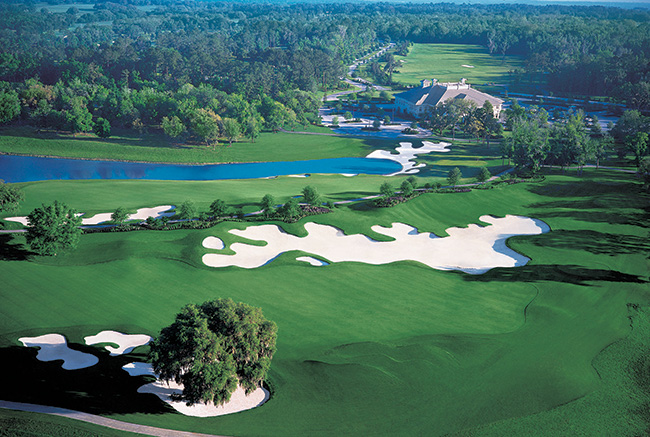 Everyone Wins
Because I was there for Horse & Style, my time was primarily focused on all the horse related goodness at Golden Ocala, but it must be said that the resort is not just for riders! It is home to an exclusive 18-hole championship golf course, designed by Ron Garl. This majestic course incorporates eight masterfully recreated tribute holes paying homage to some of the finest courses in the world – holes from courses in Augusta, Royal Troon, Baltusrol, Muirfield and St. Andrews, to name a few. It is truly a world class golfing experience.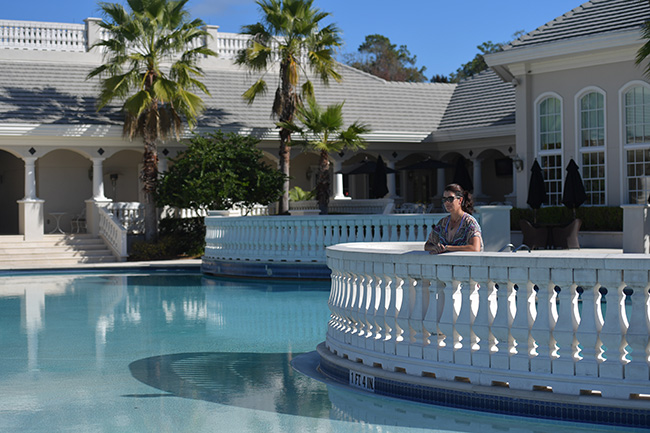 Other non-equestrian activities include swimming and working out in the fitness center, where guests can chose to exercise alone, participate in a group class, or work with a trainer. A trip to Golden Ocala would not be complete without a game of tennis. The extremely popular Tennis Club offers six Har-Tru Hydro-Grid courts made of the highest quality clay surface available. Guests can enjoy the courts in the sun during the day, or under lights at night. In 2018, WEC in Ocala will be up and running, and hosting a multitude of horse shows and equestrian events. So rather than leave the family at home while you head out to show, bring them with you to WEC Ocala! There is something for everyone at Golden Ocala Golf & Equestrian Club. It truly is a win-win for all involved.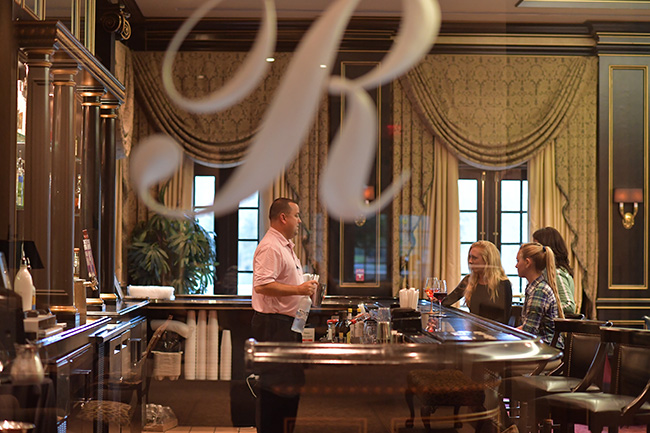 Knickers & Nibbles
One of the best parts of Golden Ocala is the food. If you have just dismounted but your hunger can't wait, show up in your boots and breeches at the Knickers Bar and Grill. Or, if you are feeling like you want a finer dining experience, dine at Rasberry's, and enjoy their progressive American cuisine. Golden Ocala hosts numerous weddings each year, so they are more than fully equipped to manage large scale private events. Whether you and your family are celebrating a first blue ribbon or a Grand Prix victory, Golden Ocala will have a special place to entertain your party. Locals love to eat at Golden Ocala's restaurants too, which is always a good indicator that the food, drinks and company are wonderful. Take a seat at the bar, and a famous horse whisperer or Olympic rider might just sit on the stool next to you.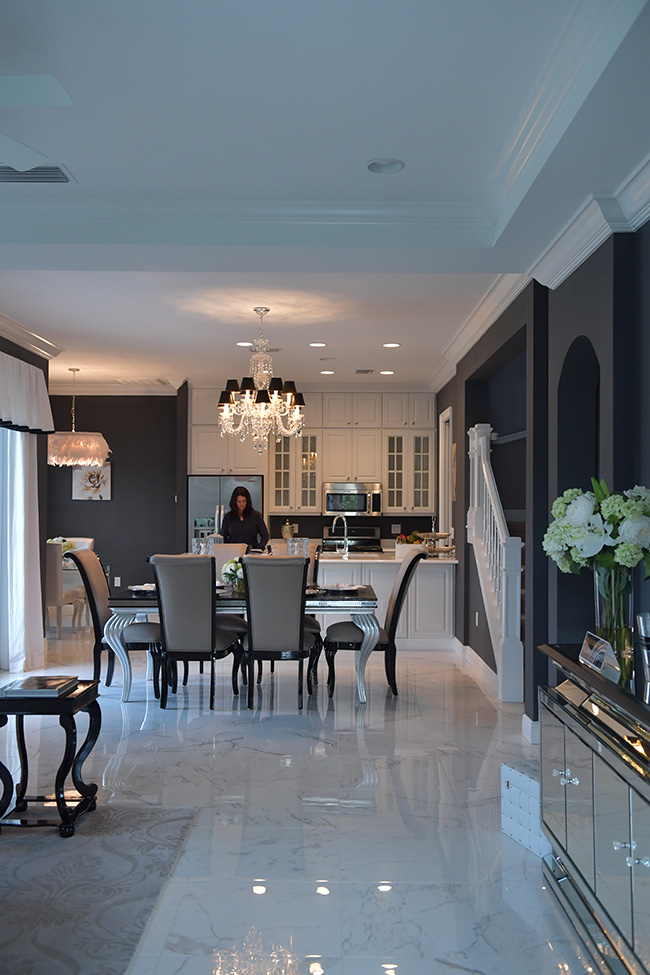 The Future is Golden
WEC in Wilmington, Ohio is quickly becoming one of the most prominent horse show locations in the country. So it came as no surprise that the WEC team wanted to build a second location in Ocala, Florida, aptly named World Equestrian Center Ocala. Slated to host events in 2018, the new venue will be a world-class equestrian sports venue, and will sit adjacent to the Golden Ocala Golf & Equestrian Club property. The 300+ acre equestrian location will boast four 262′ x 550′ climate-controlled indoor arenas, an open-air stadium and fifteen outdoor arenas. The complex plans to build stabling accommodations for 1,500 horses, and offer retail spaces and restaurants to make events a well-rounded experience. WEC Ocala is striving to create a unique destination location, featuring the winning combination of top equestrian sport and country club living.
After my first visit to WEC in Ohio, I left feeling like I was a part of their community, and I became eager to return and see how their plans had come to fruition. Every time I visited throughout the year, my expectations were well exceeded, and I was always impressed with the level of detail and thought that went into every design. After staying at Golden Ocala Golf & Equestrian Club, and seeing the future of the new WEC Ocala location, I feel the same familiar eagerness to see what they have planned, become a reality. With golf, the spa, swimming, exceptional dining, and horses, next time I come to Golden Ocala Golf & Equestrian Club, I'm definitely bringing the whole family!
This article was originally published in Horse & Style July/Aug 2017. Read the full issue online here!