"PonyApp aims to support the services surrounding daily horse care. Manage your businesses and your horses, all in one place. Save time, save money, and stay connected!"
— PonyApp Mission Statement
PonyApp's mission statement is the perfect introduction to the on-fire start up that Lindsay Douglass and Lucy Davis launched this spring. Douglass and Davis started PonyApp together during their senior year at Stanford University, but their friendship began much earlier. The two grew up in Southern California, showed throughout the state, and did Young Riders together. Last summer, Lucy Davis won an Olympic Silver medal with the United States show jumping team. Now, they have been working long hours to bring PonyApp to market.
Luckily, the market is devouring what Douglass and Davis are offering. PonyApp is an iPhone app that helps streamline nearly every aspect of the equestrian industry. The My Stable feature manages horse care and is a place where users can easily create profiles for all of their horses to log just about everything – tack instructions, veterinary care, exercise needs, winnings, and even expenses. PonyApp's Invoices feature offers business services that can track employees' work hours, create and send invoices, and of course, the all important, receive payments. It's accounting for equestrians, made easy. The Spotlight feature delivers the latest in equestrian news, so it is easy to keep up with the latest FEI rankings as well as see the latest in equestrian style. Notice how often the word easy keeps appearing? It's no coincidence. Easy was what Douglass and Davis wanted for PonyApp's users – so users could spend more of their time in the saddle.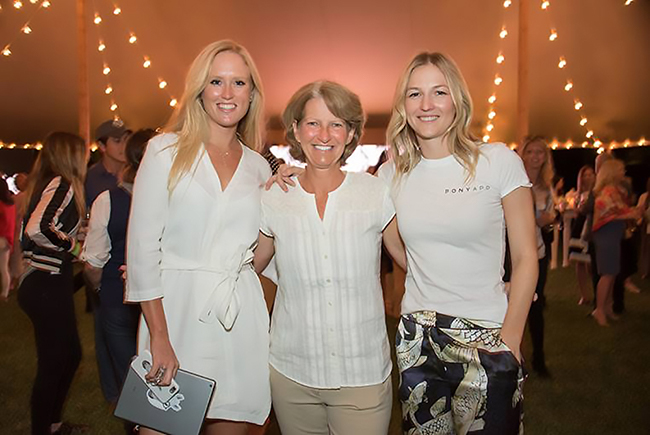 1. It's free to download.
2. PonyApp will be available for Android and web in the fall.
3. The monocle on the PonyApp logo is both a jab at, and nod to, the traditionalism of the equestrian world. Douglass and Davis love equestrian tradition, but want to modernize the business and horse management side of the sport.
4. PonyApp was once called Equineer, which represented a combination of Equine and Engineer (Douglass and Davis both studied engineering at Stanford). At first, PonyApp was just a pet name, but it stuck.
5. Users can send invoices to clients through the app and funds will be transferred directly into their bank account.
6. PonyApp has only been out for three months, but there are 25,000 horses on the app, and more than 450 new horses are added each day.
7. Horse & Style articles are available on PonyApp. Find them in Spotlight, along with the best news and coverage of the equestrian world.
8. Users can set "to-dos" on PonyApp, such as tack-ups or lessons. If assigned to someone, a push notification will be sent to that person's phone.
9. Some big names and stables are powered by PonyApp, a few being Eric Lamaze and Torrey Pines, Georgina Bloomberg and Gotham North, Mavis Spencer and Gallop Apace, and Neil Jones Equestrian.
10. PonyApp has users in more than fifty countries including in Kazakhstan, Japan, Indonesia, India and Saudi Arabia.
Website: theponyapp.com
This article was originally published in Horse & Style's July/Aug '17 issue. Read the full issue online here!