photos by Ashley Neuhof
When Ian Millar looks back on the evolution of tack over the course of his career, the transformation is prolific. As he sat beneath the shade of a palm tree and the brim of his characteristic cowboy hat at Millar Brooke Farm South in the heart of Wellington, FL, Ian recalled the details of an observed shift in saddle making. He even mused on a time when saddle pads were non-existent.
"It was leather and the horse's back," he laughed. "The only reason you used a saddle pad was to compensate for a saddle that didn't fit particularly well. But, in the last 40 years I have had very few problems with saddle fit."
Ian credits many influences with his success over that last 40 years, which includes 10 Olympic Games and a Canadian team silver medal, four FEI World Equestrian Games™ appearances, three World Championships, two victories in 14 FEI World Cup™ Final bids, and four combined gold medals in eight challenges at the Pan American Games. He is steadfast, however, in giving credit where credit is due by saying there is one reason for his seemingly unflawed relationship with the leather that links horse and rider. Ian gives all that credit to Prestige Italia.
From one Family to Another
In 1974, the Stocchetti-Rasia family set out to change the tradition of European saddle making. While most of the more renowned brands were produced in Germany and France, they felt that it was Italy's time to shine. In 1977, their first saddle hit the market, and they have since grown to be one of the foremost saddle makers in Europe. To be frank, they put Italian saddle craftsmanship on the map.
"What makes Prestige Italia unique is that it has been a family-owned business since its inception," said Aurélie Ferrut, North American Area Manager for Prestige Italia. "It's not all about profit for the Stocchetti-Rasia family because they have a very personal investment that extends from generation to generation. They want their product to be the best because they have worked hard to develop something that they are proud of."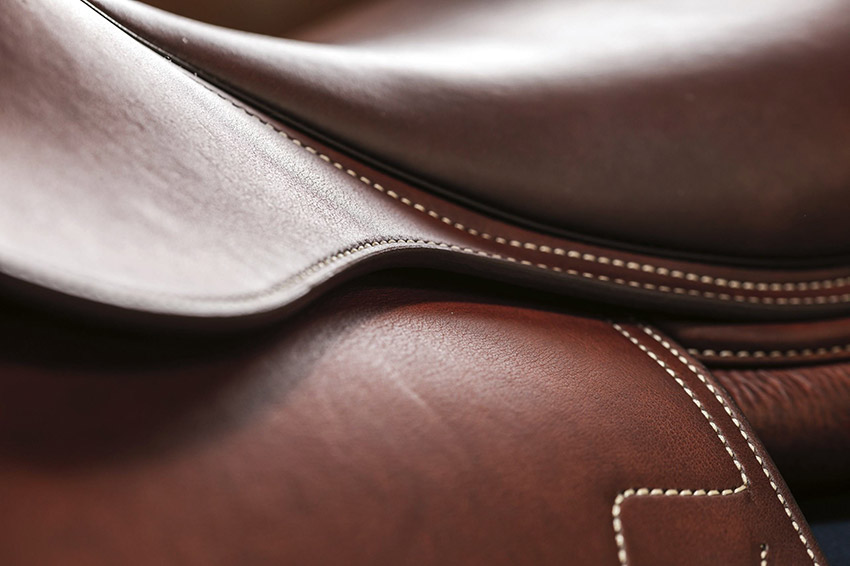 Prestige Italia produces saddles for all Olympic disciplines, as well as tack for law enforcement mounts and even hippotherapy work.
Several years after the first Prestige Italia saddle was released, Ian threw a leg over one at the urging of a friend in the tack business. "I fell instantly in love," he said. "That was the early 80s and there was no formal [sponsorship] contract, but I started riding exclusively in Prestige."
The early workings of a relationship between Ian and Prestige soon evolved and one family's legacy merged with another. Today, Millar Brooke Farm – based in Perth, ON, and Wellington, FL – is an unwavering proponent of the Prestige Italia products. Together with his children Johnathon and Amy and daughter-in-law Kelly Soleau-Millar, Ian and the entire Millar Brooke Farm team believe that the saddle they sit on makes a world of difference in their horses' performance.
Loyalty to Innovation
A key element in the success of the Millar family's partnership with Prestige Italia came when Master Saddle Fitter Audrey Samara was introduced to them at a small horse show in Jacksonville, FL.
"They saw the Prestige sign in front of my tack shop and stopped in to say hello," recalled Audrey, who has also been a Prestige Italia dealer since 2006. "Within a year, I was fitting all their saddles for them. At the time, both Ian and Amy had Olympic caliber horses, and it was an honor for me to not only call them friends, but also fit saddles to horses that had either been to or were headed to the Olympics. They are very particular about saddle fit and have taught me a lot because I am expected to get it exactly right."
Just like the precise attention that is given to the nutrition, veterinary care, and conditioning of their horses, the Millars devote themselves to proper saddle fit as part of their program.
"It's all about the details," said Johnathon, who manages a newly formed U.S. base for Millar Brooke Farm alongside his wife Kelly, who originally hails from Connecticut. "There has been such an evolution of expertise when it comes to saddle fit, and it's really interesting to see the process and the precise eye Audrey and her team have for how each saddle will affect the rider's position and the horse's way of going."
In the early 2000s, Audrey approached Ian and inquired about designing an Ian Millar signature saddle by Prestige Italia. Ian jumped on board without hesitation.
"They gave me complete freedom to design it," said Ian. "I wanted to create a saddle with a longer flap so that when the stirrup is shortened to jumping length your leg still sits nicely on the flap. I was most comfortable at the time in a middle depth of seat, so that's what I created. It's still one of my all-time favorite saddles. You could go on a three-hour trail ride and be very comfortable in that saddle."
A Saddle Renaissance
In 2016, Prestige took their dedication to innovation to a whole new level with the unveiling of a line of saddles entitled Renaissance. Through a collaboration with an iconic French saddle maker, Prestige merged the technical craftsmanship of Prestige Italia with the quality of French tanning leather to introduce a contemporary interpretation of the show jumping and mono flap saddle.
The result was a flatter, more close contact saddle with a tree made of a nylon composite material that can be heated and reshaped to different wither shapes throughout the life of the saddle. Additionally, the panels can be made of latex or flocked with a synthetic material, allowing a saddle fitter to completely customize the fit and create an unmatched feel for the horse.
"It's the best of both worlds," asserts Ian. "You get the ability to achieve a close-to-perfect fit on the horse while the rider gets the benefit of comfort from the softer French leather. Horses smile when you put the Renaissance saddle on their back."
Ian has observed decades of change at Prestige Italia – all for the better – but it took a bit of magic within his own string of horses for the Renaissance saddle to replace even his own signature saddle in merit. When the Renaissance line was first introduced, Ian – together with Amy – was working with a horse that displayed a severe right drift while jumping.
"I put the saddle on the horse, came in the ring, and jumped a course doing nothing to manage the right drift and the horse jumped around perfectly straight," said Amy. "I had been riding this horse for two years with Ian and Johnathon's help and it was always an issue. I pulled up and said, 'I can't believe it.' It almost felt like we went back to basics and I could feel the horse underneath me and didn't have to sit on a tower of saddle pads. It was a big turning point for me."
Amy remembers a saddle maker explaining to her that the "flat saddle" allows the rider to be in the correct position on top of the horse in order to achieve perfect balance, and there are no pressure points on the shoulders, which allows the saddle to move on top of the horse while not pressing on one side of the horse.
"I had a horse that was a beautiful, loose mover on the lunge, but when you would get on the trot would change," said Ian of another horse that benefited from a Renaissance saddle. "When we tried the Renaissance, the horse moved exactly the way it did on the lunge line."
Johnathon and Kelly not only appreciated their own experiences with the Renaissance saddle, but also watched the clients of Millar Brooke Farm achieve a new level of security and comfort while jumping. Kelly admits an attachment to a deeper seat, but could not have fathomed the change in her position in a flat-seat saddle.
"The flatter seat allows more movement so you can follow the horse, which becomes imperative when you are jumping bigger jumps," said Kelly. "It also transcends what we normally think of as appropriate sizing. We have a student who most would think should be in a smaller sized seat, but we did an experiment and when she jumped in a 17-inch saddle on a very powerful jumper she was almost past the saddle in the air."
"The next day, she tried an 18-inch and she even said she felt more comfortable," continued Johnathon. "You could clearly see when the horse jumped hard, her position moved back and she was more balanced in midair. We had a group here watching and their mouths hit the ground."
Going West
"Over the past several years, our focus has shifted to North America," said Aurélie, who is determined to see Prestige Italia at the forefront of Canadian and American minds when they think of their go-to saddle. "There are disciplines in the U.S. and Canada that don't exist in Europe like hunters and equitation. We are working hard on investing in growth in those areas and meeting the needs of every rider, including the traditional jumpers. Word of mouth is working very much in our favor in these new markets."
According to Audrey, the reputation that Prestige has developed in North America is not only one that benefits the horse, but also the rider. "Prestige is known for helping to improve movement issues related to saddle fit in horses, but also back pain in riders," she said. "We have customers who have experienced such excruciating back pain after riding multiple horses a day that their careers were in jeopardy. After sitting in a Prestige saddle, they have experienced remarkable improvements."
While rider feedback is paramount, Aurélie and Audrey are also proud to work with some of the country's most renowned veterinarians at their North American base in Wellington.
"We have seen vets endorse our product after seeing cases of horses that have soreness in their backs because of ill-fitting saddles," said Audrey. "After changing over to Prestige, they have experienced a drastic improvement. Soreness dissipates, muscles grow and strengthen, and performance improves. Vets are very happy when they don't have to inject a horse's back, and since the horse can't talk except through pain, it's our commitment going forward to involve veterinarians in our development. Their endorsement is one of the best we can have."
As Prestige Italia adapts to provide the best possible product to its customers, the Millar family has also entered an era of transformation of late. Jonathon and Kelly are delivering the best of both Canadian and U.S. competition experiences to their clients with a summer base in Kentucky.
On an international level, after announcing his retirement from FEI competition in 2019, Ian has stepped into a new training role at Millar Brooke. There are no other riders in the world who can say that a 10-time Olympian helps develop their horses other than Ian's daughter Amy.
"I am incredibly lucky," she said. "All four of the horses I show Ian has at one point ridden and competed. He has been critical in the development of two of them. As everyone knows, buying a top-end horse is a very expensive and risky endeavor. All of the horses I have now we purchased as seven-year-olds and developed ourselves. We see raw talent in them, so with the support of our partners and owners we are lucky enough to be able to invest two years of work in order to have really special animals at the end of the process."
As Prestige Italia and the Millar family see their way through a season of change, innovation, and triumph, both appreciate a certain level of tradition coupled with ingenuity. Each family-run endeavor has set its sights firmly on big goals in the coming years, and each is well on its way to achievement.