Chasing dreams with an up-and-coming U25 Rider
---
The elite world of show jumping might seem daunting and perhaps difficult to break into if you were not born into such a lifestyle. When combining the cost of competing at the higher levels in the sport with that of purchasing a purpose-bred athlete capable of jumping Grand Prix tracks, the numbers increase exponentially. There are custom saddles, custom riding apparel, trainers, grooms and the list goes on. Where exactly are there opportunities for someone with a name that doesn't yet hold tremendous value, and how does an aspiring young rider with lofty goals get their foot into an International Arena? The answer is grit, drive and dedication, which are all attributes that an up-and-coming U25 rider, Emma Marlowe possesses. 
Marlowe grew up on the West Coast in California where she began riding before she could walk. Her mother, an avid equestrian, ran a lesson barn which gave her daughter ample opportunities to ride. Marlowe proved to be quite self-sufficient from a young age and eagerly rode anything and everything that came her way. "Honestly it was the best way to grow up because I fell in love with the horses for horses. I did everything myself so I didn't know any different, and I think that's where the love of riding has just always been there. I owe my junior career and my start as a working student to Leslie Steele and David Bustillos. I would not be where I am today without everything they did for me and I am forever grateful."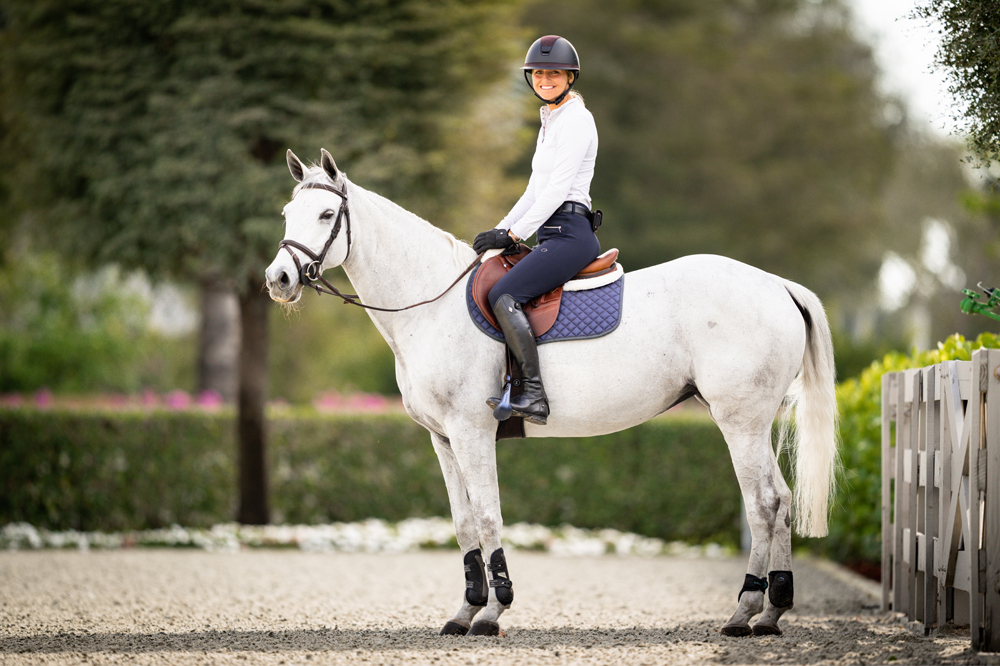 While in California, Marlowe strictly showed in hunters and equitation and hadn't done any real show jumping until she moved to the east coast as an eighteen-year-old when she began working at Trelawny Farm, owned and operated by Cara Raether. 
The transition from Hunters and Equitation was the biggest challenge Marlowe had faced so far as a rider, she explained. "I think growing up doing the hunters and equitation was a great foundation but it's very different from the jumpers, especially at the high levels. That transition was difficult, but I've been lucky to have such fantastic support and training by Cara and Paul O'shea."
Marlowe knew she wanted to move to the East Coast after her junior career. At only eighteen years old, she knew she had to be in the show jumping world and was determined to get there. "There was never a doubt in my mind this is what I would do for the rest of my life. Growing up in CA I mainly showed on the West Coast. 
I was always extremely curious and followed the sport of show jumping worldwide. My heart has always been in the jumpers so I knew I needed to leave CA to pursue my dreams. My mom and sister were very supportive of my move, and I'm so grateful for that. My sister also works and lives on the east coast now so it's really cool to be able to be in the same industry together. I've been living on the east coast for about seven years now and it definitely is home.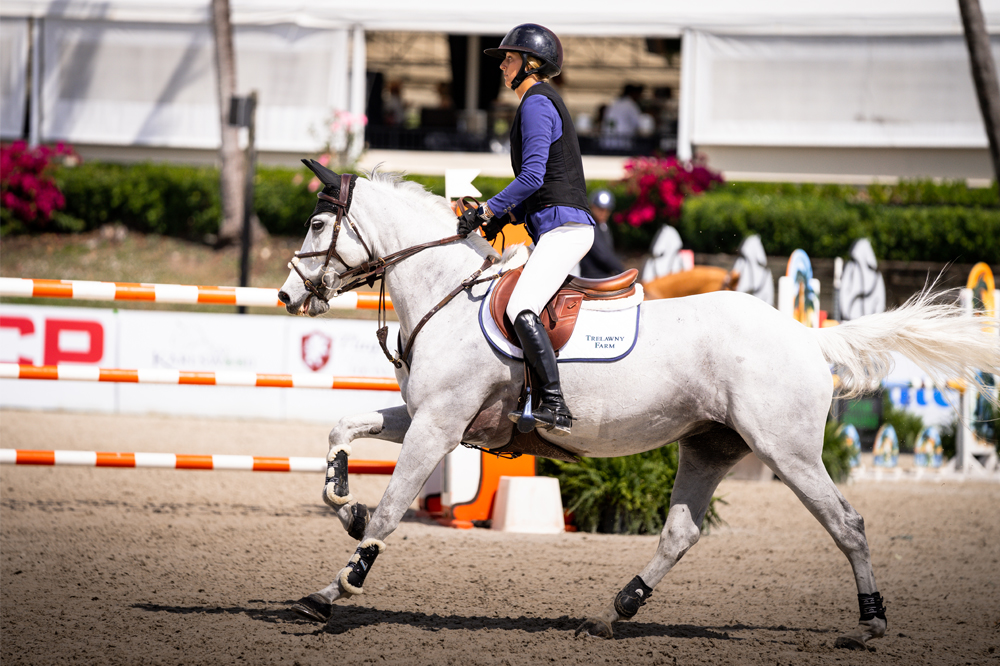 When asked which horse has taught her the most in her riding career, Marlowe definitively said, "well that's an easy one, Cherokee, a 15 year old KWPN (Cardento 933 x Creool) owned by Trelawny Farm LLC. I have been riding him for the past couple of years and he's an incredible horse. From the moment I sat on him I was absolutely in love. I have never clicked with a horse so well. I won my first 1.40m on him, jumped my first 3* grand prix, 5* classes, team classes, and he's really taught me everything I know."
Marlowe has been coming to Wellington since she began working for Trelawny Farm. This year marks her seventh year showing at WEF and she's enjoyed every second of it. Cara Raether also has a farm in Bedford NY, so their team travels back and forth between NY and FL for the summer and winter seasons. 
The Under 25-year-old division at WEF, or U25, has become a very popular class for this younger age group. Marlowe has been a proud U25 rider now for two years. This particular division offers under 25-year-old riders a chance to show at a high level without competing against everyone that would be in a big FEI class. "I think WEF is one of the most competitive places in the world, with the best riders and the best horses, which ups our game, making us all ride better, but it's nice that they have this very popular division here. In my opinion, U25 is one of the hardest divisions here at WEF because you have some of the best horses in the world and some really talented riders. The U25 has gotten me great experience and exposure and I think it's a fantastic division."
At any given moment Marlowe could be riding any and all horses being thrown at her, which she loves. She has been fortunate enough to be training with Cara and Paul O'Shea who have both been amazing as mentors and trainers. "I have been showing Cherokee the 15 yo, and I've been showing Marcus, an 11 yo stallion, also a fantastic horse that I'm excited to continue to develop. I'm always eager to show more horses and always looking for any opportunity to get in the ring."
Every rider has their favorite pieces of tack, and Marlowe not only rides in Renaissance saddles, but she has been a longtime fan of this particular company and what it has to offer. "I've been riding in Renaissance saddles since the end of December when I was in Thermal for the Major League and right away I fell in love."
She continued, "Saddle fit is extremely important for myself and the horses. We are asking them to jump massive jumps at a very fast speed and if they aren't 100% comfortable or able to move their bodies and use their back over the jumps then it's only going to hinder their performance. So to have a correctly fitting saddle for you and the horse is instrumental.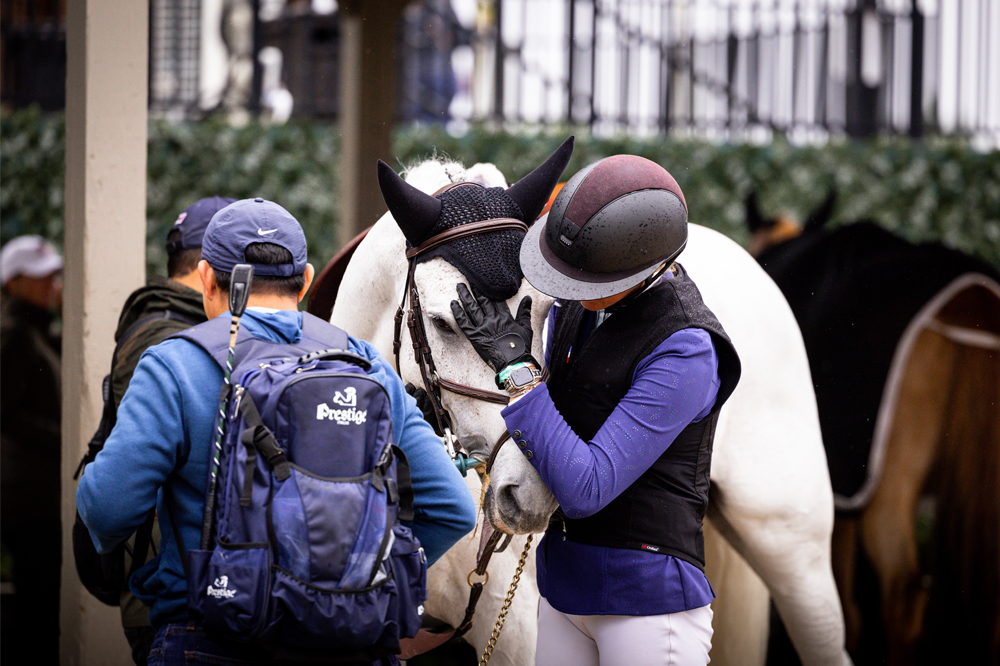 A great feature about the Prestige saddles, particularly the Renaissance, is that the tree can be adjusted, and they come custom fit to each horse, so most of the horses in our barn have their own custom saddles. Some can share a saddle if their backs are alike, but for the most part each saddle is fitted to each horse."
Lastly, Marlowe offered some sage advice for any up-and-coming aspiring young rider: "Go be a working student, that's how I got my start. I made a list of people I'd want to work for and reached out to them. You have to be willing to work hard. I remember I would do anything just to get a lesson, and I still would and I still have that attitude. If you love it and have the attitude of just never giving up then you'll figure it out, but you have to put yourself out there." 
This article originally appeared in 2023 Vol. 1. The full issue can be read online here.