Some of you may be aware that there's a game of football going on this Sunday. And while men in cleats and shoulder pads don't have a whole lot to do with people in hunt coats riding horses, H&S brings you one stylish fact that ties the two together.
If you follow show jumping at all, you surely know of Margie Engle and her amazing horse Indigo. The 13-year-old grey Dutch warmblood gelding was purchased by a group of investors in 2010 in the hopes that he would develop into a top horse for Margie.
And he certainly has. In 2012 alone, Indigo and Margie earned the co-USEF National Championship of Show Jumping, competed at the Rolex FEI World Cup Finals in Holland, and won the $125,000 World Cup Qualifier Grand Prix during the WEF winter circuit.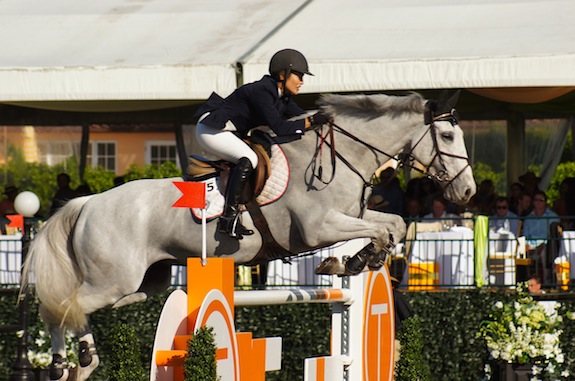 But, back to the football. Indigo is co-owned by Margie's longtime client Mike Pulaski of Hidden Creek Farm (their farms are side by side in Wellington, Florida), Selma and Ken Garber, and Bob Griese.
Griese is a Miami Dolphins Hall of Farm Quarterback whose wife just so happens to be a lifelong horseperson. They've had horses with Margie for over 20 years, but until recently they mostly had hunters.
Indigo is the most successful jumper that they've ever had and this year could be another big one for the flashy grey gelding.
The next time you see Margie in the ring, take a close look at her classy One K helmet. In a fitting display of hometown pride, the colors of the Miami Dolphins are custom airbrushed onto her helmet.
Nice touch Margie, nice touch.