It was a Thursday afternoon at WEF during Week 4 and I was on a strict mission to get a ham and cheese crepe from the infamous crepe-man. Directly across from my favorite food vendor is the impossible-to-miss Der Dau tent. Its mood lighting, deep red carpets, and strategically placed leather couches combine for an over the top ambiance, even for Wellington (and that's saying a lot.) Am I in a cigar shop, am I in a martini bar? Hold on, it's 2:30 on a Thursday, my jeans are dirty, and I'm pretty sure I'm not dressed for cocktail hour. And where's the bartender in this place? OH! This is where people go to buy custom made horseback riding boots! Right.
Upon a pillar in the middle of the Der Dau display was the newly unveiled "Dream-2 Grip" boot. I removed my Ray Ban Wayfarers from my face, squinted, and rubbed my eyes with confusion.  There were black rubber bumps all the way down the insides of these. Rubber. Not leather. It looked a little bit like it had a skin disease or something…. I'm just saying. I had to take a picture with my trusty iPhone.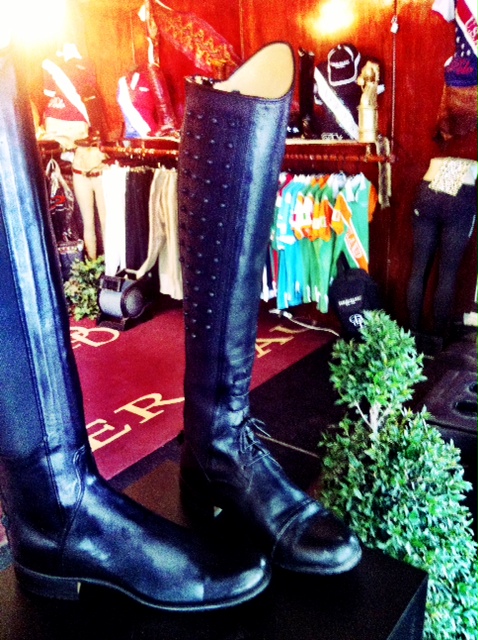 Der Dau's NEW Dream 2-Grip
I picked up the brochure that was neatly displayed next to the boots. It read:
 "Introducing the newest design in our Dream Boot collection. The Dream Boot 2-Grip features innovative rubber pellets, strategically placed in the inner leg to optimized durability. The perfect friction without the damage of sticky sprays can cause. The Dream Boot 2-G, virtually eliminates holes in your boots while… extending the life of your fine custom boots."
That's a direct quote. Once I waded through the questionable grammar, I thought about it for minute. If sticky sprays are destroying your $5,000 custom made saddle, maybe you need to clean your tack more often and perhaps consider upping your no stirrup regime. Optimized durability, hmmmm, ok. But would the rubber pellets really contribute to a quieter leg? Would they rub uncomfortably on the horse's side? Were they designed more to protect the inside of your boot from wear, or to help improve your riding?
So many questions…. I really wanted to ask a sales person for some information on this boot. I wanted to hear more about this design concept and how it came to be. Unfortunately, I never saw a sales person in the booth during my wait for my delicious ham and cheese crepe. True, Thursday afternoons can be a little slow on vendor row, but that was a bummer!
You can always count on Der Dau to push the envelope with their products, and these boots have been catching a lot of attention lately. Maybe I'll swing by Der Dau next week and ask if they're letting riders test drive this new design. What do you think of the Dream-2 Grip Boot? Is it freaky or dreamy?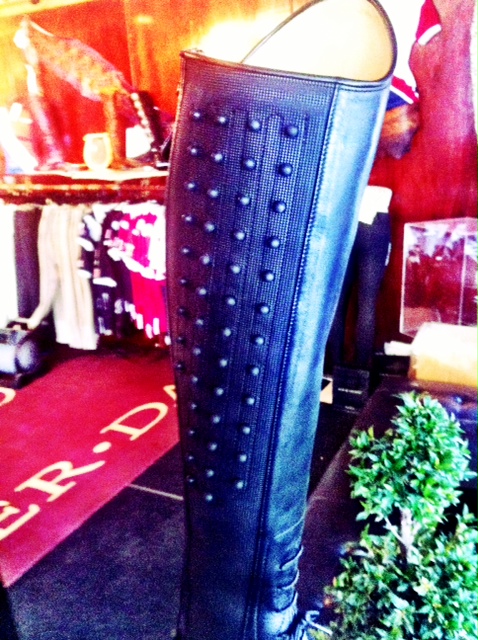 Makes you want to reach out and touch it, doesn't it?