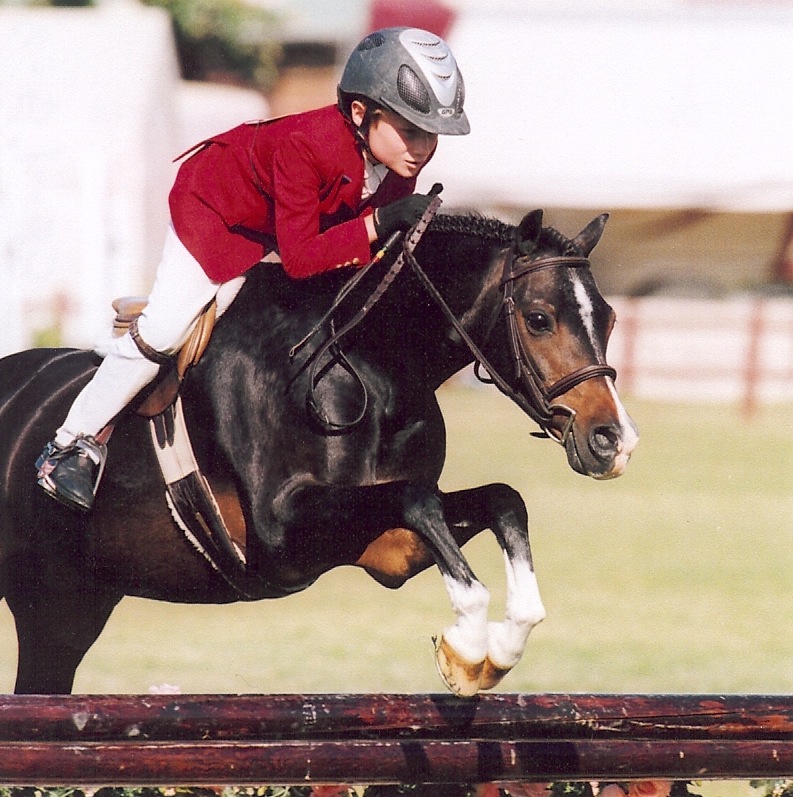 Despite his small stature, Welsh pony Buffalo Soldier has more personality packed into his 12.1 hands than his "ordinary" pony counterparts. Affectionately known by those closest to him as "Ziggy", he has won countless blue ribbons for many lucky children. Possibly even more impressive is that this special pony has never missed a show or had an injury, which is quite remarkable considering his long career that spans almost twenty years.
Michael B. Savage, of Barry Farms, Inc. in Wellington, Florida purchased Buffalo Soldier in 1994 as a three year old. He was quite frisky as a youngster, Savage recalls, and "he had the bushiest mane I'd ever seen. It was a braider's nightmare and he became infamous for it all over the East and West coasts."
Professional rider and trainer Nick Haness of Hunterbrook Farms in Orange County, California showed Ziggy at the beginning of both their careers, when he was just a young boy and Ziggy was ten years old. "He put me on the map as a rider and opened the door to many opportunities that I like to believe led me to where I am today," Nick says.
CeCe Bloum of Newmarket Farm remembers seeing the pair for the first time at Indio. She knew they both were destined for great things. "Ziggy was amazing as a young pony, it was obvious he was going to be special," Bloum explains.
Several years later Bloum was faced with the task of finding a small pony schoolmaster for her client Caroline Spogli and knew that Ziggy would be the perfect match. By then, Ziggy was under the ownership of famed East Coast trainers Don Stewart and Bibby Farmer. They sold him to Spogli, and eventually she outgrew him, but only after much success in the small pony ring. And so it was that Ziggy continued on to the home of a new child, who in the fall of 2006 became 8-year old Mitch Endicott of Rancho Santa Fe, CA.
Ziggy was now 15 years old, and had crisscrossed the country on a fairly regular basis. He'd become famous as the ideal first "A" show pony, and Mitch's parents, trainers Mike and Christa Endicott, where thrilled to welcome him to their stable.
"We basically clipped Mitch onto the saddle at his first show and Ziggy took care of the rest," Christa recalls. The pair was Small Pony Champion at their first show together, and winning became a trend with this team. In 2008 Ziggy and Mitch were Mid-Circuit and Circuit Champion in the Small Pony Hunters at Thermal, Zone 10 Small Pony Champion at West Coast Pony Finals and PCHA Year-End Small Pony Champion.
It goes without saying that Ziggy was the ultimate professional in the ring, making him a highly sought after commodity. After all, "professor ponies" that have the empathy to teach small children the ways of showing are few and very far between!
"Even in the model, Ziggy always modeled himself, which was perfect because Mitch was not very interested in the model classes and would zone out," Christa explains. "Luckily, Ziggy knew what to do, and he would walk in and strike a pose all on his own!" After countless successful shows, eventually Mitch too outgrew this small pony with the huge heart.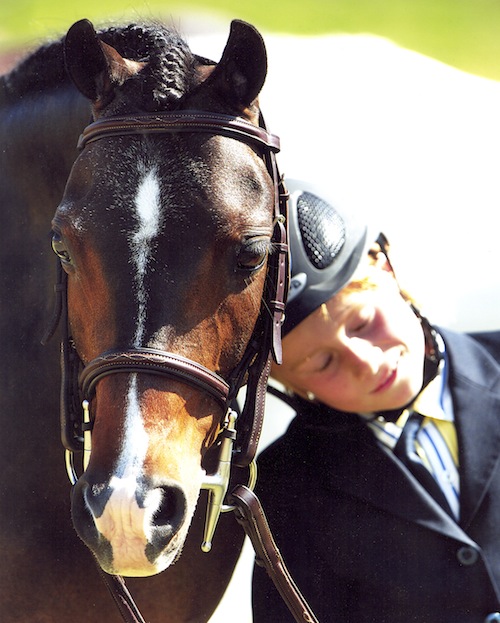 Shortly thereafter, Corinne Bevis of San Marcos Training in Santa Barbara, CA suggested to her client, Elizabeth Gabler, that she temporarily lease Ziggy from the Endicotts. Elizabeth's young daughter Annalise was progressing and it became evident that she needed a "professor pony" to take her to the next step. But after having Ziggy for about a week, Elizabeth and Annalise couldn't bear the thought of letting him go. The Endicotts reluctantly sold him on, knowing that Ziggy would have an amazing forever home with the Gabler family.
Annalise started out in the cross rail divisions with Ziggy and eventually moved up into the Small Pony Hunter Division, winning many blues with the beautiful gelding. And in 2012, at 21 years of age, Ziggy was still winning tri-color ribbons with Annalise. Among their titles were Mid-Circuit and Circuit Champion in the Children's Pony Hunter division at Thermal.
This year, while Ziggy is not quite fully retired yet, the Gablers have decided to limit his professional career to non-jumping classes. "Our only concern is that he stay sound and happy for a long and lovely life," says Elizabeth.
This past fall, the Del Mar Fall Festival hosted the first inaugural Buffalo Soldier Pony Hunter Derby at the Del Mar Fairgrounds. The Gabler family sponsored this class in honor of Ziggy and it was a huge success. Ziggy even made a surprise appearance, doing the ghost ride with Christa Endicott onboard. The Gablers hope that the Buffalo Soldier Pony Hunter Derby will become a regular event at the Del Mar Fall Festival.
To this day, CeCe Bloum remains one of Buffalo Soldier's biggest fans. "He has been a winner for all of his children, a great teacher and a pony with a huge heart. He does not know he is a small pony because his heart is so big!"
-by Katie Stein
This article appeared in the February/March 2013 issue of Horse & Style Magazine. Want to read more? Go here to view the entire issue for free!