Sean Leckie is just 17 years old, but the accomplished young rider is singularly focused on one thing: a successful career as a professional and a life with horses. A West Coast rider from Reno,Nevada, Leckie sets his goals and then sets out to accomplish them.
He cut his teeth in the Northern California equitation ranks, winning both the Hudson & Company Medal, and the Cloverleaf Medal finals in 2012. In 2011 he was invited by George Morris to train in Wellington for the winter season, a life changing experience that opened his eyes to show jumping on the East Coast, and served as an entrée to Ivan and Arly Rakowsky.
This winter, Leckie has returned to Wellington, where he's spent the winter training with the Rakowskys, and competing in the low junior jumpers while attending online school. He ended a successful winter circuit at WEF by beating a class of 73 to win the $1,500 Maria Mendelsohn Low Junior Jumpers with his horse Monte Carlo. He hopes to qualify for Young Riders later this season, and is well aware of how hard he has to work to achieve his next set of goals. "I think most people go their entire life without even knowing their passion, so I feel fortunate to have found my passion," he says.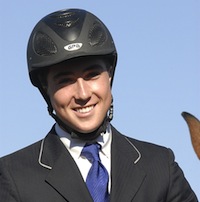 Photos ©Alesandra Leckie
Horse & Style: Describe your riding style:
Robert Sean Leckie: I'm conservative in my riding fashion; I like tradition and not a lot of flash.
H&S: What is your head to toe riding outfit?
SL: I always wear a navy hunt coat, Animo for jumpers, Ariat for equitation, tan Pikeur breeches because they fit, Equiline collared shirt, black Ariat boots, and an Animo white tie.
H&S: Do you wear anything for good luck?
SL: Yes, I always have my cross around my neck.
H&S: What are your favorite equestrian brands?
SL: CWD for saddle and tack, Animo, Equiline and Pikeur for clothes.
H&S: How would you describe your non-horse show style?
SL: I really like clothes, but I would say that I'm probably still on the conservative side for style. I like a fitted European look that comes off casual.
H&S: What have been you biggest riding accomplishments as a rider?
SL: Winning my first two medal finals last year. It was a goal that I set for myself and I obtained it.
H&S: What are your riding goals for the future?
SL: I would like to make the Young Riders team next year, and someday, ride for theUnited States in a World Cup Final, and make the Olympic team. I know I will be a professional trainer at some point in my riding career.
H&S: If you weren't a rider, what would your dream profession?
SL: I would be an entrepreneur and own several companies. I would have a high-end equestrian clothing line, a realty brokerage firm that specialized in equestrian properties worldwide, and a small winery.
H&S: Who has been the most influential in your riding career?
SL: I've been really fortunate to have great trainers over the past eight years, but I would have to say it has definitely been my parents. They have taught me how to work hard, be kind to animals and people, be honest, and always give back. They also have told me to never give up on my dreams, even when other people around you might. You get to the top by believing in yourself, and I am thankful for everything that they do to help me succeed in my goals.
H&S: What is the one thing you never go in the ring without?
SL: My horse! Just kidding, I always bring the ability to stay focused and calm. This is something that I work on every single time I enter the ring.
This article appeared in the April/May 2013 issue of Horse & Style Magazine. Want to read more? Go here to view the entire issue for free!