Laura Kraut loves a hot ride. After years of watching Jubilee d'Ouilly in the ring, the international competitor and Olympic gold-medalist had a feeling the two of them would get along.  " I've known the mare for years and without ever having sat on her, I felt she would be suited to me. She's a very hot Thoroughbred type mare, which I like," Kraut explains.
"Jubi", a 16-year-old Selle Francais mare (Palestro II x Gardenia) came into the world as a feisty foal, and she hasn't lost her edge.
Troubled Talent
The owners (and breeders) of Jubilee are husband and wife duo, Alexandra and François-Xavier Lebon of France.  The couple always believed in the little mare, even if she wasn't the easiest to bring along.  "Jub as a young horse was really hard to manage.  She was spooky and full of blood," recalls Alexandra, who is a veterinarian by trade.
After several years of lackluster showing, it was even suggested that perhaps Jubilee retire from competition to become a broodmare.  But, the Lebons felt that their mare had more to show the world.  After a rocky start, Jubilee's innate abilities began to take shape, catapulting her to new heights. "She kept on surprising us and always did the job," says Lebon. "She won her first grand prix as an 8-year-old, beating the famous Diamant de Semilly.  She just had this incredible hock power, willingness, and speed!"
Although she's still spooky by nature (especially during turnout), Jubilee's raw talent is commanding, and she knows when she's up against the clock.  "When she comes into the arena, she turns her ears straight up and she starts the fight," her owner proudly shares.
International Superstar
Aymeric de Ponnat, Penelope Leprevost, and Trevor Coyle are all distinguished world riders who have had incredible stints with the mare throughout her career. de Ponnat, in 2007, won the prestigious Longines King George V Gold Cup Grand Prix of Hickstead in a dazzling performance with the lively mare.
In 2009, during the FEI Nations Cup in Aachen, Jubilee produced two clear rounds with Leprovost in the irons (helping France claim victory as the winning Nations Cup team that year).
In similar fashion, Coyle and Jubilee left their mark on the European show circuit with numerous grand prix placings and wins.  But after an injury sidelined Coyle late last year, Kraut was approached about taking over the ride.   She knew to answer when opportunity knocked and couldn't wait to hop on.
Kraut and Jubilee's competitive debut was this past November at the Gucci Masters in Paris; as the horse and rider have gotten to know each other, excitement builds for what may come.  "She's been great for pretty much anyone who's ridden her.  And that says something about a horse," Kraut remarks.   Such versatility and untapped potential for the duo bodes well for their future endeavors.
"She's so funny.  When we got her, she was very finicky about any kind of treats and now, well, she's really taken to the American way," Kraut jokes.  She does hate having her girth tightened and will even kick at stirrups being pulled up."  True to herself, Jubilee is sassy and opinionated.  "She really likes attention when she wants it.  It's on Jub's terms," Kraut says with a laugh.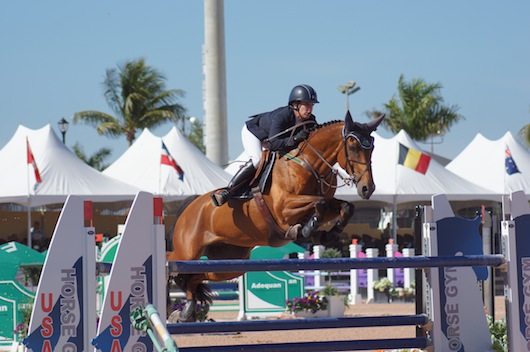 Kraut and Jubilee competing at WEF 2013. Photo ©Erin Gilmore
What's To Come?
Jubilee also has three foals on the ground (via embryo transfer), and the Lebons are reliving a bit of Jubilee's young days at the farm.  "The quality of her offspring is really outstanding.  The same qualities of Jub are seen: carefulness, blood, and intelligence," Lebon says.  And while her progeny are under the expert guidance of the Lebons, Jubilee will be headed to the European circuit with Kraut.  Paris is on the map for April.  "We're looking to pinpoint some big shows and let her go and try to win what she can without overtaxing her," Kraut shares.
During this year's Winter Equestrian Festival in Wellington, Florida, the pair won the $33,000 Ruby et Violette WEF Challenge Cup Round 2, and placed well in several grand prix classes.
Despite her age, those closest to Jubilee feel that she hasn't lost her edge.  And she really doesn't require a whole lot of maintenance.  "She has a young brain and is really enthusiastic about her work and jumping," Kraut attests.  And, with the perk of having an owner who is a veterinarian, when Lebon can, she'll personally do acupuncture on Jubi to help with any stiffness.  With diligent individuals focused on Jubilee's welfare as she enters this phase of her career, it can only build upon her already outstanding achievements.
"What I love most about her is that she really wants to win.  She's as brave as can be and always tries," says Kraut.  "She's a dream come true; I only wish she was 10 and not 16.  I'm so, so fortunate to have her."
By Katie Shoultz
This article was published in the  April / May 2013 edition of Horse & Style Magazine. CLICK HERE to read the issue!