April has been a great month on Instagram on the @Horseandstylemag stream. We're loving the pictures featuring celebration, fun, and style. Follow us next month and don't forget to tag us in your most fashionable photographs! We love the Instas, and we love your style.
Doda Miranda @DodaMiranda : This celebratory kiss was shared between Doda and his beautiful wife Athina Onassis de Miranda after he won the $500,000 FTI Consulting Grand Prix at WEF on April 1st aboard Ad Rahmannshof's Bogeno. Romance, helmets, and winning a huge grand prix are a fashion do in our book!
Gucci @Gucci : Gucci's new karung printed leather shoulder bag made it into our feed last week and my jaw dropped. As always, Gucci is on point with the latest chic karung print while keeping it classic in neutrals with equestrian flair.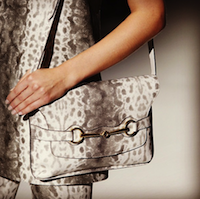 Polo Girls @pologirls : These young, beautiful polo ladies look to be having tons of fun under the sun! Bright white smiles, white polo pants, fitted polos, and chunky head bands. Thanks for sharing this happy moment.
Hope Glynn @hopeglynn : Looking absolutely stunning under a beautiful oak tree we bring you Hope Glynn and Woodstock. This pair won the Inaugural WCHR West Coast Hunter Spectacular at the 2013 Flintridge Spring Classic in La Canada Flintridge, CA with a 90. We love the big hat! Fashionable and practical.
Houghton NYC @houghtonnyc : Katherine Polk is the mind behind the fashion line of Houghton NYC. Horse & Style Magazine hosted a party for her in Wellington, FL this past March and featured her in the latest issue. READ IT HERE! We love this insta for the feathery fabulousness, and her adorable dog Jonesy is adding the awww factor big time!
Look for Instas We Love next month! In the meantime, follow us on Instagram @Horseandstylemag and tag us in your fashionable instas!