What makes the co-owners of Kentucky Derby entrant Goldencents more nervous than watching their young children ride and compete on their show ponies?
The answer to that question later; first a little background.
I have the good fortune to ride with Melanie Kaplan in Southern California, so I was an early member of the Goldencents fan club. In addition to owning racehorses, Melanie, her husband Josh and their two children Ella and Max ride with Tracy Barham Brooks, and compete on the A-circuit in the hunter and pony divisions. They're not your typical racehorse owners, and they never dreamed they'd be the owners of a horse with the talent to be a contender in the Kentucky Derby. But tomorrow afternoon in Lexington, Kentucky, they're going to find themselves living that dream when they watch Goldencents break from the starting gate.
Josh Kaplan developed a love for racing during trips to the track while growing up with his grandparents. Most of his weekends were spent at Hollywood Park or Santa Anita.  When he attended college at UCSB his interest in racing and handicapping horses supplemented his college finances, and he spent much of his time at Earl Warren Show Grounds in Santa Barbara, where a couple of large satellite dishes would bring in live television feed from racetracks throughout the country – Santa Anita, Golden Gate Fields, Oaklawn, and Aqueduct, to name a few. He learned everything about handicapping all types of racehorses. Meeting Melanie, who grew up riding in Palos Verdes Estates and had a career in advertising, gave him a life partner with whom to pursue his equine adventures.
After developing a successful business in rare coins and collectibles, Josh looked to trainer Doug O'Neill as a collaborator in racing investments. The appropriately named "Goldencents" is the latest in a series of partnerships in which the Kaplans have been involved. The Kaplans share ownership of Goldencents with Rick Pitino, head coach of the University of Louisville basketball team. Pitino was already popular in Louisville for leading his team to a national championship, and he certainly is reaching a new level of fame with his involvement in this Derby favorite.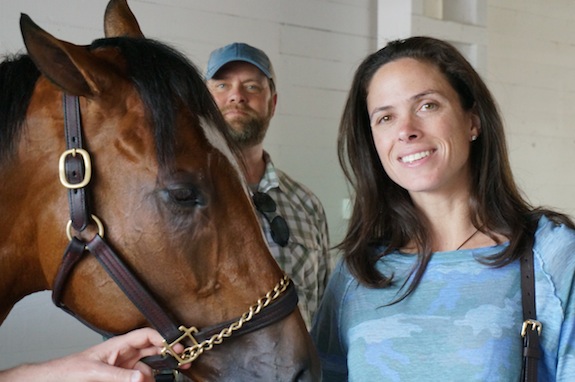 Melanie in the barn with Goldencents, trainer Doug O'Neill in the background.
The offspring of Into Mischief and Golden Works, Goldencents  is in training under one of the most successful trainers working in horse racing today: Doug O'Neill.
O'Neill won at Santa Anita last year with I'll Have Another, the horse that went on to claim first at the Kentucky Derby and Preakness before being sidelined with tendonitis prior to the Belmont Stakes. Last year, the Kaplans were thrilled to be the guests of the owners of I'll Have Another, the Reddams, and Team O'Neill/Kaplan are hoping to repeat that experience this Saturday with their own newcomer.
The Kaplans have been involved with racehorses for over a decade, but this is their first year with a horse in the famed Kentucky Derby, and they couldn't be more excited. Goldencents races in periwinkle and gray silks, with a WC horseshoe logo that Josh and his business partner Glenn Sorgenstein designed together.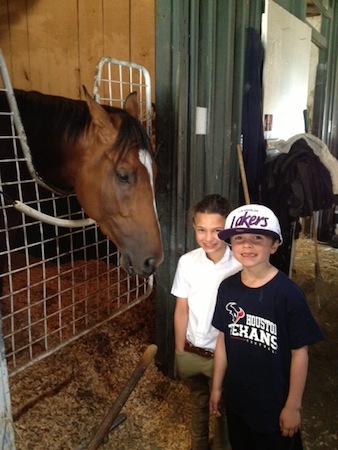 Ella and Max Kaplan with Goldencents
I asked the Kaplans what their Derby experience was like last spring:
"Last year was our first time at the Kentucky Derby, and as a first time derby experience it by far exceeded any expectations," said Melanie. "The funny thing was that we were watching The Kentucky Oaks the day before, and we had a runner in the undercard, and we came back from that day feeling so satisfied that we questioned if Derby Day could live up to the hype. Obviously, it exceeded it.  While we were watching the race, Bodemeister was looking so good, and the I'll Have Another came up on him and Josh just sat there saying 'Oh my God he's gonna win, he's gonna win, he's gonna win' over and over again.  Doug O'Neill's whole philosophy is that we are all on a team and everyone works together to make great things happen, so that sense of camaraderie made it all the more special."
And if Goldencents wins:
"As for what we will do if Goldencents wins, who knows, we try to take things one step at a time.  Buying more horses I think will happen regardless, we have been in this for the past 10 years so I can't see Josh stopping.  I would like to see Goldencents in stud. The other day we went and visited his sire Into Mischief. He is such a beautiful horse and has so far proven to be a successful sire. He has two sons in this Derby with Goldencents and Vyjack.  "
More salient details emerged when I asked the stylish Mel about her plan for possible photo ops at the Derby; "Yes, I do have a derby outfit and hat chosen. The dress is sundress type dress, knit Lanvin with a mod sort of stripe pattern in black white and a green gray. My hat is big and black!"
And as for their nerves?  The Kaplans get more nervous watching Goldencents run than watching their children compete in the show ring, but add that that could change if the kids ever end up in the Grand Prix ring!
We at H&S will be rooting for them on Derby Day!!
-By Winter Hoffman