It all started when Rebecca Yuhasz Smith entered a Country Living contest for women entrepreneurs. By sewing just one handbag at a time, Rebecca Yuhasz Smith's hobby turned into a business quite rapidly with Rebecca Ray Designs.  The Rebecca Ray line is comprised of sporting-inspired handbags, leather goods, jewelry, belts, key fobs, and recently a line of stationary affiliated with her brother Chris Yuhasz' company Seven Barks.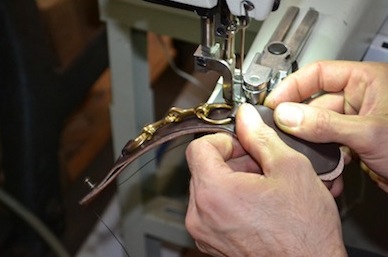 Each Rebecca Ray item is handcrafted in the U.S.A.
Whether it's her bubbly personality, equestrian accomplishments and sporting habits, or enthusiastic entrepreneur traits, Yuhasz Smith has nailed down what it takes to design authentic made-in-America equestrian accessories. Her passion for all things sporting is reflected in each one of her designs. For example, Rebecca uses vintage rosette images on some of the accessories and utilizes real antique feed sacks in many of her designs.
"Ray" stands for her maiden initials, and is also her Dad's first name, as Yuhasz Smith 's father inspired both she and her brother to start their own companies.  Today, Rebecca Ray designs are featured in more than 300 fine retailers across the United States.
As a third generation English Setter fancier, she still raises top quality show dogs.  Some of her other hobbies include riding and driving her Percheron horses and keeping up with her daughter Elizabeth's hunter jumper competitions.
Smart as a Whip
Basically, she was born in a barn. Raised in a household of 3-day eventers, both of Yuhasz Smith's parents were professional horsemen.  Taking a strong liking to show jumping, she became an accomplished rider, later competing on the Miami Ohio University equestrian team.  After studying English in undergrad, Rebecca went on to complete her masters in Education.  Post graduation, she specialized in working with non-profits and creating programs for those who needed employment.
Authentic American Couture
It all began in 1998, with a hobby of creating and simple philosophy of "doing good." In 2001, Yuhasz Smith followed her husband Derek to San Francisco for his job. While he worked long hours, Yuhasz Smith began creating her line, at first just as a hobby.  But soon, locals were stopping her at the grocery store to ask where she got her bag.
Rebecca, her husband Derek, and daughter Elizabeth
She realized she was onto something, and Rebecca Ray Designs began to grow. By 2004, she and her husband had moved back to Chagrin Falls, Ohio. Yuhasz Smith wanted to be sure to keep Americans employed by sustaining the economy locally, and when the business started to grow to more than what she could handle alone, she hired local Amish sewing masters and harness makers to mass manufacture Rebecca Ray Designs in Lancaster, Pennsylvania.  Each item is created one-by-one on traditional bench-made kettle sewing machines, without electricity.
"It's the real deal: it's all solid brass and nickel," she remarks on the workshop.
"I start with authentic things, like an antique feed sac, and twist them into wearable, relevant products,"
Yuhasz Smith insists on supporting the community and establishing relationships with her manufacturers.
"We stay on their farm and they host us, feed us, and we participate in their Amish family events.  We get to work side by side at their studio, and then everything is delivered by horse and buggy," she explains.
In all, a team of 13 Amish women sewing soft goods and six male harness makers work full time for Rebecca Ray.  Her eldest lead seamstress, Maryann, has been working for Rebecca Ray Designs for 10 years since Yuhasz Smith stopped sewing herself!  Her office team consists of "serious horse people," according to Yuhasz Smith. Many spend their weekends at the short stirrup ring watching their children compete in guarder straps and braids.  "We are doing all the things that we talk about and we make. This makes us the most authentic brand: you get what you see."
New For Spring '13
The magnificent color scheme for Rebecca Ray Designs Spring '13 collection ranges from black, bone, and cobalt blue, to lime, orange, and yellow.  The new pebble leather accessories are both functional and fashionable. For example, the "Marie" can be worn 3 different ways as a wristlet, cross-body, or clutch.   Along with creating new styles, Rebecca Ray has also partnered with The Devon National Horse Show, The Racehorse Museum, and Lake Placid Horse Show for cobranded accessories.
The Marie Tote.  Available in White, Navy, Green, Chestnut, and Black.
Seven Barks Stationary line is also a new addition to the Rebecca Ray collection.  Vintage postcards are iconic: they make perfect thank-you notes, or can be dropped in a brass frame for the perfect wall accessory.
Classic, Nostalgic Luxury
Her love of designing doesn't stop with accessories: Yuhasz Smith also dabbles in interior decorating.  Recently, she and her husband bought a historic, 35-acre farm just outside of Cleveland in Chagrin Falls. After spending the whole summer moving, she and her family are now experiencing a complete historic restoration project.
"We inherited all of the old tractors on the farm, and moved our Percherons to begin a breeding program," Yuhasz Smith describes. "We are working with the historical society to restore the house and barn, which had not been lived in for over 10 years!"  Previously, Yuhasz Smith's home inspired decorators with her French country chic style and color palettes.
Rebecca's energy emanates that of a talented entrepreneur, which many aspire to become.  She and her family are looking forward to building their new farm, raising Percheron horses, expanding the Rebecca Ray collection, and living a lifestyle that reflects the true American equestrian dream.
 -By Ashley Cline