Equestrian clothing may be considered sportswear, but that doesn't mean you can't have fun with the latest fashion trends. Here in the United Kingdom, we've just come out of Fashion Week, the time of year when designers showcase their latest collections, and that means all the fashion magazines and bloggers are working out the latest trends for Spring. Luckily, the Fall – Winter fashion trends were decided months ago now, so we already know what we need to plan for.
Designers were strongly focused on rose-toned colours – just take a look at Topshop Unique, Lanvin and Nina Ricci for inspiration! Luckily rose has always been a big trend in the equestrian world, so there are plenty of brands that will keep you stocked up in pretty pink polo tops and soft wool jumpers. Of course, there's even pastel-pink jodhpurs about, just make sure you don't go all-over pink, as you might spook your horse. Instead break up the intensity of the colour with contrasting black accessories.
We all know it's well and truly Fall when we can no longer return from the field without being knee-deep in mud – that's why it's now a good time to order your winter wellington boots. Wellingtons don't have to be boring old khaki green anymore – nor do they need to be pattered in ostentatious colours – there are actually chic wellingtons out there just waiting to be purchased, namely from the iconic brand Hunter. When we saw the gorgeously shiny, dark ruby Hunter wellies below, we felt our hearts skip a beat – the deep crimson colour is perfect for complimenting the rose colour trend, and these boots are so beautiful, you might find yourself tempted to wear them on a night out!
Finally, you will of course need a good warm hat ready for the biting country winds. Although hand-knitted bobble hats are cute, if you're looking to be the most glamorous lady at the stables, you might prefer a traditional deerstalker hat. Not only do these hats suit most face shapes, they also usually come fully lined in luxurious faux fur, and they hide your ears too – perfect for keeping you contently warm whilst doing odd-jobs around the farm.
We don't get much chance to experiment with new cuts of clothing or the latest vintage trends when it comes to equestrian clothing, but by experimenting with colour and investing in accessories and boots that have a little of the wow-factor, we can certainly make our horse riding gear look effortlessly classy. How will you be wearing the trends this season?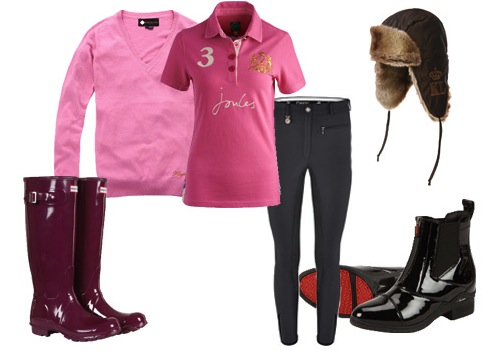 Above from left to right: Kingsland Arabella V-Neck Knit, Joules Beaufort Lark Polo, Kingsland Ascot Hat, Pikeur Lugana SoftShell Winter Breeches, Hunter Gloss Wellingtons in Dark Ruby, and Dare to Be Dublin Jodhpur Boots in Patent Black. All available in Edgemere's Equestrian Clothing Range.