While previewing the contemporary art last week at Sotheby's in New York City, an elegant saddle caught my eye. It is part of upcoming (RED) Auction.
The saddle is a unique version of Hermès' iconic Cavale saddle created in red leather with custom red stitching. The starting bid is set at an incredible $100,000 – $150,000 USD. It will be interesting to find out who places the winning bid on November 23rd, when the auction will be held. Of course, the point is to raise funds for a very good cause, rather than purchase a piece of riding equipment, so it's safe to say that you won't see a rider going home with the red saddle!
From the Sotheby's website: Two of the world's foremost design pioneers, Sir Jonathan Ive, KBE, and Marc Newson, CBE, have collaborated with musician and philanthropist Bono to organize a (RED) Auction celebrating the very best of design and innovation. Jony and Marc have spent the past year and a half curating the collection, which comprises objects from disciplines as diverse as space travel and lighting design to contemporary art and rare automobiles, all unified and distinguished by their excellence and innovation. Proceeds from the 23 November 2013 sale at Sotheby's New York will benefit The Global Fund to fight AIDS, Tuberculosis and Malaria.
Bono said, "When you think of Jony and Marc, you think of design which is both iconic and sublime. Those two words can be applied to the unique collection of objects on the auction block this November. Each bang of that hammer will be raising critical dollars to fight AIDS… by getting medication to mothers with HIV which means they will not pass the virus on to their newborns."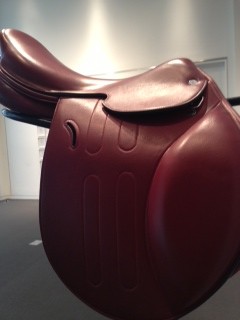 The saddle was a little less red in"real life" – but no less impressive.

-Winter Hoffman