Eight year old rider Stella Wasserman, of Beverly Hills, California is definitely on Santa's "nice" list this year. Already a successful young pony rider who trains with Lesley Bulacek and Diane Dufoe at Cross Creek Farm, she likes to share her world with her friends by inviting them to play with her toy horse farm and riding stable.
Who wouldn't love the sport when they see this magnificent artisan toy barn created by McGuinn Farms, Inc. of Ft. Lauderdale, FL.? Perhaps the extravagant setup can take a little bit of the credit for developing Stella's skills in the show ring, or at the very least inspires her dreams! The stable is comprised of a barn that Spike, the Wasserman's Pomeranian, wants to move into. With a personalized Menlo jump, a scaled down European style horse van, as well as a fully operational feed and tack room, the set up is enough to keep any young rider enchanted for days and days.
The piece de resistance is a Breyer custom horse model of Stella's show pony Ice Breaker. Credit for this extraordinary play room must also go to Stella's mother Laura, an accomplished hunter rider, her father, sports and entertainment whiz Casey Wasserman, and Stella's brother Emmet who puts up with it all!
-by Winter Hoffman
The barn sits below tall windows…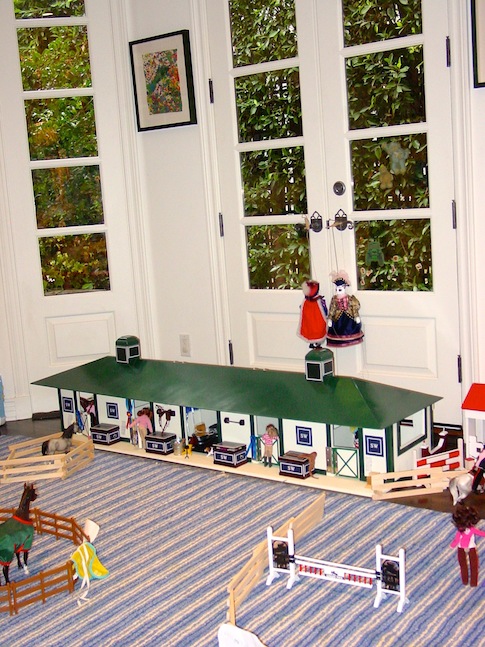 And the roof opens up to reveal the horses and tack inside the stalls. Note the custom tack trunks outside each stall.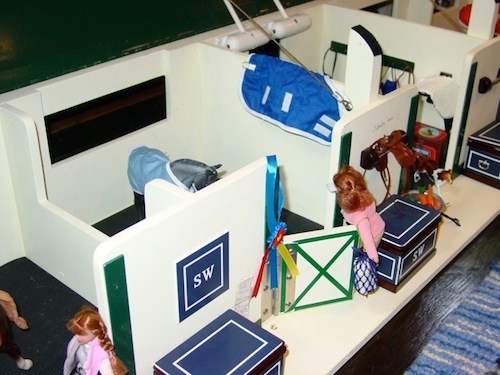 Stella is always happy to show off her very own stable.
The jump that served as a table centerpiece at Menlo is a perfect addition to the stable.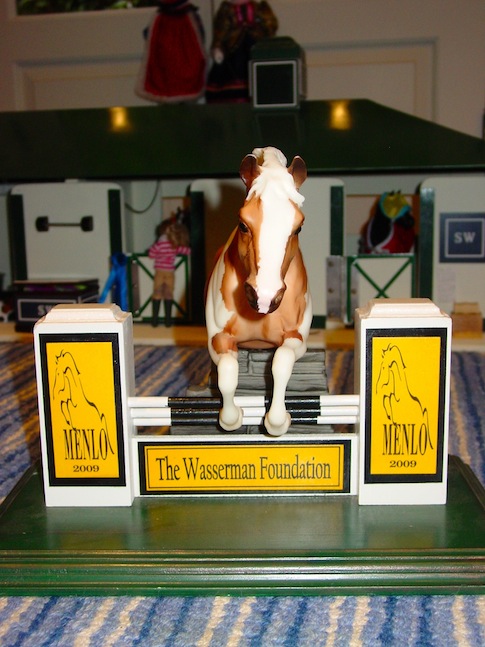 Out in the "real world," Stella and her father Casey enjoy time together at a horse show.