GhoDho, a new designer line, makes their exciting entrance into the equestrian sportswear market with its collection of edgy, fashion forward breeches. GhoDho, which means "horse" in Indian, was the obvious name for founder Isheeta Dabawala, whose cultural background is 100% Indian.
Isheeta, an experienced rider since age 11, has competed in many styles of riding from hunters to equitation. She has recently taken an interest in jumpers and will be competing in speed classes in the near future. Aside from riding, Isheeta's love for horses has lead her to become involved in acquiring horses from overseas and selling them in the US market.
With an eye for fashion, Isheeta realized there was a void for fashion forward breeches in the equestrian market that needed to be filled. "I have always wanted to find fashion forward breeches I can wear in and out of the stables," said Isheeta. "I was inspired to create this line, because I really felt that the equestrian market was lacking in fashion forward clothing for young riders. It was important to create a breech that is practical, affordable, and fashionable."
With a team including a 20 year veteran of New York's garment center and former head designer of Betsey Johnson, Isheeta launched her brand and is filling that void.
GhoDho's five styles of breeches incorporate the finest fabrics and a number of unique features, including decorative and detailed stitching on the legs, faux crocodile knee patches, and nickel zippers.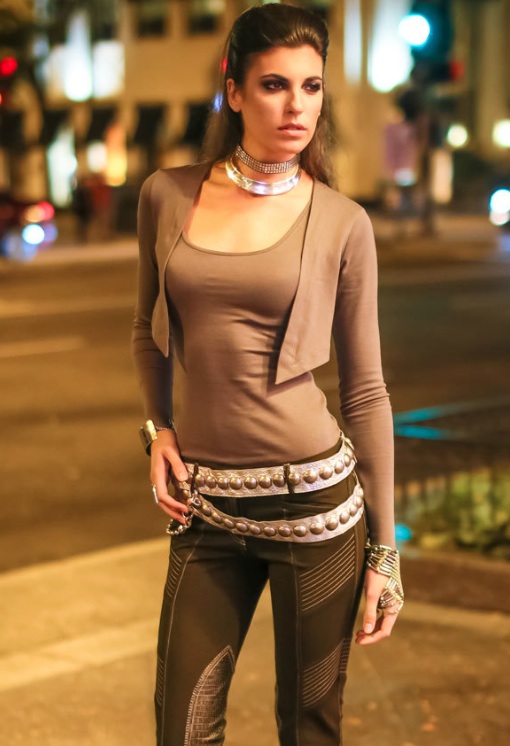 Made of iron-free, sturdy yet soft technical fabric, these machine washable breeches meet the highest standards both in and out of the saddle. The breeches stand up to the most demanding of equestrian needs. The simplicity of care along with sleek style, make these high performance breeches a must have for the trendsetting equestrian and any mainstream high fashion consumer.
The GhoDho line of riding wear with its innovative styles and fashionable look is sure to be one of the standout brands in equestrian fashion this year.
"We're excited to launch our collection of trend setting breeches," said Isheeta . "We've had an exceptional response to our designs, and we are hoping to add more to our collection throughout the season. In the near future, we will be expanding the brand with a show collection and accessories that, like our breeches, can be worn outside of the stables as well."
Along with the breeches, GhoDho has also designed a shrug and tank top combo that compliments the breeches when worn outside the show ring. Not quite an equestrian styled garment, the shrug is a nod towards mainstream high fashion design, a market that the founder of GhoDho plans to also feature her brand. GhoDho items will be available at select horse shows, boutique tack stores and mainstream high fashion boutiques throughout the United States and Europe this spring. To learn more, visit www.GhoDho.com