For a while there, it looked like America had lost Andrew Ramsay for good. But this fall, the 28-year-old rider who's spent the last three years ensconced in the horse business in Europe, arrived back to the West Coast for a busy tour of the circuits that he last participated in more than a decade ago.
Back in 2001, Ramsay was a frequent face at California's top shows. But after high school, he took a break from horses and then ended-up in Europe. A short trip evolved into several years spent in Holland and the formation of his own stable. Ramsay has been well settled in Europe ever since, successfully bringing along young horses and gaining valuable experience.
So when this Oakland, California native showed up in the grand prix classes at the Sacramento International Horse Show in October, heads turned. He capped a triumphant return to the West Coast by winning the last World Cup Qualifier of the fall circuit in mid November, the $50,000 Markel Insurance Grand Prix CSI-W at the Las Vegas National. It was one heck of a way to step back into the West Coast fold, where Ramsay still has a large network of friends and family. Read on to find out what's next for this exciting professional.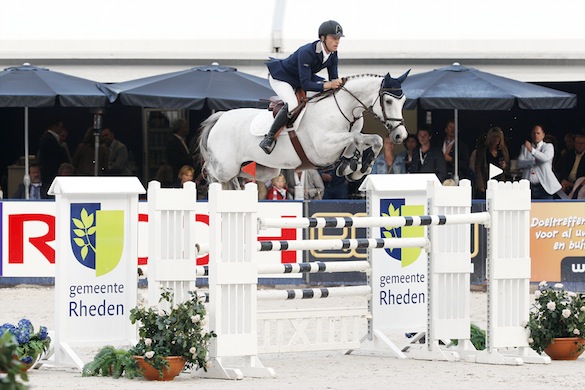 Ramsey competing with Chocola Z in Europe. Photo ©Digishots
Horse & Style: Locally, you were well known during your junior career. What were the standout moments of those years?
Andrew Ramsay: I started riding when I was six, training with Gry and Duncan McFarlane at Windfall Farm. As my commitment to the horses grew, we transitioned from Windfall Farm to establishing our own stable, Shalanno Farms, with the help and training of Linda Hough, Stephanie Simmonds, and John Wohr. Until the fall of my last junior year I balanced school and my love for the horses. I won the West Coast Maclay Regional that year, but decided not to travel back East for the Final. I had done it the two years before and wanted to finish up my last year of high school with a more normal schedule. My last show in the US was at the Cow Palace and I won the grand prix on my junior jumper. It was a great way to finish up as many friends and family were able to come to the local event.
H&S: Tell us more about the break you took from horses, and how you got back into it.
AR: After graduating high school, I took a five-year hiatus from the horses that began with a gap year and continued with my studies at Colby College in Waterville, Maine. Initially I did not miss the horses, but once I settled into university, I began to realize what a significant part of my life the horses and competition had become. I loved college, but it was a long four years away from the stable. By my sophomore year I knew that I wanted to work with horses. After graduation I rode for Stephanie, and then I went East and helped Lauren Hough during the 2010 Florida circuit. That summer I went over to Europe with the intention to work for Alan Waldman for six months.
H&S: And then, it was history? How did six months turn into three years?
AR: I went to Waldman Horses to be Alan's rider, but after being there for six months I bought one horse, then two, and then while working for Alan, I was spending half the day with my own horses.
It was a natural point to stop working for him. After a year I built a stable next to his and now I have eight horses in training. Alan has been a wonderful mentor and has been instrumental in helping to establish my own business. In 2010 when I first traveled to Europe I would have never imagined Holland becoming the focal point of my early years as a professional.
H&S: That means you hadn't shown in the US in how many years? Why come back now?
AR: There were a lot of factors, one of which is that California will always be home. It's where I grew up and it's where I always rode. My parents, grandparents, cousins and friends are still all in California. It is not only an emotional home, but where I trained and competed for 12 years of my junior career.
When the idea of returning to California to compete first surfaced, we needed to figure out how it would work. If we were going to take the expense of sending horses from Europe I wanted to come with a direction. Jump the World Cups. I had never jumped any of the qualifiers in the US or Europe. So I came with the goal of jumping the World Cup qualifiers starting with the Sacramento International through the Las Vegas National, and if all went well, to perhaps stay through Thermal.
H&S: How did it feel to be back in California?
AR: It feels wonderful. It was hard for me to have expectations of what the shows would be like since I hadn't shown here in a decade. But I've enjoyed the shows, the competition, and it's been great to reconnect with friends I hadn't seen in 10-plus years.
H&S: What can you say about how Europe has influenced your career?
AR: I really enjoy the sport in Europe. It's quite different than here in the USA. Europe is a wonderful place to work on one's own career and develop your own horses. There's a lot of opportunity. It's easier to develop young horses; every week there are a multitude of national shows within a 30-minute drive of our stable. In the same week we can show young horses at national events, then compete internationally on the weekend with an older group. As a small stable with one rider we can accomplish a lot in a week's work.
H&S: Do you ever get homesick while overseas?
AR: I went with the expectation that Europe would be a short term experience, and it evolved organically as it's gone along.
Alan is also an American and with his foundation of riding in the States made it easier to step into his stable. He's become a great friend and that helped with adjusting. Also, I am quite busy with training, competing and looking for horses and that does a great job of keeping my mind from missing home. It also helps that Alan has a strong American client base which helps to bring a bit of the USA to Holland.
H&S: And what's your plan now? Will we be seeing more of you in the USA?
AR: It's been crazy lately, I've ended up going back and forth a lot right now. The weekend before Sacramento I was in Belgium at the Young Horse World Championships. Just after Sacramento I met four horses in Italy and showed there for two weeks, and right after that I was back in California for Del Mar. My plan at this point is just to try to balance the two groups of horses in USA and Europe.
This fall was a feeler trip. If it does work, I can organize for next season. I needed to get a feel for how it all works, from visas and transport to just doing entries in the US. I've never done entries here before!
I love working with the horses and I love competing. But in the end, it's an expensive sport, and up until now I've owned all my horses, and sold a few special ones. Yes, I'd love to pursue the sport, make it onto teams, represent America. Yes, that's my goal. And that's much of the reason for coming back. I am American, after all!
This article was published in the Dec/Jan 2013-14 issue of Horse & Style Magazine. CLICK HERE to read the entire issue online!