There is nothing quite like Wellington, Florida during the winter season. Nearly every night of the week, there is that fundraiser, this gala, or that horse show to attend from one corner of town to another. From show jumpers taking a spin on a reiner, to a concert by a country music star, and finally, some good old fashioned show jumping on a brilliantly warm winter afternoon, team H&S was on the move this past weekend to take it all in.
Try if you can to keep up as we take you from Friday evening's Equestrian Aid Foundation/Who Reins Supreme event at the Jim Brandon Equestrian Center, to Friday evening's $10,000 Artisan Farms Young Rider Team Event, on to Saturday evening's FTI Consulting Great Charity Challenge, and finally, Sunday afternoon's $50,000 Ariat Grand Prix CSI2*.
FRIDAY
H&S intern Kerry Cavanaugh is based in Florida for the winter season, and it's a good thing she is because on Friday evening,  H&S had to be in two places at once. Kerry reports: the Who Reins Supreme event (to benefit the Equestrian Aid Foundation) made for a  bright, exciting atmosphere with a casual cowboy twist. A group of top show jumper and hunter riders (including Louise Serio, above) competed in the friendly team reining competition with the assistance of professional reiners Tim McQuay and Mark Rafacz. During the event, a fantastic buffet style dinner was served on kitchy tables with red bandana napkins and burlap gift bags. The actual event itself was so fast paced, it seemed like it was over before it started! Each reining pattern was comprised of two galloping circles, two loping circles, two spins, three sliding stops, and a back up. While some of the riders nailed the pattern, others had a hard time controlling the extremely well trained, sensitive reining horses.  Nick Dello Joio looked quite dapper in his best western getup, but it was Nicole Shahinian Simpson's blinged out outfit that stole the show. I would have loved to see more riders come out for the event and compete against each other, instead of on teams to make the main attraction longer and more exciting. But nevertheless, it was a great time for a great cause.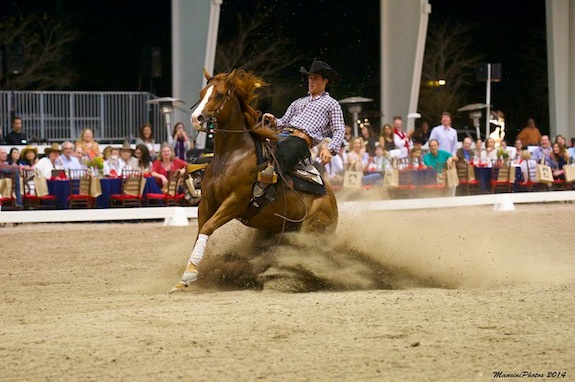 Nick Dello Joio gets low during the reining competition. Photo ©Mancini Photos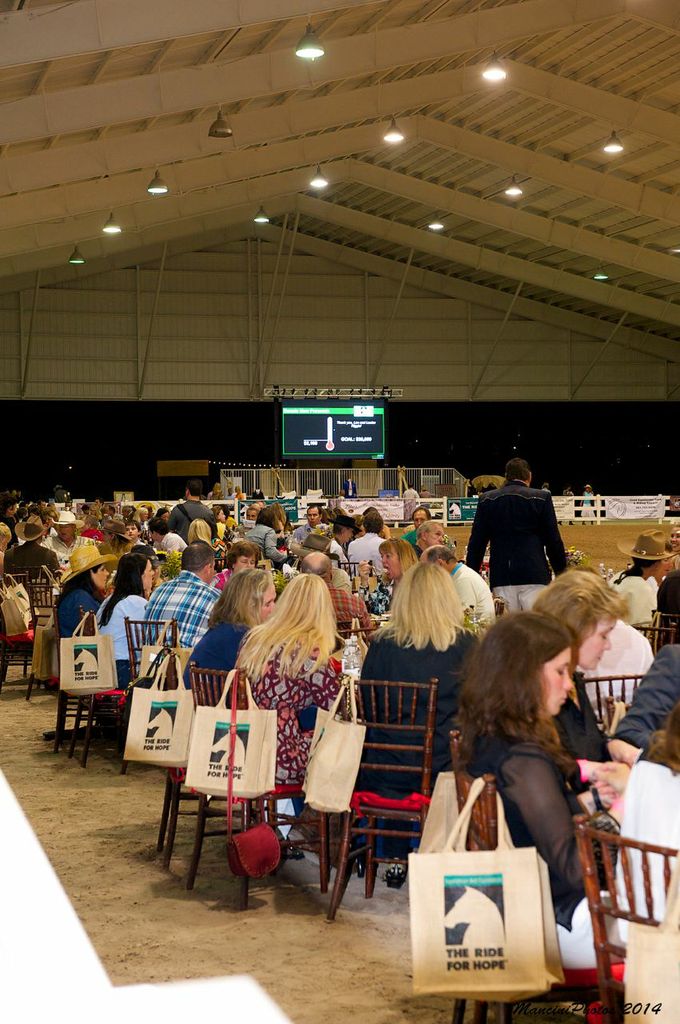 Guests dined ringside during Who Reins Supreme. Photo ©Mancini Photos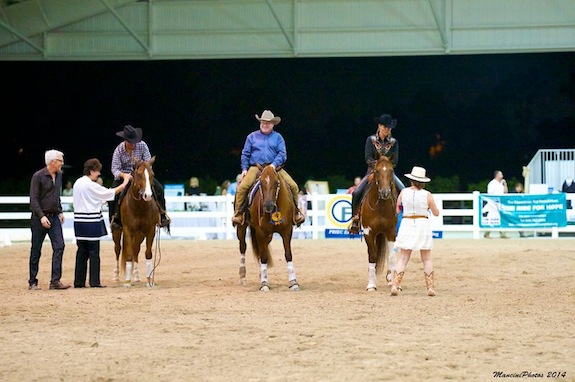 Nick Dello Joio, Tim McQuay, and Nicole Shahinian Simpson were the winning team. Photo ©Mancini Photos
Across town at the very same time, Round 2 of the $95,000 Artisan Farms Grand Prix Series was underway at the Global Dressage Festival Grounds. The main arena at the GDF is only two years old this year, and until this weekend, a show jumping competition had never been held in its main arena. Normally home to nothing more than a dressage court, the arena is much smaller than the International Arena at neighboring PBIEC. Competing in the tighter confines over a full course gave the Young Riders a chance to compete in an environment not unlike an indoor or European show. After two rounds of Nations Cup competition, the team of Kalvin Dobbs, Hayley Barnhill, Gabriela Mershad, and Abigail McArdle came out on top. There were a few dramatic moments when Victoria Colvin took a spill at the third fence in the second round, and when Abigail McArdle clinched her team's win by jumping clean as the last rider to go. The Series has really stepped up this year to serve as a valuable bridge between the junior and professional ranks, and it's exciting to watch the Young Riders progress. I'm already looking forward to the Semi-Finals in a few weeks!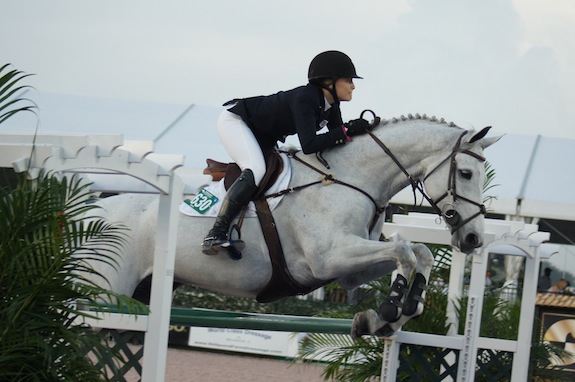 Young Rider Victoria Press competes in the Artisan Farms Team Event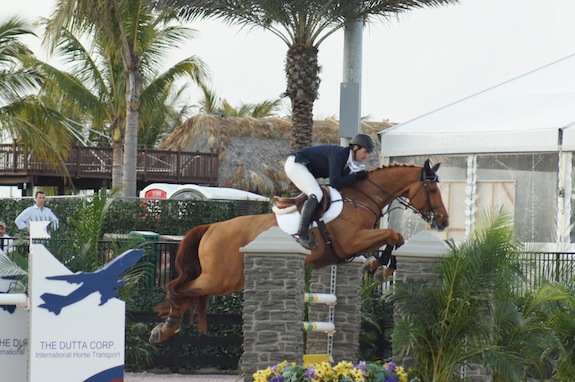 Lorcan Gallagher helped his team place 2nd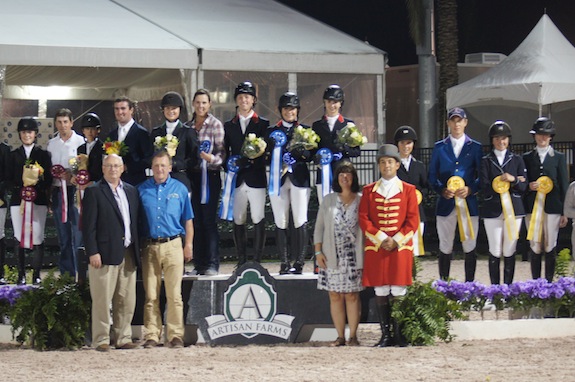 The top placing riders, their coaches and the Series sponsors
SATURDAY
It seems that every year, the FTI Consulting Great Charity Challenge gets bigger and better. True to form, Equestrian Sport Productions really stepped it up this year for the 5th Annual FTI GCC. The Winter Equestrian Festival attracts crowds that are difficult, if not impossible to replicate anywhere else in the United States, and the FTI GCC's pro-am relay race, combined with charities to benefit causes that ranged from animal rescue to eating disorder support, drew upwards of 10,000 people to the Palm Beach International Equestrian Center on Saturday evening. In a true first for FTI WEF, a massive stage was constructed at the southeast corner of the arena to host a full concert after the equestrian portion of the evening by  four-time Grammy nominated artist Hunter Hayes. My favorite part of the evening was sitting in the audience surrounded by people who had come out to support their charity – who weren't horse people but were cheering on the riders and following every jump with excitement. Hats off to Mark Bellissimo and FTI WEF for drawing new show jumping fans to the sport with every passing season.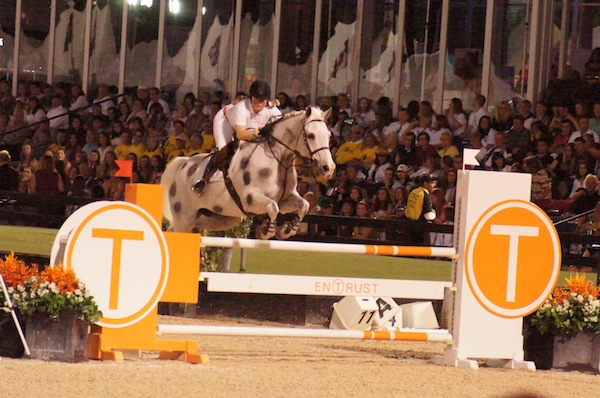 Pippa Allen rode in support of Big Dog Ranch, and painted her horse accordingly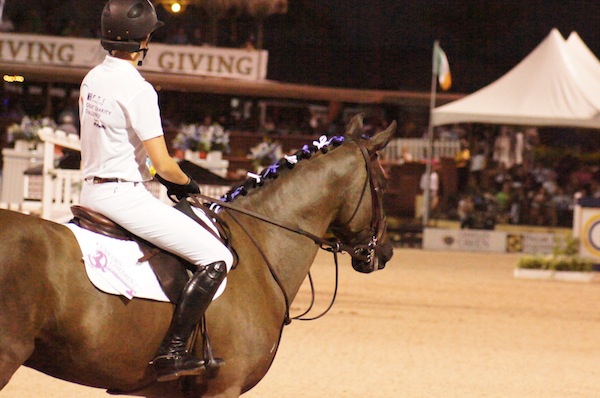 It was fun to see riders dress up in the spirit of the evening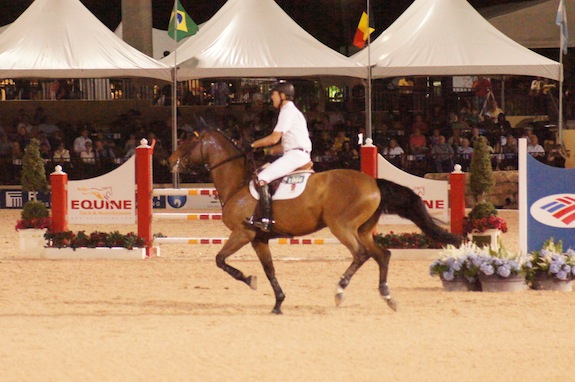 Ian Millar led his team to victory for Speak Up for Kids, earning them a $150,000 check. A total of $2.1 million dollars was handed out to the 32 Palm Beach Charities that participated in the Great Charity Challenge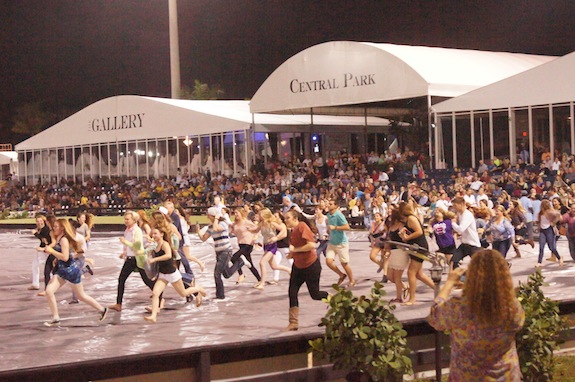 After the equestrian portion of the evening, a different kind of stampede occurred. That of giddy tweens running towards their hero….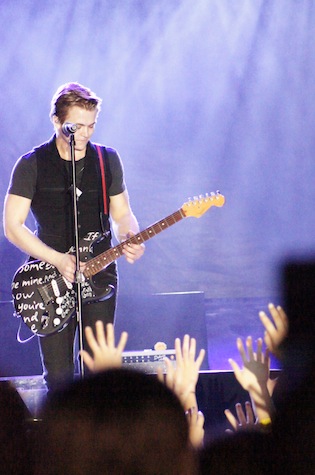 Hunter Hayes performed all of his hit songs and then some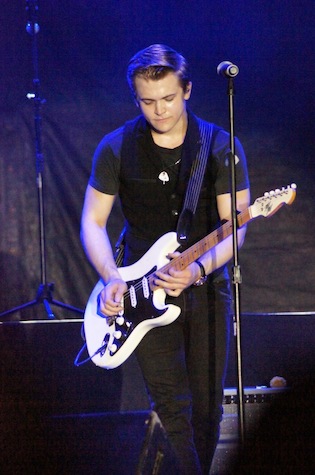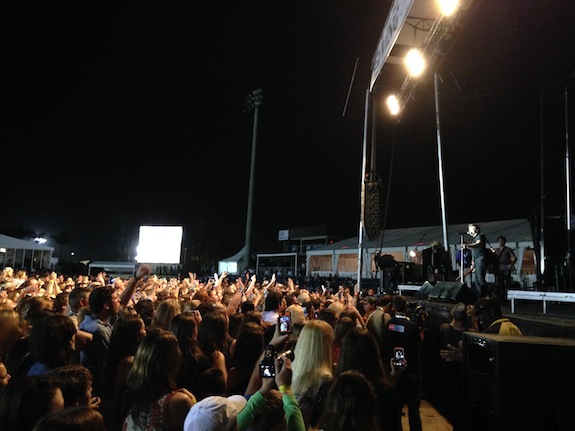 The International Arena at WEF was unrecognizable on Saturday night during the Hunter Hayes concert
SUNDAY
Tired yet? There was no time to be tired when Sunday greeted us with a third straight day of top equestrian competition. This time it was the FEI-rated grand prix held at everyone's favorite venue – The Stadium grass derby field on the GDF Grounds. Both properties are owned by Equestrian Sport Productions, which operates the Winter Equestrian Festival and the GDF. In recent years The Stadium has been utilized more and more, and this was the first of four classes that will be held this season at this gorgeous venue. Even better, the weather complied on Sunday afternoon for the $50,000 Ariat Grand Prix CSI2*, with blue skies and warm temperatures making the competition that much more brilliant. If you're in Wellington at any point during the season, check the schedule so that you don't miss the chance to take in some show jumping at The Stadium!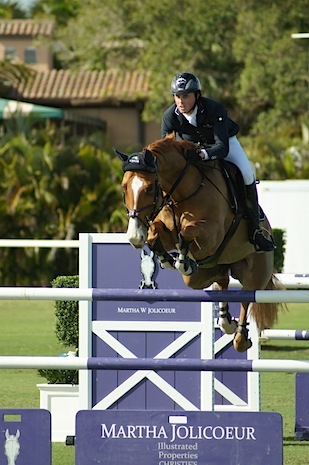 Where else in the world can you causally watch the FEI World number one and two compete in a beautiful setting? Here, world #2 Ben Maher and Aristo Z jump the first combination on course.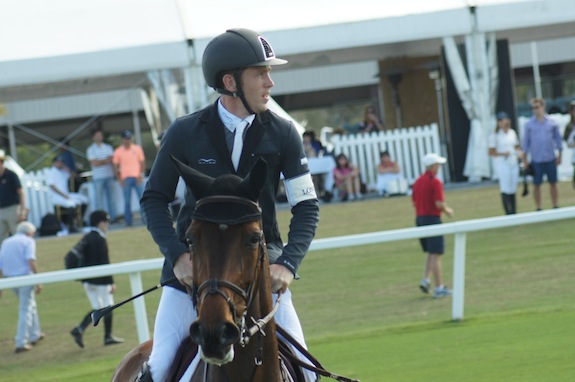 FEI World #1 Scott Brash wore his Longines leading rider armband. He had one down with Hello Annie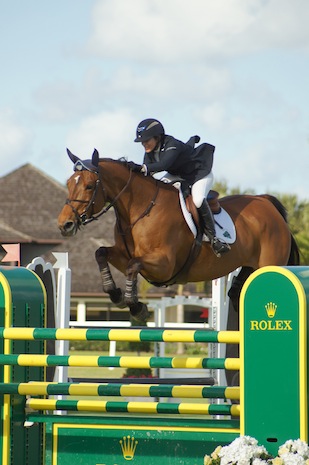 It always has been and forever will be a thrill to watch Margie Engle take on a course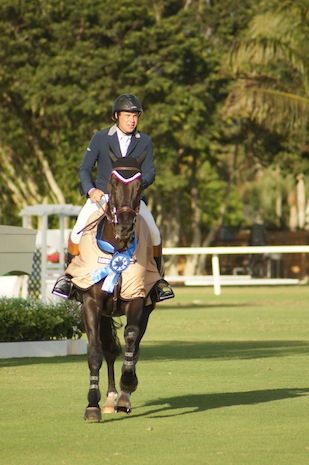 We were excited to watch Hardin Towell win the class. I interviewed Hardin back in November, and featured him in the Dec/Jan H&S as our Style Rider. Congratulations Hardin!