On the final afternoon of the 2014 Winter Equestrian Festival, a small chestnut gelding took his own final lap around the International Arena, regarding the small group that had gathered in his honor, and the garland of flowers placed around his neck, with an expression of amused interest.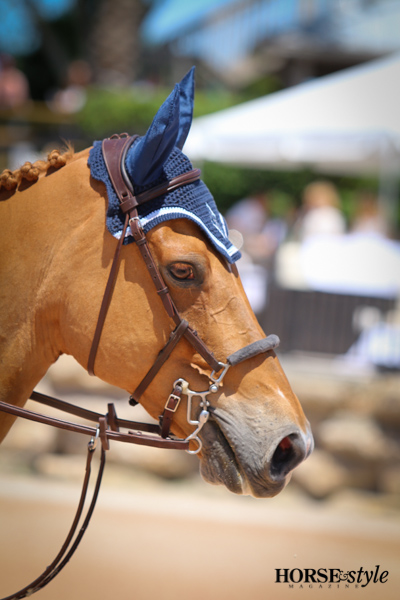 Night Train, a 15 year old Selle Francis gelding by Calvaro Z, was purchased by Double H Farm in 2005, after their then-rider McLain Ward spotted him as a young horse jumping in Belgium.
At only 15.2 hands tall, Night Train attracted many doubters, who wondered how far he could actually go in the sport, despite his natural talent for show jumping. But Hunter Harrison of Double H believed in him, and encouraged others to trust in the small horse's heart. Ward campaigned Night Train as a young horse, and Ireland's Denis Lynch also took over the reins when Night Train was a more seasoned campaigner.
But it was Irish rider Darragh Kerins who was able to bring the best out of Night Train at the beginning of his grand prix career. In the 2007 season they won five major classes together; the $80,000 New Albany Classic Grand Prix, the $75,000 Grand Prix at HITS on the Hudson, $35,000 Grand Prix at the New York Horse & Pony Show, the $25,000 Grand Prix at HITS on the Hudson V, and the $20,000 1.50m Classic at WEF.
It was going to get better. From 2008 – 2009 Kerins and Night Train dominated on the East Coast, winning the 2008 $100,000 Grand Prix of Devon, $75,000 I Love New York Grand Prix, and top finishes in the World Cup Grand Prix CSI3* in Wellington, the New Albany Classic, and at Old Salem. In the summer of 2009 , they jumped double clear at Falsterbo to help Ireland win the Nations Cup there, and represented Ireland at the European Championship at Windsor in 2009.
In 2010, Night Train moved on to the stable of Rodrigo Pessoa, who experienced  more success, winning the $200,000 World Cup Qualifier at WEF and notching top placings on the Global Champions Tour.
All great horses deserve a great sendoff, and when the decision was made to retire Night Train, it was only natural that he be honored before the finale grand prix of the 2014 FTI WEF season. Kerins entered the arena aboard Night Train, circling the arena for a last lap of honor. When he came to a stop in front of the ingate, Pessoa was there to greet him, and participate in the ceremonial final removal of the saddle. Pessoa and Kerins threw a cooler over Night Train's back and placed a horseshoe of white flowers around his neck.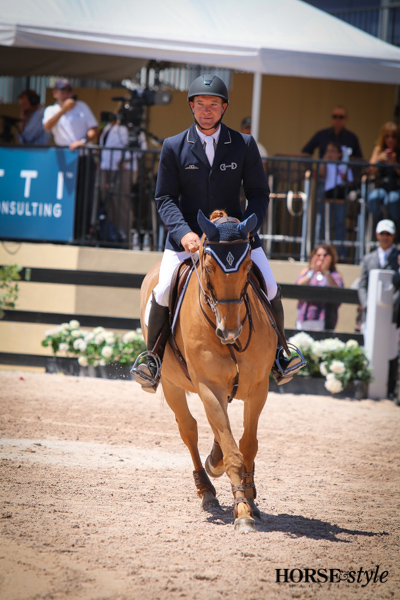 Hunter Harrison, his daughter Cayce Harrison and her husband Quentin Judge and many more of Night Train's connections joined their horse in the arena for a final photo.
When a horse gives his all, it's only right to give what you can back in appreciation. Night Train can look forward to living out the rest of his days with Double H Farm, whose expansive farms in Connecticut and Florida are heaven for any horse. Happy trails, Night Train.