If you're a show jumping fan who is planning on traveling to Normandy, France this summer for the Alltech FEI World Equestrian Games, there's no doubt that much of the reason you're making the trip is to witness  Show Jumping's Final 4 in person.
It's the only competition of its kind in the world, and it only takes place every four years at the World Equestrian Games. After three previous rounds of jumping, the top four riders advance to the Individual Final 4, where they participate in a kind of equine musical chairs – each riding a round on their competitor's horse. The winner earns the title of World Champion.
In 2012 this competition was epic. Held under the lights of the Rolex Stadium at the Kentucky Horse Park, the late Hickstead jumped four clean rounds under each rider and earned the title of Best Horse, a memory made more poignant after his untimely passing. Belgium's Phillipe LeJeune (above) and Vigo d'Arsouilles joyously earned the World Championship title. The warmup was inside the main arena. It was truly something to witness.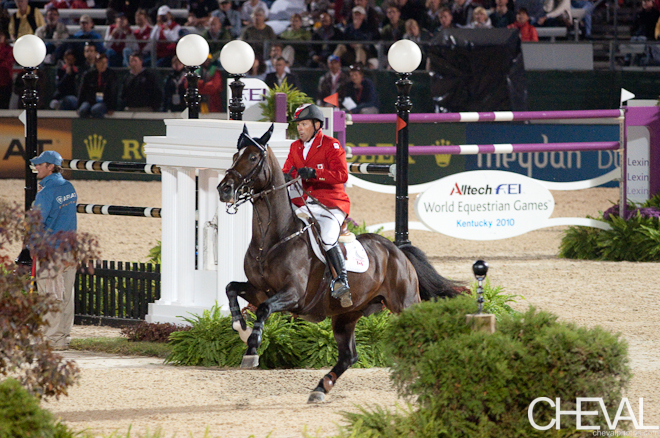 Eric Lamaze and Hickstead in the Final 4, Kentucky 2010. Photos ©Cheval Photos
For this year's Final 4, scheduled for September 7th in Caen's d'Ornano stadium, French organizers are already planning ahead. They report that fully half of all phone calls received at WEG's event headquarters are inquiries about Final 4 tickets. With demand for a seat in d'Ornano Stadium far greater than the venue's 21,000 seats can handle (think about THAT for a moment), the organizing committee has set up a draw to decide the Final 4 ticket holders.
Beginning tomorrow, April 24th, spectators have 4 days in which to register, with a limit of 4 tickets maximum per person, on the event's official ticketing website.
After April 28th, a draw will then be carried out, under the supervision of a bailiff, in order to determine the people who will be allocated a ticket out of all of the people who registered. The lucky ticket-holders will receive their order confirmation by email from 30 April and the amount shown on their order will be debited from their bank account.
Tickets for the Final 4 will be priced at € 136 in category 2 and € 170 in category 1. Children under 12 will be given a 50% discount on the full price. These tickets automatically grant access to the closing ceremony, which will follow on from the event.
Allocating tickets in this way ensures that potential spectators with a slow internet connection or time difference are not penalized. This solution is used for numerous large-scale events, such as the football World Cup or the Olympic Games.
Follow this link on April 24th to register: http://ticket.normandy2014.com
The 2014 Alltech FEI World Equestrian Games begin in exactly four months. While you're counting down, check out this video of Hickstead's four rounds in the 2010 Final. Go WEG!