With unmistakable style and a wild sense of humor, Jessie Drea lit up the Saut Hermès Jumping International in Paris, France, back in March. Her triumphant win on Touchable (Touchdown x Irco Mena) in the Les Talent Hermès under 25 team competition put her on the map – and more specifically, it put Touchable on the cover of the current issue of Horse & Style.
Twenty-two year old Jessie is well known in Great Britain, having competed on senior and junior Nations Cup teams, medaled in the European Championships, and been a recipient of the UK Sport lottery funded World Class Development Programme.
It is fitting that this striking brunette rider's self-created moniker is "big hair and bigger ambition." H&S writer Winter Hoffman caught up with Jessie shortly before her March victory. We bring you their conversation now:
Horse and Style: What was the entry process like for the Saut Hermès ?
Jessie Drea: I applied for Saut Hermès in January. I've wanted to ride at this beautiful show since for ages, so when my invitation came I was ecstatic! I'm so grateful to Hermès for the opportunity and I couldn't wait to compete in the Grand Palais.
H&S: What is your training set up, what horses do you compete on and who trains you?
JD: I'm really lucky that my parents are as passionate about show jumping as I am. My Dad is a dealer, and we have about sixty horses at our yard in England. From foals and yearlings to my grand prix horses, there's certainly a lot of variety! I have access to fantastic facilities at home. We have three big barns that are all connected, one of which is mine, with 10 stables for my best horses. I still ride other horses when I need to, but on a daily basis I concentrate on these guys! My parents taught me to ride, right from being a two-year-old on my pony Munchie, to what I'm doing now. Dad works closely with me to decide my horses' training programs, and he'll always keep an eye on what I'm doing. However, over the last few years, I've taken over my barn and the management of my top horses. I get a lot of help and support, but it's my job to monitor and arrange the farrier/dentist/physio/vets for them. I think as a rider, it's vital to have a hands-on approach to your horses' day-to-day management. My two best horses are chestnut mares, so having a great relationship with them is extremely important!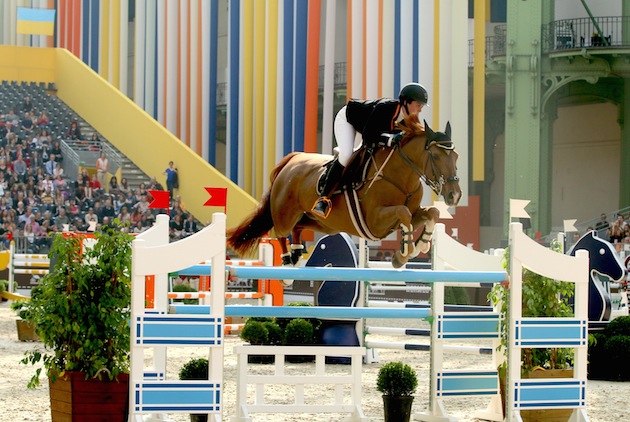 Jessie and Touchable competing at Saut Hermès in Paris, March 2014
H&S: Where do you live? Logistically was it hard transporting a horse to the center of Paris for the show?
JD: I live in Bolney, a little country village about ten minutes from London Gatwick airport. It's a very old fashioned stereotype of a British village! We basically have a pub, a church and a tack shop. What more could you need? I usually go home between each competition, but this time I was traveling from a show in Portugal, which means there were lots of added complications!
H&S: Tell us how the tattoo on your wrist relates to your family.
JD: It's newly acquired, I had my own artwork on a cocktail napkin, and went alone in Paris to locate a tattoo parlor. The tattoo is an amalgamation of the first initials of my mother, father and brother's names. It is a tribute to my family, the support system of her show jumping career. My parents didn't believe that the tattoo was real when I texted them the photo, they thought it was magic marker.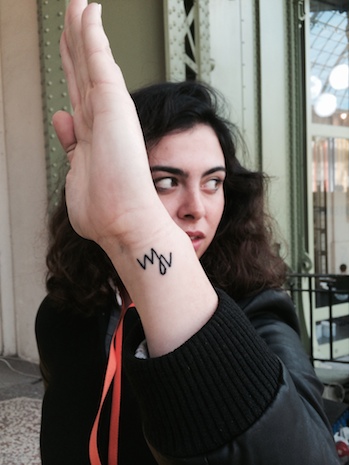 Jessie shows off the aforementioned tattoo
H&S: What are the differences (style wise) in rider attire for show, for schooling at home, and off the horse in England ?
JD: When I'm training, I'm a little more casual than I would be at a show. At an FEI competition it's compulsory to wear white breeches, but your shirt/jacket can be pretty much whatever colour you like. My colours are black and gold- and I try to live by the "all black everything" rule when it comes to my jacket/hat/boots. I think it's sharp and classical. But don't get me wrong, I was once the blingy kid with diamonds on my hat, and I still have some very shiny gold stirrups. They're making their Saut Hermès debut with me actually!
Oh and I have an INCREDIBLE Hermès whip that I use in competition. I think it's the most beautiful thing ever created. The whole thing is made out of one piece of this rare kind of wood, that's woven round itself. Terrible explanation- you'd have to see it. Such a work of art and extremely practical!
At home I wear the same equestrian brands that I would at a show, like Pikeur and Equiline. I wear darker breeches at home though, and I often wear non-equestrian brands on top. The weather in the UK is famously unreliable so this varies quite a lot!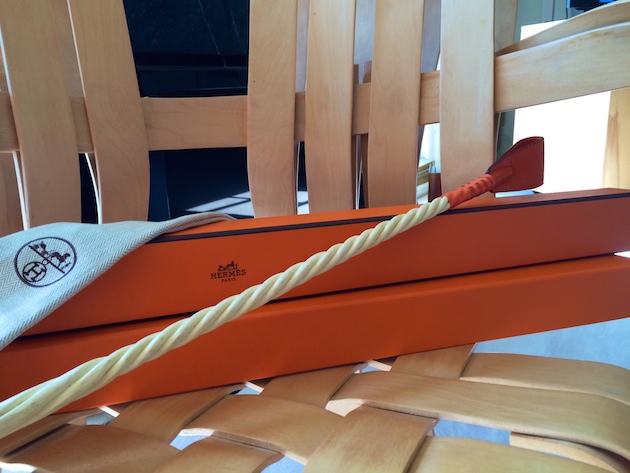 Jessie's much-loved Hermès whip
H&S: How cold is it and what sort of weather gear goes on the horse and on the rider in England?
JD: This winter where I live, we had no snow and the temperature never dropped below about 5 degrees (Celsius). We did have record-beating amounts of rain though! Waterproof clothing for us and exercise rugs for the horses, are very necessary. I usually have a blanket over my horse's quarters when I first get on, and for about five to 10 minutes whilst I walk as part of my warm up.
H&S: : What are your long-range goals in riding and how will showing at Saut Hermès help you?
JD: I want to win a Olympic gold medal, and be world no.1. That's the goal! I want to be respected for my riding, my horsemanship, and my work ethic. That's what I live for.
Being able to compete at a show like Saut Hermès gave me an opportunity to showcase myself and my horse in a big way. A good result here, could mean I get to compete at another prestigious show and further my career. I'm seeking owners and sponsors to join my team, so high profile results are really important to me.
H&S: Are the shows different between England and Europe?
JD: National shows in England tend to start at 90cm and go up to 1.40m max, but it's still very competitive. At a big show on the continent, the 1.40m would be the smaller class, so there's definitely a higher level of competition. Each year there are more and more CSI shows in Britain though, which I think is a great opportunity for our national riders, and there's nothing better than riding in front of your home crowd!
H&S: How important or unimportant is it to have a successful training or breeding operation?
JD: It's EVERYTHING. Fail to prepare, prepare to fail. I got that drilled into me since a young age! This applies to training and breeding. It's so important to have young horses coming up through the ranks and it's unbelievably rewarding if you bred them yourself. We have a small breeding program, about six foals a year. Hopefully they'll be my next superstars!
H&S: Please tell us about your adorable youngster White Lies- the young Irish Sport Horse by Flexible?
JD: White Lies (Noah) is my future Olympic horse! He may not have had his first birthday yet, but I have so much faith him. His dam is a full sister to my Saut Hermès ride, Touchable. His breeding is phenomenal. I bought him from his breeder, Michael Doherty. I'd actually never met neither Michael nor Noah, and I bought him over the phone! I was very impressed with his breeding and I have to admit, I fell in love with the idea of a baby Touchable. I trusted Michael and had a great feeling about the situation, so I had to have him.
H&S: What do you look for in a prospect?
JD: Automatically we look for the right conformation, a good step and the bloodlines. These are all so important. But over the last few years, I've learned that nothing is more important than a horses attitude. They've got to want to win and be willing to fight for you. If you have a talented horse that loves it job, you're unstoppable!
H&S: What advice do you have for up and coming show jumpers?
JD: If you study the best riders in the world, you'll see lots of different methods and styles, but there is one thing they all have in common. They all work extremely hard and have discipline. Talent is vital, but it's not good relying on it. Never stop pushing yourself.
H&S: Who is your favorite equestrian designer and what's your favorite piece of riding attire?
JD: Hermès has to be the ultimate equestrian designer. Their riding clothing are completely stunning and technically designed for performance. I'm not sure they have a close competitor!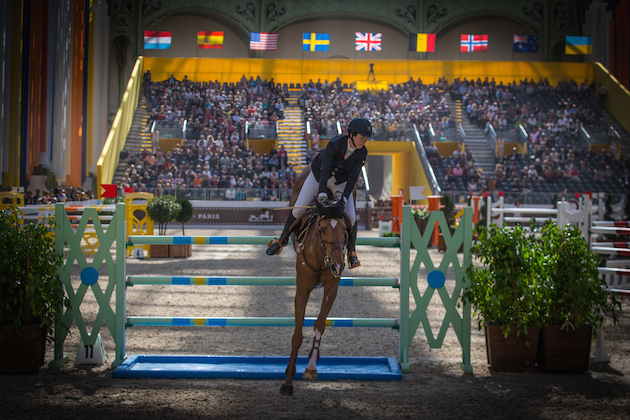 Jessie and Touchable at Saut Hermès. Photo ©Asa Mathat Photography
H&S: Los Angeles is the location for the Grand Slam Masters of Show Jumping in September. What would it mean to me to get an invitation to the Grand Slam?
JD: I think it could be a life changing opportunity for me. To get a chance to showcase myself and my horses on the world stage in L.A. could potentially break down the barrier that a lot of riders face, the crossover between being a well known rider to one of the greats. Girl to a woman so to speak! No matter what your career path, somewhere you need a break. I think LA would be that for me.
H&S: What do you think Los Angeles is like?
JD: When I imagine California minus horses… hmm, well I've never been to LA. Obviously I accept that it's probably NOT quite like this, the way I picture it subconsciously is maybe quite typical for a British person! There are 5'11 very tanned girls jogging on a supernaturally beautiful beach, six packs everywhere and carbs don't exist. No one there has ever eaten bread before. One or two of the cool kids have skateboards and people have £1,000,000 designer dogs that wear Chanel and Versace.  The dogs are probably vegetarians and also attending yoga classes. So…..please tell me I'm half right!
Follow Jessie Drea on Facebook here. 
–By Winter Hoffman