If not for a horse aptly named Classified, Amber Aslin may have never been inspired to start her online hunter/jumper marketing and sales business. Classified, or "Casey," is a constant reminder of why she works so hard at her job to facilitate that perfect match between horse and rider.
Exchangehunterjumper.com is virtual equine eye candy for any equestrian who scrolls through the ads. Since Aslin started The Exchange in 2005, the website has grown into one of the premier equine marketplaces with partnerships around the globe and repeat customers each year. But, at its humble beginning, the business was created to offer a place to garner exposure for quirky horses much like the one quirky horse that is never far from Aslin's mind.
Like so many in the industry, Aslin is an accomplished, grown-up version of the horse-crazy girl from her youth. In 1994 when Aslin was 15, her family agreed to find her a horse she could compete on as she rose through the ranks. After a year-long search across the country, Aslin found her horse waiting for her, just two hours away in Edmond, Oklahoma, with professional Laurie Lewis. Casey was a six-year-old, off-the-track Thoroughbred bred in Kansas, with only nine starts to his racing name.
The Silver Lining
"The first time I sat on him I felt like my leg just naturally fell into the perfect position, but other than that, I'm not sure there was a real 'click' in the sense that people talk about their 'heart horses," Aslin describes. Starting the 1994 season in the first years and Aslin in the irons for the children's hunters, they quickly progressed. Moving-up mid-year to the junior hunters, the duo went on to the medals, and that season, Casey earned Oklahoma Hunter Jumper Association Horse of the Year honors. As champion in the first years, reserve in the children's hunter, champion in the 15-17 equitation and 6th in the junior hunters, he had garnered the highest number of points of any OHJA horse that year. He was also third in the AHSA Zone 7 First Years. Those accomplishments were made sweeter by the fact that Casey could be a frustrating ride. He could stop on a dime and at times, needed some extra convincing about Aslin's true intentions.
"Stops were always my fault, like the time I was leading the state medal final work-off and just completely neglected to put my leg on after a rollback to an oxer. He could melt to a standstill in a heartbeat without ever dislodging you from the tack; it was the weirdest thing," says Aslin. "I have only ever fallen off of him once, and that was at the first fence of a 6:00 am school when he informed me I absolutely was not awake enough to pilot him around." Later in life, he would also pick-up an irrational fear of solid white fences – a quirk Aslin still doesn't understand.
It Isn't Easy Being Brave
Casey wasn't the bravest of horses. "Thinking back to the idea of him in a starting gate just blows my mind, and I'm sure it blew a bit of his. He was not competitive in the sense that he wanted to go out and win, but he sure did want to please," remembers Aslin. "If you were capable of holding his hand a bit, he'd do anything you asked." Aslin was more than happy to work through Casey's "issues" and find out what made him click.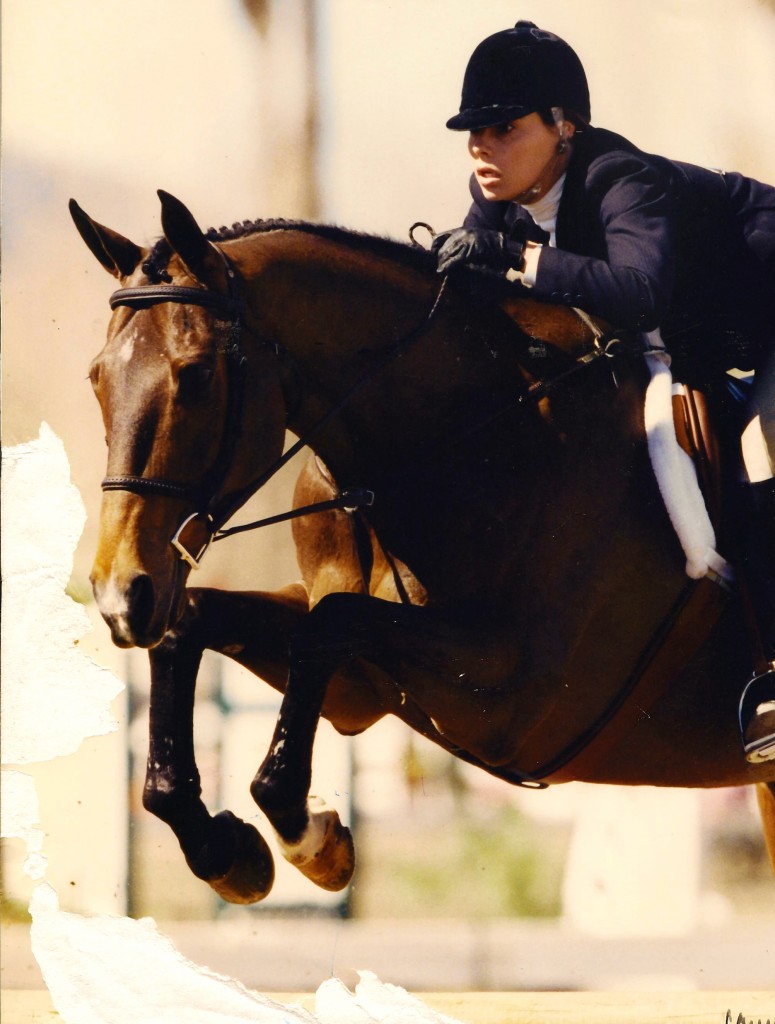 The photo of Casey and Aslin competing at Indio that was blown up as a poster outside of Cathrin Cammett's trailer. Photo ©Cathrin Cammett
For Aslin, there were more than a few highlights with Casey, one standout being was her trip to Indio in 1998. After heading to the photographer's trailer and not finding a single photo that was all that special in the albums, she left, disheartened not to have a memento of her winning rounds. But as she left, she glanced at the bulletin board and spotted a familiar face –it was her horse with perfect form over a huge oxer, on display at one of the largest horse shows in the country. One of photographer Cathrin Cammett's favorite photos from the show, the print hadn't been put in the albums but instead pulled, to be used as advertising for the photographer. Casey and his owner were, at times, certainly larger than life.  As the two progressed in the show ring, they also progressed in their daringness – trying their hand at team penning and trail riding through the Los Angeles hills that host the famed Hollywood sign.
Picking Up the Pieces
But when the tough decision was made to put him on the market in 1996, Casey could still be defined as an aging off-the-track Thoroughbred that required a specific type of ride, and had a splint that tended to soften-up at inopportune times. Buyer after buyer came and went. After a stint at a sales barn where Casey's confidence came back shattered, Aslin had to bring her boy back to his former self. She doesn't remember that an actual decision was ever made to keep Casey, it was just that he never left.
After some patient retraining, Aslin was able to loan Casey to a talented student of hers, who wasn't well-funded, and quickly outgrowing her pony. "She learned a ton from him, and went from not being able to get him over a 2' vertical to absolutely cleaning-up in the children's hunters within a year. I decided to retire him on that note," she explains.
Now living life at Las Cruzitas Ranch in the beautiful Santa Ynez Mountains in Southern California, 27-year-old Casey has an entire herd of mares all to himself (after adamantly refusing to leave the fence line). Since Aslin relocated to the Midwest nine years ago, she's only been able to see Casey a handful of times, but in her daily work his presence is felt and she feels lucky to have found someone with extra room and a generous heart to look after her longtime partner.
Aslin, of course, finds special fulfillment in helping that quirky or aging horse find a great home through The Exchange.
"The industry has changed, and it's a little hard to watch the cycle at times. Juniors are moving-up to a new horse each year, and then have the second medal horse and maybe even a third jumper. The horses are less well rounded, and the jobs have become more specific; the 3' childrens hunter, the fancy 2'6" saint, the first 3'6" horse, etc.," Aslin says. "The backup plan for what happens if you can't sell your horse is never discussed with unsuspecting, non-horse families. I'm pretty sure if you'd told my parents we were going to be responsible for 20+ years of horse bills to satisfy my teenage horse habit, this story would have had a different ending."
Although not able to swing two horses in her budget at the moment, she wouldn't trade her unfulfilled show dreams for time with Casey for anything.  "Plenty of times, I wished for something much easier," Aslin says. "But Casey selflessly gave me everything he had, including the best years of his youth, and I've always felt I owed him more than he owed me."
This article was originally published in the June/July 2014 issue of Horse & Style Magazine. CLICK HERE to read the entire issue online!