It's a rare equine that can compete in its first grand prix, switch tack and go on to lay down a top equitation round within the space of an hour. So when the horse version of an all-star athlete was spotted over the weekend at Sonoma Horse Park's HMI June Classic doing just that, I had to find out more.
During the HMI June Classic, held June 10 – 15 in Sonoma, CA, trainers Hugh "Bert" Mutch and John Charlebois of Charlebois Farm made the somewhat impromptu decision to enter 8-year-old Chiara Van De Broekkant in the $10,000 Equestrian's Concierge Equitation Challenge. The pairs class accumulated the two round scores of a professional and an amateur from the same barn for an overall winner. However, up until last week, Chaira had never seen a hunter fence. And she was already entered in Saturday's the $20,000 CWD Grand Prix, which was to be her first-ever grand prix. To make matters even more interesting, Round 2 of the Challenge was held late on Saturday, and overlapped with the Grand Prix.
However, what one trainer might see as complicated, Mutch and Charlebois saw as opportunity.
Mutch, who has been working with Charlebois Farm since last year, does much of the showing for the barn, and the addition of Chiara to his string is a fairly recent one. The Oldenburg mare by Clinton was imported as a 6-year-old to the United States by Outwoods Farm, and bought by Coxe Horses, LLC as an investment sales horse. Targeted as a jumper prospect, she successfully schooled up to the 1.30 jumpers with riders Helen McNaught and Duncan McFarlane. And when Mutch took over the reins this spring, both he and Charlebois noted her scopey, careful way of going.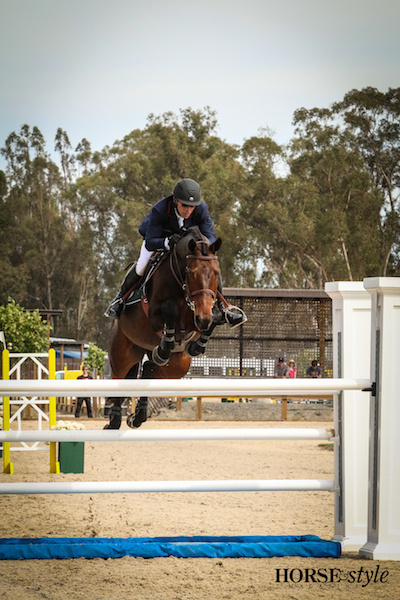 Mutch guides Chiara over the final fence in the $20,000 CWD Grand Prix on June 13
"When we got her, we thought she was a beautiful jumper," Charlebois said. "I kept saying to Bert, this one could do the hunters, and he thought so too."
And although Chiara had never competed in a hunter class, when the Sonoma Horse Park added the $10,000 Equitation Challenge to the schedule, they decided to enter her in both the Challenge, and the grand prix. Mutch carefully conditions his all horses, and with Chiara in top shape, not to mention utterly confident under his guidance, he felt sure that the mare was up to the "challenge." In fact, he was aiming for a win. "I didn't want to do it unless I had a chance!" Mutch said.
"We were hoping that she would go in the equitation derby first, but it didn't work out timing wise," Charlebois added. "So she did the grand prix first and then we took off the running martingale, but on the standing and the pelham, and went over and did the equitation class. She was brilliant."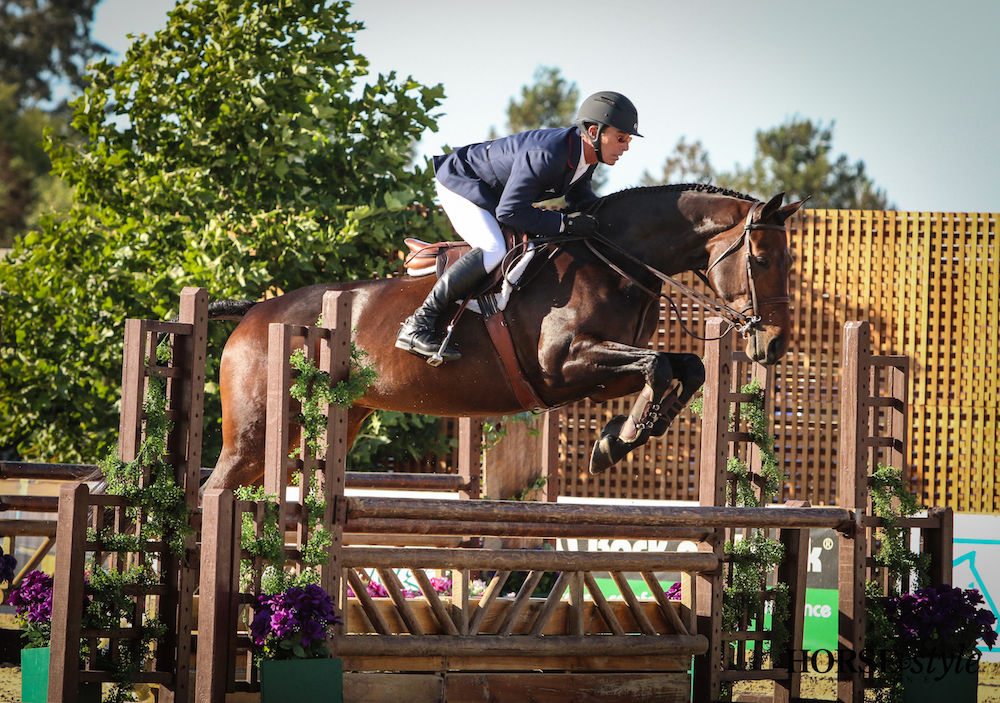 So brilliant in fact, that Mutch and Chiara's scores of 90 and 92 in the two rounds were the highest of the class. It was a performance made all the more notable by their "warm up" – jumping a 1.40m grand prix in the ring right next door. Chiara and Mutch rode an 8 fault round, but Mutch was more than pleased with her performance.
"She'd never done anything like that before. She'd never done a grand prix, or a hunter class before last week," he explained. "She has a talent in the three different disciplines of our sport. It's unusual to have an animal that is that versatile."
More than ever now, Mutch attests that Chiara could have a successful hunter career; to warm up for the Equitation Challenge, he entered her in two hunter classes earlier in the week, and scored in the 80s.
"At the next horse show, we're going to play in the hunters a little more seriously, and see what we've got, "Mutch says. "We'll probably keep playing a little bit in all three rings and see where she finds her niche."
One thing is for sure: there's no better way to market a sales horse than to pull off a feat like this – successfully. With the resulting high interest that was generated over the weekend, it's a sure bet that while Chiara Van De Broekkant finds her niche, she'll be amassing quite a following.