Last week, the Federation Equestre Internationale thrilled the people of Omaha, Nebraska with its announcement that 2017 Longines FEI World Cup™ Jumping and FEI World Cup™ Dressage Finals will be held there. Eschewing the more likely candidate locales of London and Holland, the FEI chose to award to Omaha the most high profile yearly individual equestrian championships in the world.
So, why Omaha? The state of Nebraska is not exactly known for its high concentration of top show jumping or dressage riders, or for its many (English discipline) equestrian competitions.
But for the organizers of the International Omaha Horse Show, the only question was "why not?"
"Ask someone who's not from Omaha what they imagine the city to be, and the immediate response is three story buildings and cornfields," says John McQueen of Queenie Productions. "But when you arrive in Omaha, you realize how very wrong that is. It's one of the most cosmopolitan cities I've ever been to in my life."
The International Omaha team brought Queenie Productions in to manage the first edition of its show in 2012. Held every April at the Century Link Center, an 18,000 seat event center that sits next to the Missouri River in downtown Omaha, the International has been lauded as a top-quality event that hits all the marks of a first class competition – a significant achievement given that it's just three years old.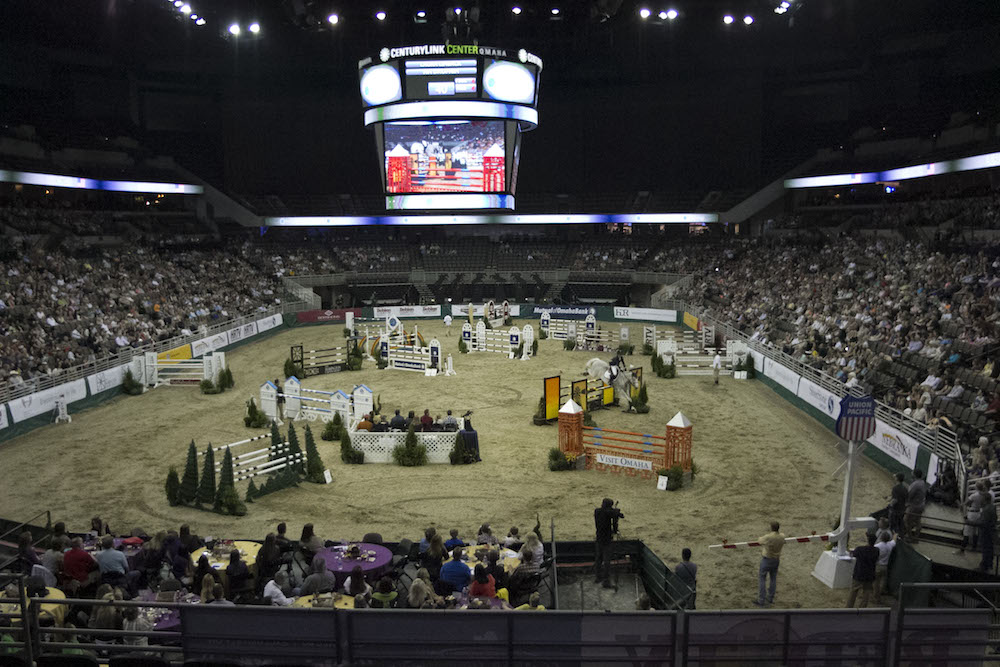 The competition arena at Century Link during the International Omaha
From the beginning, the International Omaha has been an ambitious show with big dreams – it hosts an FEI CSI2* rated grand prix, an indoor 1.60m class that has been won three years in a row now by Germany's Christian Heineking. When McQueen was brought in before the very first International, the team was already dreaming about some day bringing the World Cup Final to Omaha.
And while they didn't think that they'd be able to do it in just three years, the team put their proposal together and traveled to FEI headquarters in Lausanne, Switzerland to present what could be produced in Omaha and how it would work. The hardest part? "Having the courage to say 'yes we can' and 'here we go'," says McQueen. "Over the last three years of the International, we've learned from our mistakes and made changes for the better."
The team they assembled has proven to be the magic combination of people who work together well to produce an exceptional event. It includes Harold Clift, who produced two Olympic swimming trials and one Olympic ice skating trial in Omaha, and Lisa Roskens, who was one of the first to dream up the idea, and has played a key part in bringing the World Cup to Omaha. It also bears mentioning that, true to form, Omaha's public at large has been overwhelmingly supportive of equestrian sport, coming out in droves to volunteer at the International Omaha, and generally serving up the kind of Midwestern welcoming spirit that gives the region its character.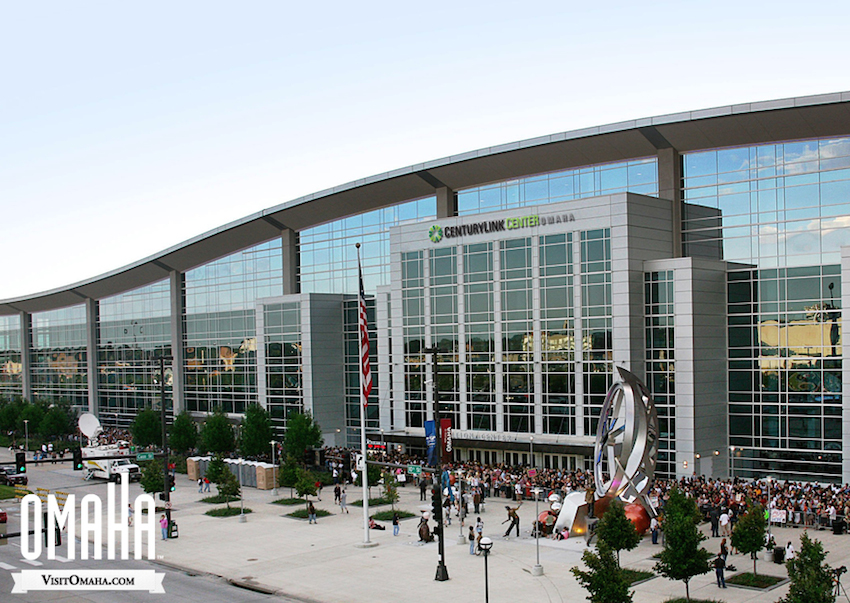 Exterior view of the Century Link Center
The Century Link's completely enclosed conference facility, 400,000 square foot of space that holds two warm up rings, a competition ring and stabling under one roof, and Omaha's international airport also helped make their case.
Now, the countdown to 2017 is on. Next year's edition of the International Omaha will be held just one week prior to the 2015 FEI World Cup Finals in Las Vegas, NV. Before designing the courses in Las Vegas, Anthony D'Ambrosio will be designing at Omaha. Coincidence? We think not.
2017 is closer than you think. You can sign up to receive updates on the upcoming 2017 Longines FEI World Cup Final here.