Nine-year-old Della White's strong riding wowed the crowd during the West Palms Events Huntington Beach, CA Surf Classic over Fourth of July weekend. Della was the "star" of the stars and stripes weekend, scooping up first place ribbons, Championship of the Pony Jumper division, and the Pony Rider Style Award.
It's no surprise that this young rider, who whizzed around the ring on her little black and white paint pony with her bows flying through the air, rides with a technique and gumption beyond her years.
Della's mother Julie White, her grandmother and her aunt, grand prix rider Molly Talla, all ride horses. Couple that with the solid instruction provided by her trainer, former Olympic level 3 day eventer Ginnie Bryant of Equites in San Juan Capistrano, CA.
Della is not only a firecracker pony jumper, she also competes her pony Oreo 'n Milk at Galway Downs in three day eventing at the beginner novice level. When asked what was her biggest challenge in riding she said, "to not get speed faults on the cross country course." No surprise then that she says her favorite thing about the pony jumper classes is, "I get to go fast in the jump off."
It's clear that this little champion loves to jump no matter what classes she's showing in. Her favorite thing about jumping is that feeling of flying that resonates so much with anyone who jumps. When she's not at the barn Della says she likes to jump things as if she were a horse. It's easy to imagine Della counting strides between cracks in the sidewalk. Catch her if you can at another West Palms Events show.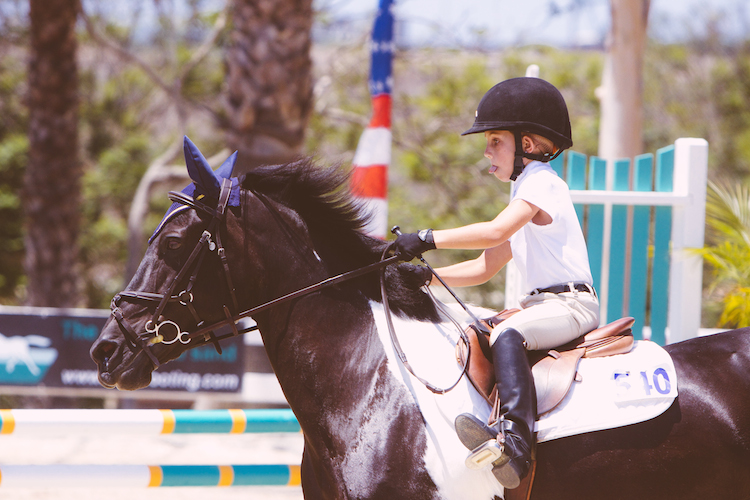 Della White on course with Oreo 'n Milk. All photos ©Bethany Unwin Photography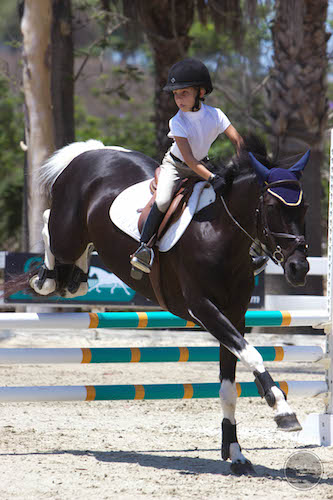 …And Over!