Yesterday in Central Park, the dream of competition horses returning to New York City became an official, thumbs-up reality marked by a press conference introducing the Central Park Horse Show, presented by Rolex. The press conference was held at Tavern on the Green, where in front of stalwart equestrian media (hello, Nancy Jaffer) and a collection of mainstream outlets (that's who those guys with the cameras were, right?) Equestrian Sports Productions CEO Mark Bellissimo joined the one and only Donald Trump to announce New York City's first ever, four-day outdoor equestrian showcase, to be held Sept. 18 – 21, at the Trump Rink in Central Park.
The association between Donald Trump and Mark Bellissimo began in 2013 with the Trump Invitational Grand Prix on Palm Beach Island, Florida. Since then Trump has steadily stepped up his support of show jumping and horses in general. Along with his monetary sponsorship of the sport, he seems to appreciate horses more and more these days.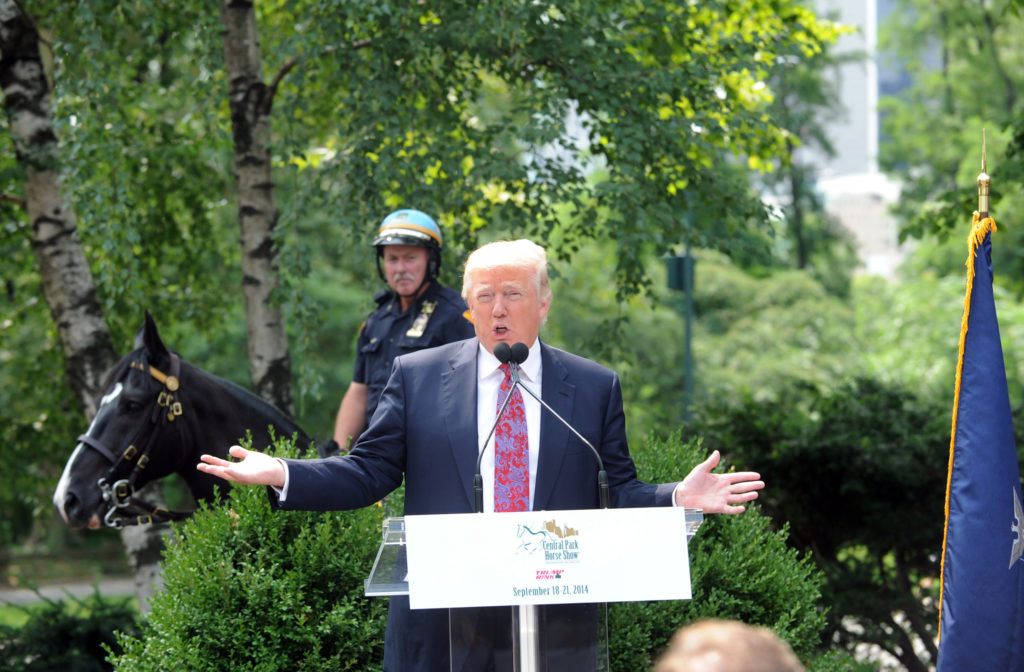 Trump even let this police horse pose in the background during his speech. Or, he could have been under police supervision. You decide.
The association between Trump and Bellissimo's Equestrian Sport Productions has been fantastic for the sport. The Trump Invitational is a gorgeous showcase of elite show jumping (no matter the weather) held on Trump's ultra-exclusive Palm Beach Mar-A-Lago resort. This year Trump and Mar-A-Lago sponsored the entire first week of the FTI Winter Equestrian Festival! However, it is of growing concern that Trump may be exerting his influence onto Bellissimo's hairstyle choices.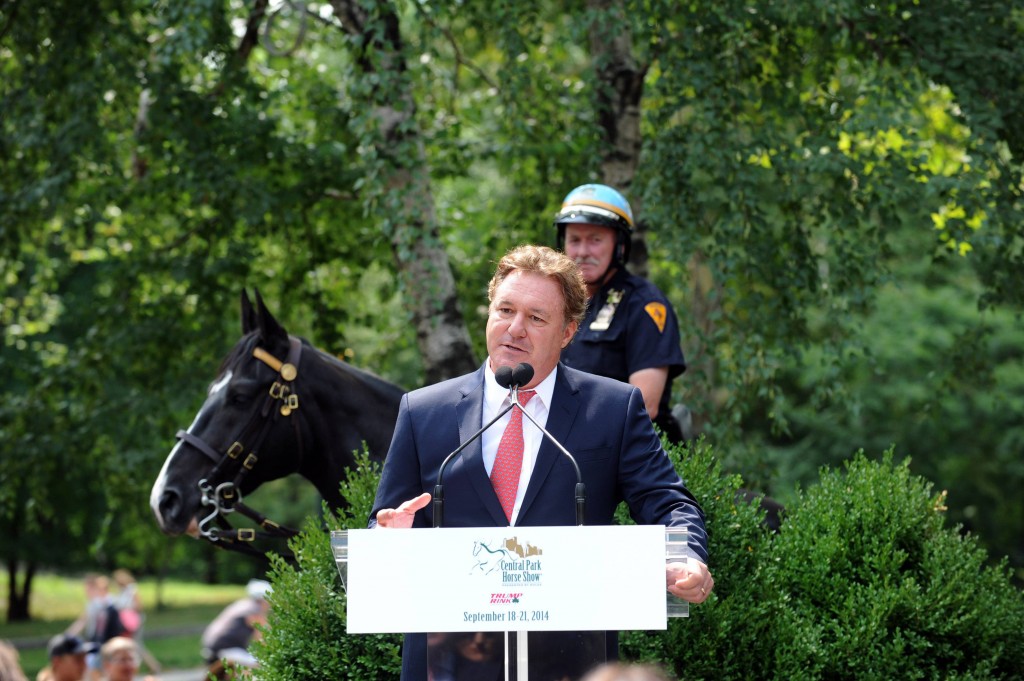 No further comment…
The very idea of this show is enough to make any horseperson positively giddy with anticipation. Added to an already packed fall season of stellar competitions, it's like Christmas is coming in September for show jumping fans. Show jumpers in Central Park?! That hasn't happened in, well, ever. The FEI and USEF-sanctioned $200,000 Rolex Central Park Grand Prix will attract the best of American show jumping. This was evidenced by Kent Farrington, who made an appearance at the press conference looking absolutely un-riderish and 100% delectable in jeans, hipster sneakers, and a suit jacket. Riders should really walk their courses in street clothes. They look so….normal.
But I digress.
According to the official press release produced from the official press conference, "This first-ever, outdoor four-day equestrian sporting event will showcase some of the best show jumpers and dressage riders in the world as they vie for top prizes against a backdrop of skyscrapers in one of the world's most iconic venues, the Trump Rink in New York City's Central Park."
Doesn't that sound amazing? There will be show jumping, dressage, Sunday polo, Guy McLean's Australian brumbies and other as of yet unannounced equines, gathered for four whole days, smack in the middle of one of the biggest cities in America. And that's not even the best part! The $200,000 Rolex Central Park Grand Prix will be broadcast live on NBC Sports from 7:00 – 8:30pm on Thursday, Sept 18. Has a live, prime time broadcast of the sport of show jumping ever happened in this country, Olympics excluded?
Didn't think so.
Enjoy these press conference photos. On their own, they're not that exciting, but just wait until Sept 18th. Horse & Style wouldn't miss this extravaganza for the world, and the flood of iconic horses-show-jumping-skyscraper-backgrounds-Central-Park-New-York-City images that our on the ground coverage is sure to produce just might break the Internet.
The Central Park Horse Show will benefit the Police Athletic League NYC, and several other NY organizations. To celebrate this, a small crowd of mystified PAL kids were on hand to help Trump feed the police horse apples and carrots. Who can say they've done that before?!
Why aren't these people jumping from their seats and cheering with excitement? Perhaps they're just doing cartwheels in their head. Like me. Right now.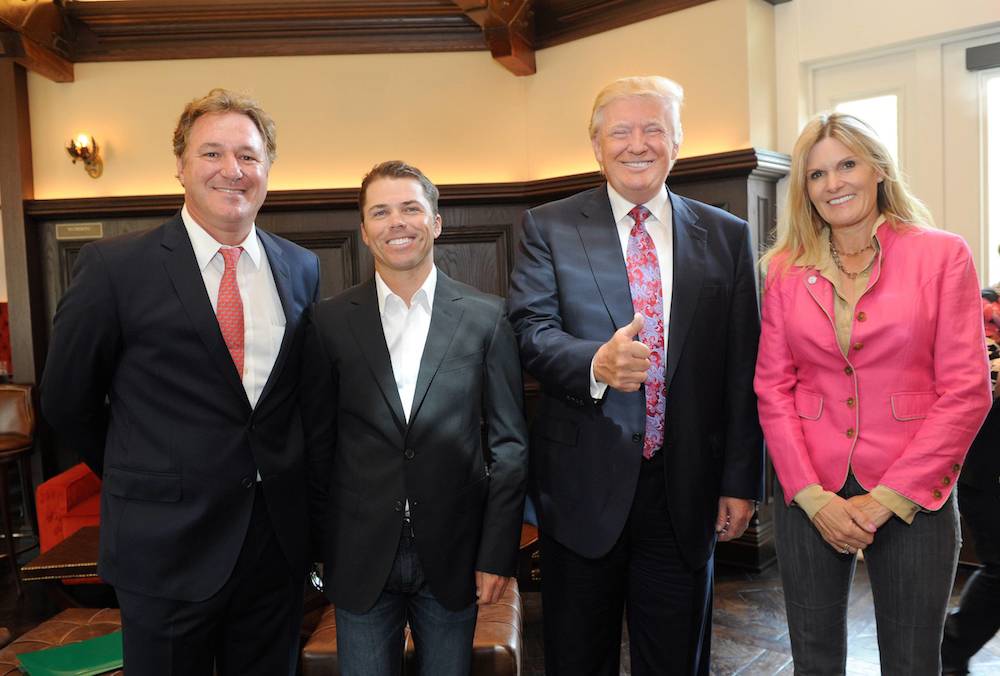 And here you thought you could get through a Trump-related article without the Trump thumbs up. You thought wrong! 
In all seriousness, this event is shaping up to be a fantastic realization of a dream that Bellissimo has long iterated: to bring equestrian sports to a mainstream audience and grow overall awareness of show jumping. In addition to PAL, the show will benefit the New York City Police Foundation, the NYPD Mounted Unit, and 50% of the matinee tickets will be donated to local children's groups in order to broaden the exposure of equestrian sport.
Tickets for the Central Park Horse Show go on sale Monday, August 4th. Warm up your credit cards, mark your calendars! And get excited. We'll see you there.