[Upper Marlboro, MD] The Capital Challenge Horse Show, presented by The Gochman Family, had a full day of hunter competition on Wednesday. The evening session had two major Challenge classes; Tara Metzner and Davlyn Farms' Come Monday (pictured above) won the $25,000 WCHR Professional Challenge, while Brian Feigus rode Cailin McNamara's Quinn to victory in the $5,000 WCHR Developing Pro Challenge. During the day session, the professional hunters completed their championships. Kelley Farmer and Scripted took the Grand Hunter Championship title, while Hunt Tosh entered the winner's circle again with Gotham in the $25,000 Future Hunter North American Championship. The Capital Challenge Horse Show, held at the Prince George's Equestrian Center in Upper Marlboro, MD, runs through Sunday, October 5.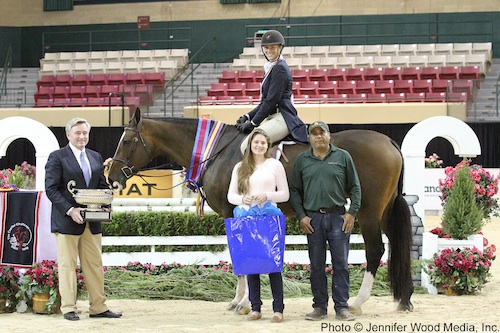 Metzner and Come Monday. Photo © Jennifer Wood Media, Inc.
The $25,000 WCHR Pro Challenge had 26 entries, and 12 were called back for the second round. Tara Metzner of Rancho Santa Fe, CA, and Come Monday, an 11-year-old Holsteiner mare by Cassini I, had a great first round with an average score of 89.33, which put them in second place. Metzner stepped it up in the second round, garnering judges' scores of 91, 88, and 93 for an average of 90.66 and a total of 179.99 for the win. Metzner was presented with the Little Brook Farm Perpetual Trophy, donated by Gary Duffy.
Sandy Ferrell and Fifty Shades, owned by Meredith Lipke, finished second in the Pro Challenge. They had great scores of 88.66 and 89.41 for a total of 178.07. Third place went to Scott Stewart and Rose Hill Farm's Garfield. In the first round, they scored an 87.50. They returned in the second round for a 90.16 and a total of 177.66.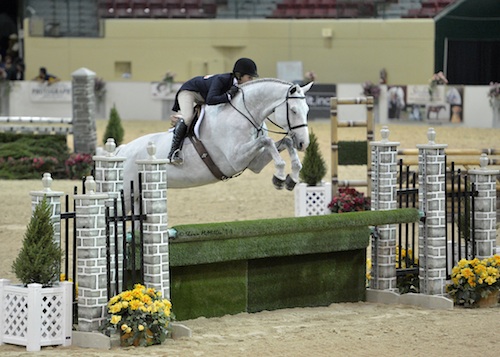 Ferrel and Fifty Shades. Photo © Jennifer Wood Media, Inc.
Metzner won the WCHR Developing Pro Challenge in 2011, and she started working for Davlyn Farms in August of 2013. She was elated to have graduated to the Pro Challenge win. "It's incredible. This year I made it a goal of mine just to qualify and make the top 12," she said.
She described Come Monday as a horse that knows when it is a big class. "She knew coming back out when it was dark that there was something important going on. When I went to pick up the canter in the opening circle, she all of a sudden shook her head. That was her saying, 'I'm ready guys!' It made me a little nervous for a second, but it was just her getting into gear," she said with a smile.
Watch Metzner and Come Monday's round here:
Metzner wanted to prove how talented Come Monday is on a big stage once again. She explained, "She's an exceptional horse. I knew if I put in a good round, she's magical. As long as I get her to the right spot, she'll always jump the best she can. She sort of excels in classes like this because it's something new and different. I trusted her that she would jump to the best of her ability. Any time I go in the ring and don't win on this horse, I feel like I've let her down. She's such a special horse, and I just want to make sure people know that. I was really happy for her that she won it."
With her victory in the Pro Challenge, Metzner is now the sixth rider qualified to compete in the WCHR Professional Finals on Friday night, along with Scott Stewart, Kelley Farmer, Hunt Tosh, John French, and Sandy Ferrell.
-by Jennifer Wood Media