American Lauren Hester Learns the Ropes and Returns to Rancho Santa Fe
Rancho Santa Fe, CA – September 29, 2014 – To further her dreams of one day representing the United States in the Olympics, American Lauren Hester had relocated from Rancho Santa Fe, California, to the tiny town of Baarlo in the Netherlands. Beginning in April of 2013, Hester and her horses were housed with Stal Hendrix, where she would be working with Emile Hendrix. A major career move that isn't easy for any young equestrian, it required courage, commitment, and hard work, but it has been a triumphant and successful year and a half. Hester currently has four horses actively competing at the Grand Prix level, plus a young horse that is starting to compete at the International shows.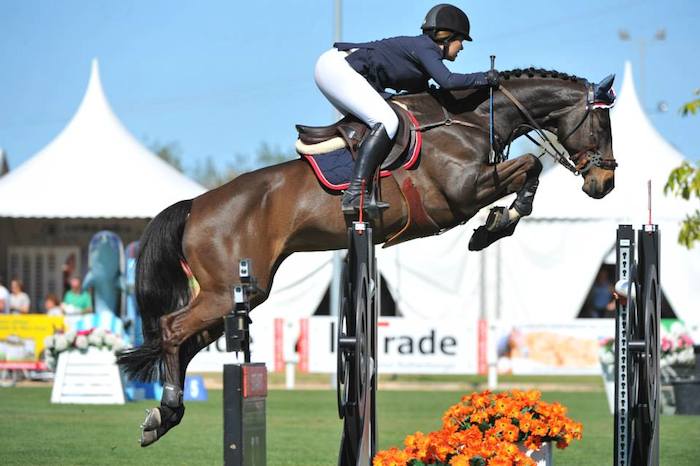 Warinde B
European Victories
Her 2014 show season started with a bang, and has only gained momentum. From Spain in March (Oliva Tour), to Belgium (Opglabeek) in May, and back to the Netherlands (Eindhoven, Arnheim, Asten, Geesteren, and Koningbosch) in June and July, she has posted victories.
Unlike many of her peers, Hester has always played a big role in training her own horses, feeling that it is more rewarding to grow with them. She currently owns and manages Hester Equestrian, building a solid string of horses for her long-term goal, while also developing young horses. Over the last five years, she has sold a handful of talented mounts to riders in various disciplines from show jumping to hunters to dressage. When asked if she is always looking for horses to develop and sell, she says unequivocally, "All horses are for sale."
Hester Equestrian also owns six babies, ranging from yearlings to coming three-year-olds, who are growing up in the fields of Europe. Working with well-known breeder Paul Hendrix, Emile's brother, Hester is gaining invaluable knowledge from more than one Hendrix!
Wender
Europe Versus U.S.A.
When asked to discuss the differences between developing horses in Europe and in the United States, Hester cited cost as the major difference. Entry fees are much higher in the states, and because the top-level shows are spread from coast to coast, travel can be one intimidating expense. The day-to-day expenses are also much lower in Europe, as are training fees. From her base in Baarlo, the Netherlands, there were four quality shows within 45 minutes, making it possible to go for the day.
Citing a subject that seems to be on many equestrian minds these days, Hester would like to see Americans put more time and money into young horses. Although she realizes, and understands why they find it more economical, and probably easier, to buy horses from Europe, she also observed how advanced the breeding system is there. While there are few breeding programs in the US, there are many in Europe. "In Europe," states Hester, "It's not a hobby; it's their life."
Asked to describe the process from birth to breaking at Stal Hendrix, she said that when the horses are three-and-a-half, they break them and ride them for about a month, and turn them out again. At four years of age they begin showing at the small shows, and have another big break, and at age five they start long-term training, moving into their show horse careers.
Home Again
Hester recently returned to Rancho Santa Fe with the string she's been successful on in Europe – Abigail, Warinde B, Wender and Daister L, along with a few new mounts.  She also brought back a lovely equitation horse to sell, Constantine, a new six-year-old mare, Dalmerette, and a five-year-old gelding, Lorstakov.
With a clearer vision, she seeks to support young horse programs, and is pleased to see some shows have lightened the fees for young horses. She will also campaign her grand prix mounts at selected shows. Once again working with Joie Gatlin and Morley Abey, Hester is assisting with sales and purchases. The horses are at home, and she plans to stay on this side of the ocean for a few show seasons at least.
After a year-and-a-half in the Netherlands, Lauren Hester returns home much richer in knowledge and experience, and many miles closer to her dream.