"I just turned 25 two days ago," says Ali Wolff, trepidation creeping in her voice. The notion of having lived for an entire quarter-century takes some getting used to, but this is one rider who has made the most of her first 25 years. The Columbus, Ohio native has been on the fast track to the top levels of show jumping since she was a child rider, and as she leans back in her chair to stare out over an empty arena, it's clear that she feels she's just getting started.
With a full competition year that takes her from Wellington, Florida to Spruce Meadows, Canada and many points in between, Wolff does not get to spend much time in her hometown. But each September, she makes every effort to attend and compete in the $200,000 New Albany Classic Invitational Grand Prix and Family Day, in New Albany, Ohio. The one-day class is an enormous draw for the surrounding community, and Wolff loves the attention that, at least for one day, show jumping gets in a region where Quarter Horses and Western saddles tend to be more common. Find out who influenced this promising grand prix rider and set her on the right path, how she balances school and riding, and how she feels about the imminent step into the professional ranks.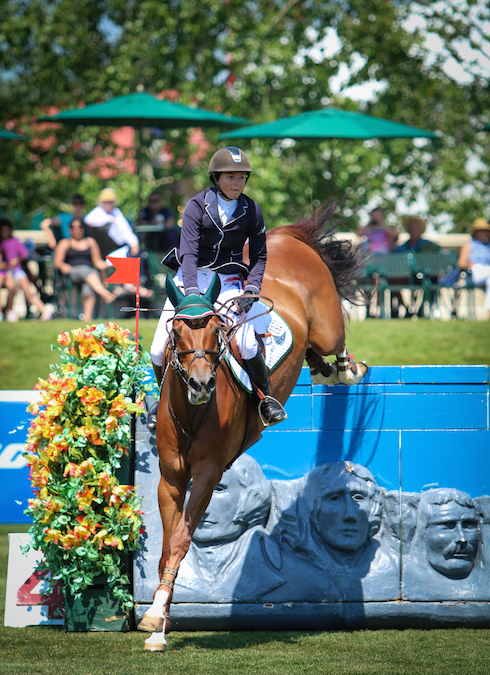 Casall and Ali Wolff compete at Spruce Meadows, July 2014. Photo ©Erin Gilmore
Horse & Style: What were your early days with horses like?
Ali Wolff: I've been riding since I was five. I grew up riding at some Western place, where I was the only one who brought my English saddle. Then I moved over to Pam Graham, who was my first major trainer. And then she actually recommended me to Anne Kursinski when I was 13-years-old. So then I grew up with Anne, Anne gave me to George, George gave me to Chris Kappler, and then I moved to Michelle Grubb. I've been with Michelle for 11 years now.
H&S: That's quite a resume. What was it like training with such icons of the sport?
AW: Pam was the one who set me up with Anne, and I really have her to thank for starting me off on the right path. When the opportunity came to go work with Anne, I really didn't want to, I was so nervous, but I made myself do it. Then, Anne knew that George only had a few more years before he either retired or became the chef, so she sent me to him.
H&S: And how was it, training with George in those days?
AW: It was definitely something! I had the time of my life with him. He is just fantastic. He's funny, he's witty, and he is such a great horseman. He really taught us the basics – from training to maintenance. He really started our whole program. Michelle Grubb is based in Wellington, FL, and in upstate New York.
H&S: What about Michelle, what's the best part of working with her?
AW: She just knows me so well. She really balances me out. She's gotten to know my horses and I so well, and she just really understands that horses are not machines, and she really wants to work on the horses as a well-rounded animal.
H&S: How have you handled attending high school and college amongst your busy riding career?
AW: It was tough. Around the Midwest there aren't many big shows or trainers. So in my junior year of high school, I decided to transfer to St Andrews School, which is a boarding school in Boca Raton, Florida, so that I could be closer to Michelle and show. Then, I kind of bounced around to different colleges and universities, but maintaining college and riding was kind of hard. Just now, I am finishing up my last two classes now, and then I will be done. I finished online with Lin University. I'll have a degree in business administration with a concentration in entrepreneurship.
H&S: It would have been easy to quit and not finish college, why was it important to you to stick it out?
AW: I believe it's important to have a well-rounded sense of personality, and just be a well-rounded person. I would always urge people to go to school. For me, it ties into the fact that I'm probably going to be starting a business in the next couple of years, and I would like to have a degree and not to just rely on my horse sense.
H&S: Speaking of starting a business, what's your plan on making the big transition from amateur to professional?
AW: I want to finish school, and then I'll assess. It almost scares me, going professional. I know I'm going to be doing horses all my life, but it's a whole new level of commitment.
H&S: Describe your horses, and where you're going with them.
AW: I have a young string of horses. Six or seven years ago, I had an experienced group of horses, but ever since then I've been working on getting young horses, and have been building my string back up because my older ones have all retired. It's been a process, it's been fun, and I'm so excited to get back in there at the bigger levels. I have three 9-year-olds, who are all very super promising; an 8-year-old, and I still have my old, trusty reliable 21-year-old, Lanoo. He just won the $20,000 Junior/Amateur Classic at Spruce in July! He's been my steady Eddie, my first grand prix horse. My 9-year-old, Casall, he's the one who really stepped up for me. We've had him since he was seven, and we really just hoped he'd be a sales horse for junior/amateurs. And then he just kept slowly rising. We had no idea he could do this. He's a bit quirky and that makes him good.
H&S: The New Albany Classic, in New Albany, OH has played a significant role in your career. How has it felt to ride in the class?
AW: I got my first invite when I was 17 or 18, and it was so nerve wracking. When you're in there with Kent and McLain, it's just overwhelming. And then your whole family is there, all your schoolmates and everything like that, so I was a wreck. I had done some smaller grands prix before, but nothing that big. Lanoo and I had maybe two down our first year, and I have steadily worked my way up the ranks every year since. I support New Albany as much as possible. It's my backyard. It's literally the only horse show in my area, it's bringing show jumping to Columbus, and they're doing such a great job.
H&S: What's the toughest part of what you do every day?
AW: It's just such a humbling sport. When you're at a horse show, when you have a bad day, the toughest part is going back the next day.
H&S: You mentioned that your family isn't into horses. How do they support you?
AW: They have always been so supportive; I've been so lucky. We moved in 200 to go build a barn with the house so that I would have it right on the property. They did that just for me. It was a huge commitment, and it meant everything to me.
I actually have a cousin, Ellie Crane, who is a three-day eventer. She is trying to aim for the Rolex next year. She's based in Ocala, and she's in the same boat as me, where she's bringing the young ones along right now. We have a lot in common; but it's just funny that we're never in the same place!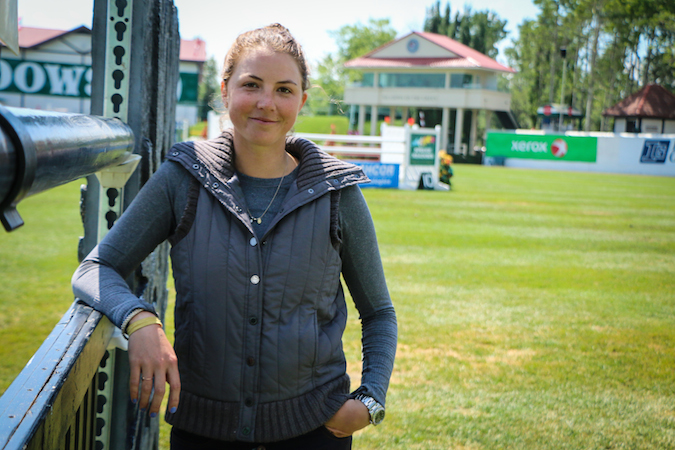 This article appeared in the August/September 2014 issue of Horse & Style Magazine! To read the current issue of H&S, click here.