For the avid equestrian, owning a pair of paddock boots is akin to owning a helmet or a pair of gloves — it is a piece of apparel that most riders do not want to be without. For all of us riders who are stuck in the freezing temperatures of the Midwest or Northeast during the winter months, however, finding the right pair of paddock boots can be a bit of a challenge. We all love the traditional, warm-weather paddock boots, but with a lack of insulation our toes can begin to lose feeling in the leather boots as temperatures drop.
To help you in your quest to stay warm this winter, we have gathered together a few must-have paddock boot features. To help you avoid having to sacrifice style for functionality, we have also put together a few side-by-side comparisons of some of the attributes so you can easily decide which suits your personal style and needs best.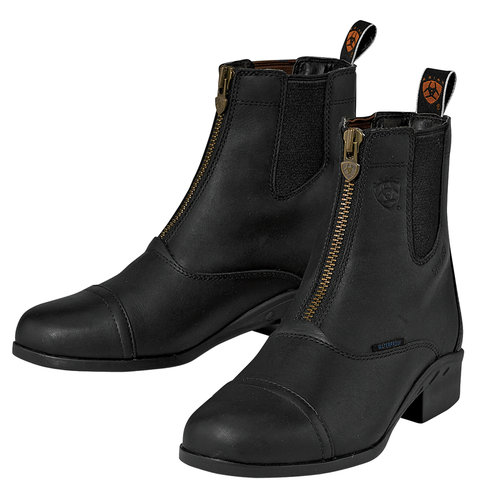 The Ariat Ladies Heritage III H2O Insulated Zip Paddock, available at Dover Saddlery
Zippers vs. Lace-up
Many traditional riders tend to veer toward the lace-up paddock boot. The laces are an old tradition from the days of fox hunting and early show jumping. However, as time has passed, many equestrians tend to prefer the easy manner with which you can throw on a pair of paddock boots, give a quick tug of the zipper and hop on your next mount. When it comes to the winter, the lace-up version may come out on top, but the zip paddock boot has its own benefits as well.
Lace-up paddock boots: Offer additional room for the extra pair of socks and extra space around the ankle to wear a pair of long johns by allowing you to choose how tightly you lace them.
Zipper paddock boots: While they are a bit easier to put on and off, the zipper doesn't allow the boot to stretch as much. However, a zip paddock boot may offer a tad more protection from water by providing more of a barrier to snow you may find yourself walking through in the paddocks and around the barn. 
Insulation is Key!
Arguably the best feature of the winter paddock boot is that it has insulation. Insulated winter boots do have a tendency to make the boot a bit more cumbersome, but when you are spending long days teaching in the ring, mucking out the stalls or simply riding, a bit of insulation is worth its weight in gold. Both Ariat and Mountain Horse make very comfortable winter paddock boots. These boots also offer a bit of extra room at the ankles, which is a must-have when you want to wear a thicker pair of socks or fleece-lined britches.
Supple Leather Makes for a Flexible Paddock Boot
When you purchase a winter paddock boot you may notice that the insulation has a tendency to make the boot a bit stiffer. For this reason, you will want to make sure that the boot is made from quality, supple leather to help avoid the tendency to crack and become stiff in the winter. Purchasing a winter paddock boot that is made from more supple leather will provide you with a more comfortable ride, as well as warmer feet. Being able to comfortably wiggle your toes is essential to keeping the blood flowing and your extremities warm when the winter wind is howling and the ice is sliding off the roof.
It is safe to say that winter riding is more about functionality and less about being fashion forward. With fleece-lined winter breeches, colorful under-layers, fitted winter jackets and insulated paddock boots, you won't have to sacrifice style to stay warm while sporting a nice riding ensemble. Don a pair of wool socks and a nicely insulated paddock boot, and see how your feet will thank you and allow you to spend more quality time at the barn with your horse. Happy riding!
Author Ashly Snell works at Dover Saddlery and has been an avid equestrian for 20 years. She currently enjoys eventing with and caring for her two Dutch Warmbloods.