Palm Beach International Equestrian Center (PBIEC) hosted its $50,000 Holiday & Horses Grand Prix CSI-W 2* on Saturday night with an electrifying winning performance from show jumping stars Laura Kraut (USA) and Cedric. A FEI World Cup qualifying event, the competition saw 55 starters with ten clear rounds to advance over the Catsy Cruz (MEX) designed course. Kraut and Cedric topped Hardin Towell (USA) and Silence and Leslie Howard (USA) aboard Utah in a very fast jump-off with eight double clear rounds.
Darragh Kerins (IRL) and Jan Van Tricht's D Elia van het Molenhof put the pressure on, beginning the jump-off with a very fast clear round in 38.68 seconds, but eventually finished fourth. Hardin Towell and Jennifer Gates' Silence upped the ante with their blazing fast round in 38 seconds flat that many thought would be unbeatable, but the longtime partnership of Laura Kraut and Cedric found a way to go even faster. Kraut and Cherry Knoll Farm's Cedric raced through the course in 36.48 seconds for the win. Leslie Howard and The Utah Group's Utah finished out the night to take third place honors with a clear round in 38.11 seconds.
Cedric, the 16-year-old Holsteiner gelding by Chambertin x Carolus Z, had six months off this season and has slowly been coming back to competition in the last two months. Saturday night's class was his first grand prix back and an exciting win for both horse and rider. In addition to the top prize, Kraut was also presented with the Leading Lady Rider Award for the week's competition, an award presented by Martha W. Jolicoeur of Illustrated Properties in memory of Dale Lawler.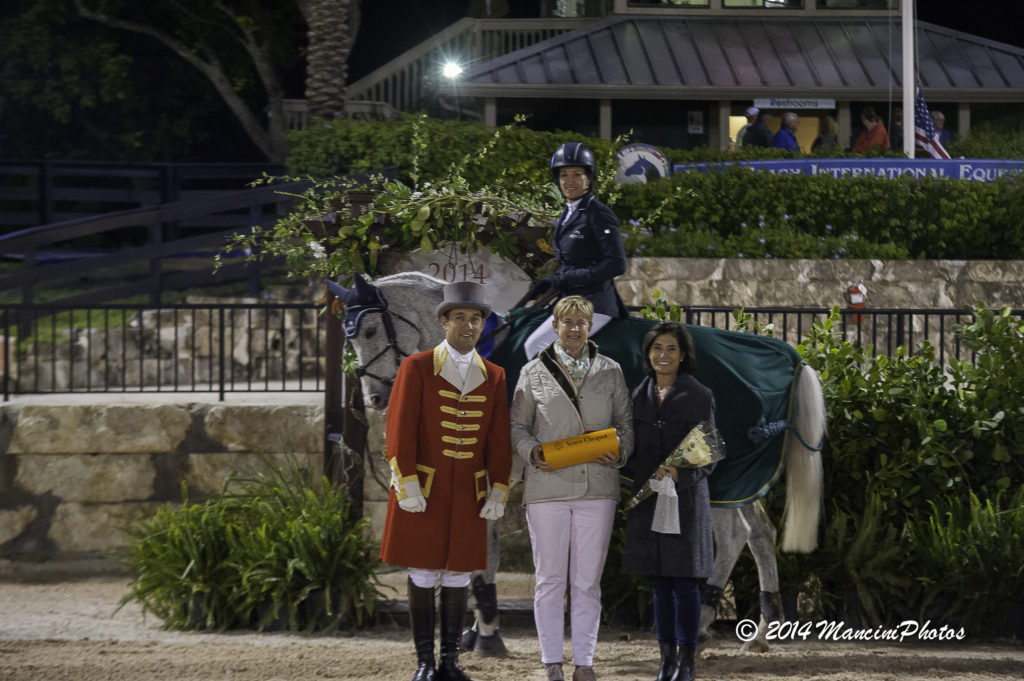 Laura Kraut and Cedric in their winning presentation with ringmaster Gustavo Murcia, Cedric's owner Margaret Duprey, and Martha Jolicoeur
"I watched Hardin, and I didn't think I could beat him," Kraut admitted after the class. "He is so fast and this was Cedric's first grand prix back since the beginning of May in Madrid. I did want to win tonight with it being a World Cup qualifier, but I thought that I would be happy with second or third when I saw Hardin go. Cedric just was brilliant. It was just one of those jump-offs where ever time I turned the corner it all came up. Even the mad dash to the last jump, I was at full throttle, and it just showed itself. Often times when you come at that speed there is just nothing there, but tonight I was about five strides out and I was like, 'Thank God.'"

"I have no idea where I got the time," Kraut mused. "He is a quick horse, and I turned really sharp back on the double. I stayed inside everyone's hoof prints, I know that. I know I was quicker back because I looked down and made sure I was inside everybody, but other than that I don't know. He is smaller, so he can gallop faster."

The pair galloped full force down to the last fence, which was a very tall plank jump going towards the in-gate, but Kraut had faith in Cedric as the crowd cheered them on.

"He is careful enough that you can take a chance like that with him. He knows his job, and he doesn't think he should knock it down," she stated. "I could definitely hear the people shouting. I am going to go anyway, so they don't really have any influence, but it does create an excitement to it. I think it's fun for the crowd. It was a great jump-off. It was faster and faster and faster, so I am thrilled."
Cedric has been Kraut's top horse for many years now, and she was careful to bring him back gradually after having time off this year. She knows that he is now back in winning form.

"This was his first grand prix, but I started him in October in Portugal jumping little 1.20/1.30m classes and then he did the National (Horse Show) and Toronto in just small classes," Kraut explained. "This Friday I did the 1.50m and he was third in that and it was really the first time I felt like he was 95% back. Even on Wednesday I felt he was fantastic and tonight also. I can feel that he is more tired than he would be under normal circumstances, but the only way he is going to get fit is by doing it."

"It felt great," Kraut smiled. "I read this thing the other day, years ago when McLain Ward was talking about him in a press conference and he said, 'Knowing this horse, when he's 16 years old, he's still going to be a pain in the ass.' Now he is 16 years old and he was just a pain in the ass tonight for everybody, so that made me happy. He likes the lights, and he really loves showing. He was pretty depressed all summer when the truck kept driving out without him. He likes being at the show and being paid attention to."
Cedric will have some time off now while Kraut travels to Paris for the Gucci Masters. He will then jump in the Trump Invitational in Palm Beach in January before the start of the 2015 Winter Equestrian Festival.
"His next show will be Trump. He jumped there a couple years ago, and he quite liked it," Kraut stated. "He has had six months off, so I feel like I would like to keep him in the groove now that he is up and running. I just want to sit down and plan out all of WEF and what I want to do. What's nice now is that he does have age, and I don't have to jump him as often in little classes. I can just sort of peak him in bigger classes, so that would be the idea."
Kraut also spoke about the course for Saturday night and praised Catsy Cruz on her efforts all week. "I think she has done a really great job. Her times have been sharp all week, but not impossible," the rider remarked. "I thought her class on Wednesday was good, and I thought her speed course yesterday was brilliant. I quite liked it tonight. When I walked it tonight I thought she had a variety. Some of the lines suited a big horse, some suited a small one. It was technical, it wasn't overly big, but it was careful. I don't know that I have jumped one of her courses before, but I was very impressed.
Second place finisher Hardin Towell also had a great experience Saturday night with his mount, Silence. The nine-year-old Hanoverian gelding has been showing with owner Jennifer Gates and Towell picked up the ride recently in Los Angeles.
"I showed him in L.A., and he was pretty good. He had one down in each class, and he has just gotten better and better," Towell detailed. "I took him to Sacramento, and he was double clean in the World Cup qualifier there. I didn't go so fast because I really didn't know him. Then I gave him a couple of weeks off and took him back to Thermal. He was third in the World Cup there. He was double clear, and I went faster there. I have quite a lot of World Cup points. I think now I should have about 71, but I needed to get one point in the East (Coast) league because I have shown all out west. I was a little bit stressed, so today was pretty important. I needed to be at least top 15 and then once I was in the jump-off I was like, 'Okay, now there's nothing to lose. I'm gonna give it a shot.'"
"He was great," Towell continued. "In the first round I had kind of a big mistake and he looked after me there, so it's quite nice. I am lucky that I have quite a good string right now. They are all younger and a bit inexperienced, but they are really all coming along."
Towell also took a big run to the final plank jump, but his horse was unfazed. "He doesn't care at all. He is an excellent horse," the rider stated. "He is a little bit slow going sometimes, but he has just figured out how to get faster. Between that one and another one, if I can qualify for World Cup Finals, I think I will take them. I feel good with the position I am sitting in now."

Commenting on the jump-off, Towell added, "I was worried about Laura and Darragh (Kenny). Laura because I know Cedric is
so fast, and she knows him so well. I was actually really worried about Darragh too because he is really hungry for World Cup points. Darragh and I are quite close, and I know he is never going to go in there just to school around. That is a slower going horse, but Darragh has made him faster in the last couple months. I didn't see him go, but he must have been flying tonight. I've been third a few times. I've been right there, so it's a little disappointing. I would like to win one of these, but my horses are jumping clean and I can't ask for more than that."
The Holiday & Horses CSI-W 2* competition concluded on Sunday, November 30, 2014. For more information, please visit www.equestriansport.com.