You might not know Kara Hachigian's face when she makes her hunter/jumper ring debut this coming winter, but if history repeats itself, her status as an unknown will be very short lived.
Switching disciplines is common enough. But this 16-year-old Saddlebred rider from Houston, TX has been so successful in that world that her firm decision to leave it behind and start all over again in the jumper ring is an interesting one.
In just five years, Hachigian has made a definitive mark on the Saddlebred show circuit; among her many titles she earned Reserve World Champion in the Junior Exhibitor 14-17 Three Gaited Division at this year's ASHA World's Championship Show. She's a popular exhibitor who is well known, and well liked in the performance horse world.
But Hachigian herself admits that the Saddlebred world is a small one when compared to that of show jumping. When she started riding, at age 11, it was by chance that her parents signed her up for lessons at a Saddlebred barn. And while she now owns two Saddlebreds that she doesn't plan on parting with anytime soon, her attention has shifted to the new challenge of jumping.
Her interest in part was sparked when she came across the television broadcast of the Central Park Horse Show, this past September. She was home sick and flipping through channels when she found show jumpers competing under the lights in Central Park. The broadcast served as the spark that lit her interest, and motivated her to find a hunter/jumper barn and begin taking lessons.
Horsemanship skills cross over no matter the discipline, and Hachigian believes that she has a head start when it comes to understanding jumping.
"Saddlebreds are really, really hot blooded, and I've learned to ride a lot of really tough horses," she says. "I've realized that they've taught me so much about being fearless about riding new horses, and hard horses. As I've started jumping, just knowing that I have all these skills makes the jumping part not a scary thing for me."
A Deeper Reason
Riding talent aside, there's a more meaningful reason that the hunter/jumper world will be lucky to have a rider like Hachigian within its ranks. Since 2012, Hachigian has been an active participant in the United Professional Horseman Association's Ribbons of Service Program.
Designed to promote philanthropy among young riders, the program encourages riders to raise funds for charitable organizations by seeking donors who support their pledges to ride in equitation classes. Riders compete against each other, not only for ribbons, but for donor pledges. Hachigian was the program's overall high money winner this year, raising $50,000 for her charity of choice – St. Jude's Children's Hospital.
"Giving back has always been an important part of my life," Hachigian says. "It helps me too, to know that even if I go in the ring and don't get the best ribbon, I'm always raising money for St. Jude's."
Hachigian plans to continue raising money for St. Jude's when she makes the switch to hunter/jumper showing; she's hopeful that she'll be ready to make her debut at the 2015 HITS Thermal Desert Circuit. She also plans to compete at the Pin Oak Charity Horse Show in Texas in March – it's her home show and she can show her Saddlebreds there, too.
"I have a lot of big dreams in the hunter/jumper world," she says. "I really want to take it and see how far I can go. Jumping for me so far has been a huge thrill."
From Saddlebreds to hunter/jumpers, no matter which discipline Hachigian chooses to pursue, the sport is lucky to have her.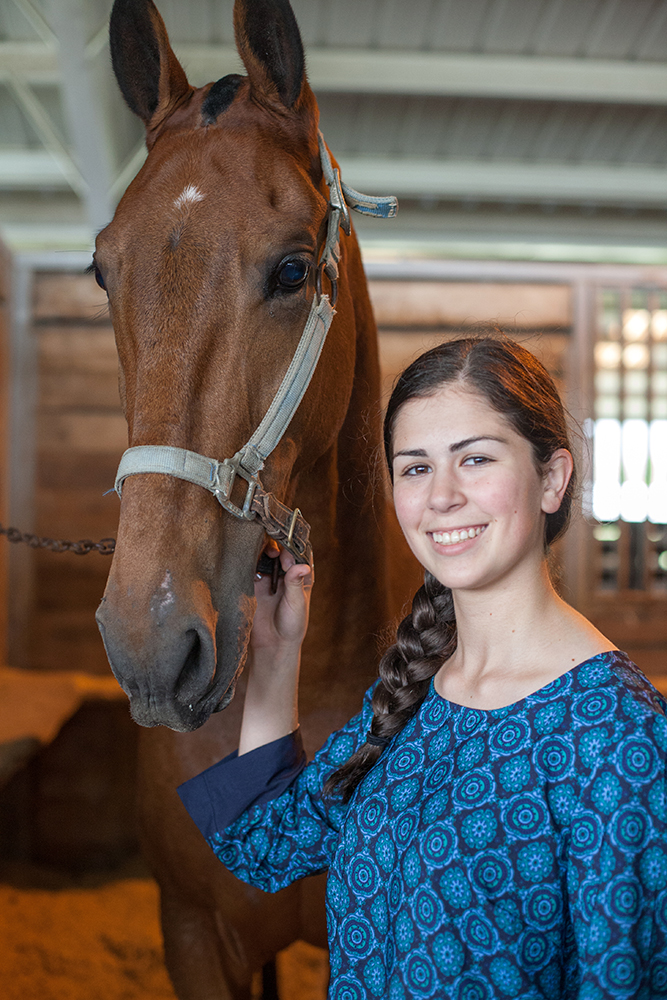 Top: Kara with Hoops, and above with Zeus at Bluebonnet Farms in Bellville, TX. Photos ©Michael Starghill, Jr.