According to the Equine Welfare Alliance, over 140,000 horses from the United States were sent to Mexico or Canada for slaughter last year. Luckily, this number has decreased over the years, thanks in part to selfless animal rescues like Villa Chardonnay Horses with Wings.
Founded in 2004, Villa Chardonnay Horses with Wings in Temecula, California, began its journey of compassion when Monika Kerber and Louise Garder came across a 2-year-old palomino Quarter Horse that had a fractured rear foot and was destined for the slaughterhouse. Even though she was unable to be ridden, she captured their hearts with her kind demeanor and striking appearance: some said that she looked like a glass of chardonnay. They named the mare Chardonnay and provided her with the care and shelter she needed.
Ten years later, the equine safe haven has grown exponentially and cares for an incredible 140 abandoned horses, 8 rescued donkeys, 3 rescued goats, over 40 homeless cats, 13 rescued dogs and 3 turkeys.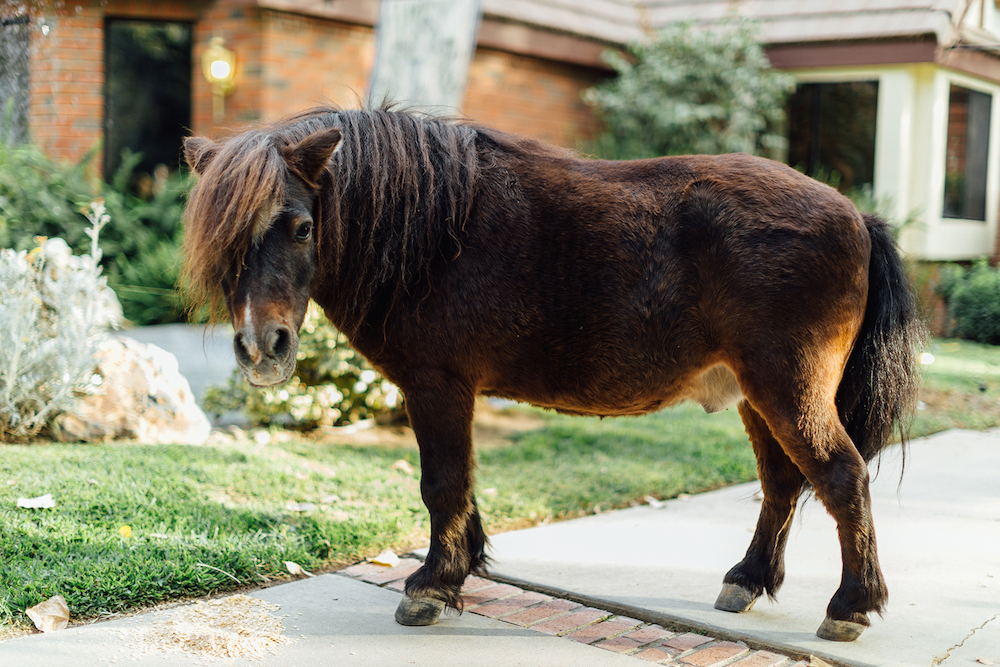 Chip came to Villa Chardonnay with his partner Dale after his owner passed away and they lost their home. Their owner's last wish was that they stay together and were given the chance roam free without being locked in stalls. Villa Chardonnay made her last wish come true. Photo by Abram Goglanian
With the caring and kindhearted nature of Kerber and Gardner, Villa Chardonnay has become one of the largest and most reputable sanctuaries on the West Coast. Dedicated to the compassionate care of special needs animals, they provide endless love and critical care for abused, neglected and slaughter-bound animals.
Villa Chardonnay sets itself apart from other equine rescue centers by providing a forever home for these once abused and neglected animals with no other options. The majority of their horses and animals have physical ailments that are cared for on a daily basis, and Villa Chardonnay acts as an animal refuge for their residents, not an adoption center.
"We are proud to be a sanctuary where we can provide a permanent home for special needs horses and other animals," Kerber said.
To help cover some of their monthly expenses, Kerber and Gardner established a new business, Villa Chardonnay Pet Supplies Inc., featuring national brands and over 10,000 items, which supports their slogan 'Pets Saving Pets."
Each time a purchase is made for your horse, dog or cat, 100 percent of the profits go to feed, supplies and housing for the animals being cared for at the Villa Chardonnay facility.
Villa Chardonnay, Horses with Wings, Inc. is a 501(c)(3) non-profit corporation. All donations made to Villa Chardonnay, Horses with Wings, Inc are tax deductible. Items purchased from Villa Chardonnay Pet Supplies are not tax deductible.
As the epidemic of abandonment continues throughout the US, so increases the hoof count at Villa Chardonnay. A national capital campaign has been launched to expand their sanctuary to a larger location, as the need has become critical. An excellent location has been identified that will allow Villa Chardonnay to become a self-sustaining nonprofit.
Click here to donate!
To sponsor one of Villa Chardonnay's loving animals, visit http://goo.gl/cSpgnk. For more information about Villa Chardonnay Horses with Wings, click here. Visit http://www.villachardonnaypetsupplies.com/about-us/ to learn more about Villa Chardonnay Pet Supplies. Follow Villa Chardonnay on Facebook and Twitter for up-to-date news.
-By Alex Lynch/PMG