All of a sudden, the final days of 2014 are upon us, and a brand new season lies right around the corner. Who made 2014 worth remembering in the show jumping world? Who reigned supreme as the global leader of the sport? Who stood out and became a true star for the first time? With horse shows occurring every single week of the year (yes, even on Christmas week), there's no lack of results, grand prix photos, circuit standings and interviews to sift through. And there are many, many amazing riders out there who produced many masterful performances worth remembering this year.
After following the show jumping world these past 12 months, H&S deems these riders the top six newsmakers and superstars who defined the sport in 2014.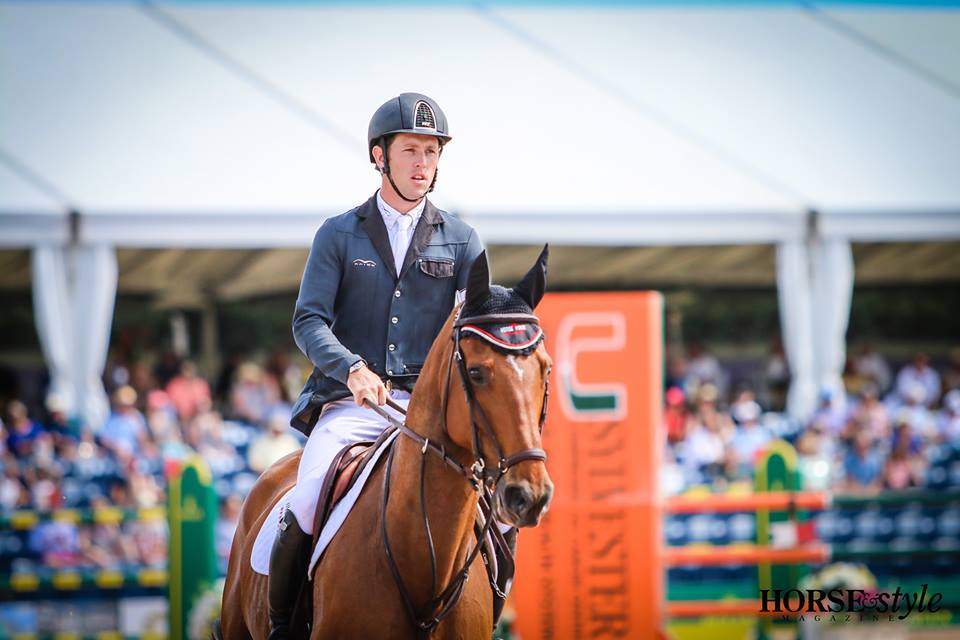 Scott Brash competing at the 2014 FTI Winter Equestrian Festival
Scott Brash
The FEI-ranked world number one rider simply stamped his name more definitively into the annals of show jumping history in 2014, with performances that caused people to swap the adjective "winner" for "dominator" when his name came up in conversation. With Hello Sanctos, the 29-year-old rider from Scotland spent his year winning many of the most prestigious grand prix classes in the world. The only imperfect mark on his 2014 record was the World Equestrian Games in September; things didn't go according to plan for the British team, and Brash withdrew after round two to save his horse.
But the way that Brash lets every success or failure roll over him without it affecting his laid back, hardworking style makes him a true star. He will still meet anyone's eye and greet them with a casual hello. His family helps him manage his career and the yard he maintains at hime in Scotland. In every press conference, he continually credits his horses and his sponsors, and continues to bring out the best in everyone around him. With the Rolex Grand Slam title now in his sights, it's very likely that he'll make 2015 an even more memorable year.
Highlights:
Winner, GCT Grand Prix at London, Estoril, and Cannes
Winner, 2014 Global Champions Tour Series
Winner, IJRC Top Ten Final
Winner Rolex Grand Slam Grand Prix of Geneva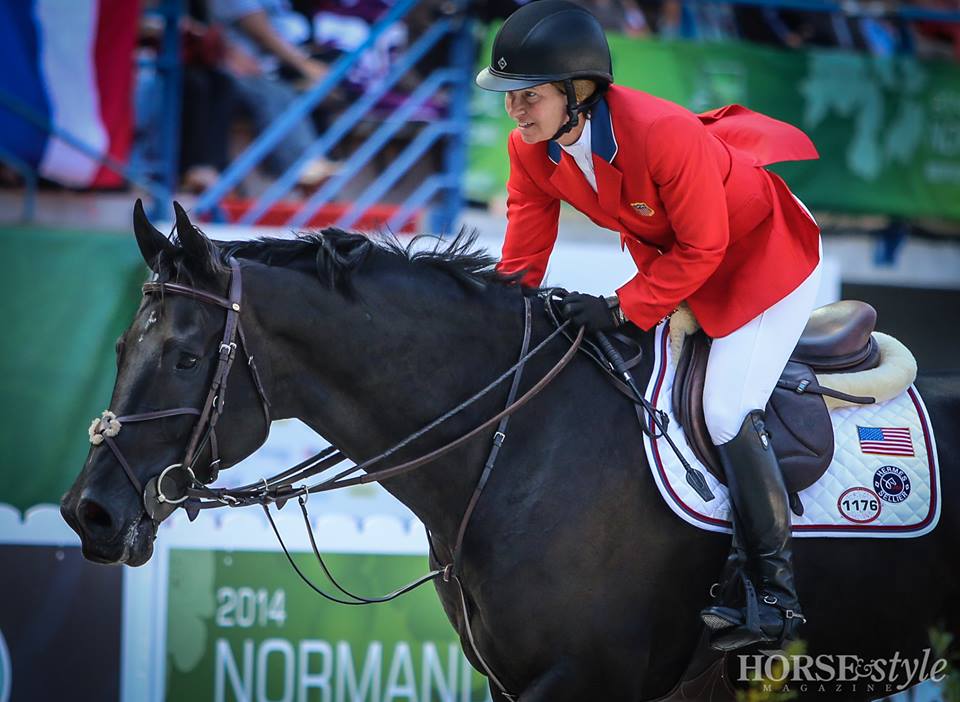 Beezie Madden and Cortes 'C' after a clear round at the FEI World Equestrian Games
Beezie Madden
Above all else, Beezie Madden is loved by her fans, both in the United States and around the world. Among the media, Madden has a well-earned nickname of "internet gold" – post a photo or article about her most recent accomplishment, and it's guaranteed to attract many more times the traffic than content about any other rider.
And for good reason. Madden's consistency in the ring, heart-stopping jumpoff performances, and classy, easygoing attitude during even the most high-pressure moments in the sport of show jumping have earned her the devotion of her many fans. In fact, who isn't a Beezie Madden fan? I've never met one. From her historic win in the 2014 King George V Cup at Hickstead (she was the first female to ever win that grand prix), to her double bronze medal performance at the World Equestrian Games, Madden has just kept shining. Oh, and this was during a year in which Madden incurred a major injury – breaking her collarbone and requiring surgery in April. By July she was back in the saddle and straight back in the winner's circle. Its no wonder she's up for USEF Equestrian of the Year for the second year in a row. Go Beezie!
Highlights:
Winner, $250,000 CP World Cup Qualifier/National Horse Show Grand Prix
Individual and Team Bronze Medalist, FEI World Equestrian Games
Winner, King George V Cup, Longines Royal International Horse Show
Winner, $200,000 American Invitational Grand Prix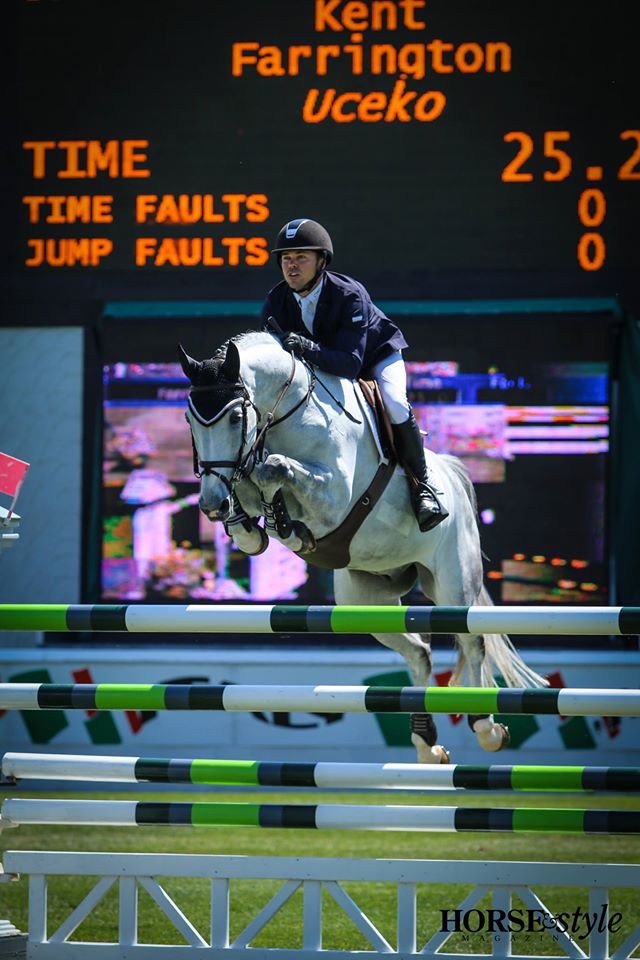 Kent Farrington and Uceko compete at Spruce Meadows summer
Kent Farrington
For over a year now, Kent Farrington has held position as the top-ranked American rider in the world, and most recently moved up to number two in the world in FEI show jumping rankings, second only to Scott Brash.
Thrity-four-year old Farrington has earned every rung he's climbed on the show jumping ladder with hard work and the kind of results that most riders can only touch upon once or twice in a career. Farrington consistently rises to the top with his rotating string of horses, and he made 2014 a year in which he claimed wins all over the world with his trio of top horses. Three big victories in a row at Spruce Meadows over the summer, a World Cup Finals appearance, and double wins at the 2014 Winter Equestrian Festival, were just a few of Farrington's 2014 highlights.
Farrington is a modern-day iceman, sitting absolutely chilly from coursewalk to awards ceremony on grand prix day. He is, in a word, intense, from his laser eyed focus when he studies a track, to his determination when he rides down a line. When Kent is coming up behind you in a class – watch out.
Highlights:
Team Bronze Medalist, FEI World Equestrian Games
Winner, $84,000 Salamandar Valentines Day Grand Prix CSI3*
Winner, $85,000 Progress Energy Cup, Winner $210,000 ATCO Power Queen Elizabeth Cup, Winner, $400,000 Pan American Cup at Spruce Meadows
Winner, $40,000 Pennsylvania Big Jump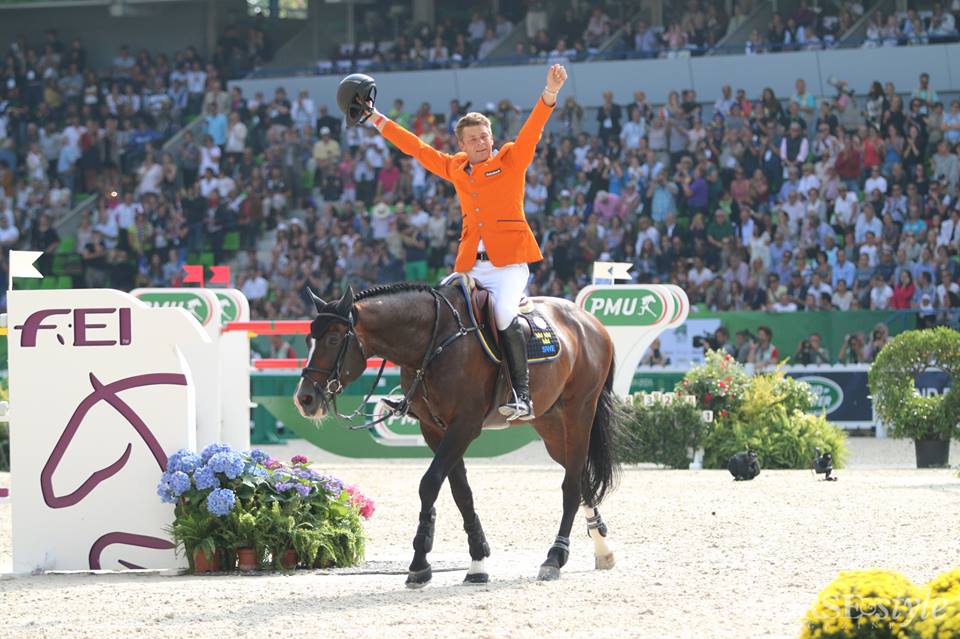 Jeroen Dubbeldam celebrates WEG Individual Gold
Jeroen Dubbeldam
At the beginning of 2014, Dutch rider Jeroen Dubbeldam wasn't a household name to most American show jumping fans. But by the end of the year, this double gold medalist at the FEI World Equestrian Games had firmly established himself, (re-established himself, actually, he earned Olympic Individual Gold at Sydney in 2000), in the minds and memories of fans around the world. He rode four clear rounds in the Rolex Top Four Final at WEG, enthusiastically throwing his arms in the air upon winning individual gold. In perhaps the best moment of show jumping at WEG, when he dismounted, his young daughter broke free of the crowd and ran into the arena to leap into her father's arms in celebration, and was cheered on by thousands in the stands. One month later, Dubbeldam would go on to win the 2014 Furusiyya Nations Cup Final with his Dutch teammates. In December, the FEI named him Reem Acra Best Athlete of the year. 2014, done and done!.
Highlights
Team Gold, FEI World Equestrian Games
Individual Gold, FEI World Equestrian Games
Winner, Furusiyya FEI 2014 Nations Cup Final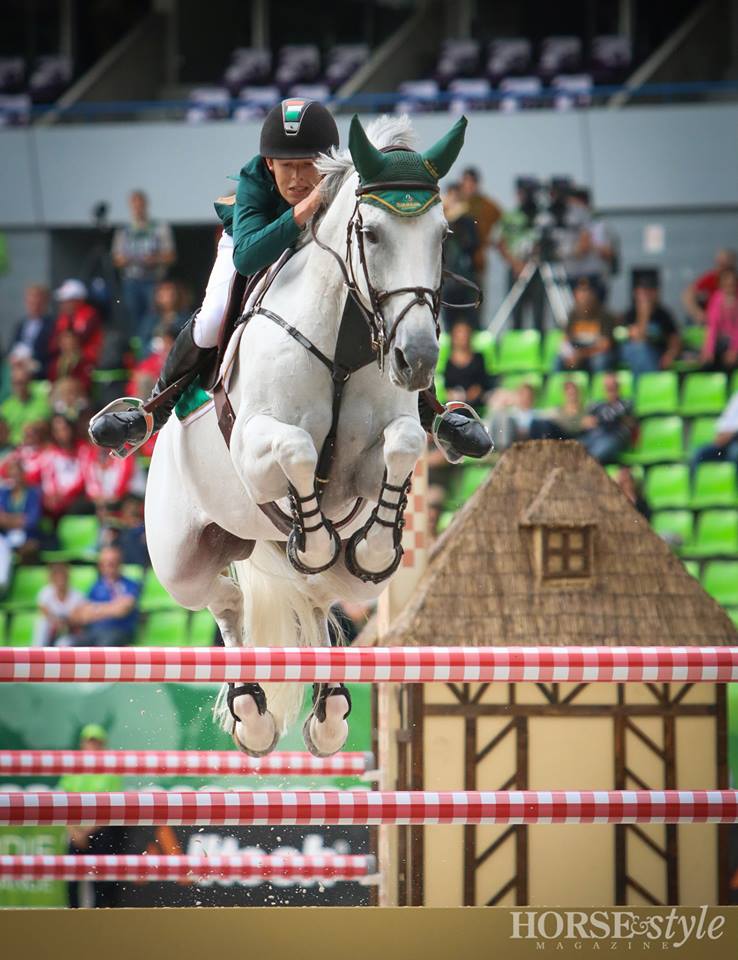 Bertram Allen and Molly Malone at the FEI World Equestrian Games
Bertram Allen
It was for good reason that we put this young Irish rider on the cover of the current issue of Horse & Style; 2014 was the year when he continued his meteoric rise to the top of the sport. He is the youngest rider to ever represent Ireland on a senior Nations Cup team, and probably the youngest rider to ever win a round of the World Equestrian Games, which he did this past September aboard his fantastic grey mare Molly Malone. At just 19-years-old, Allen has proven himself to be an otherworldly talent for which riding simply comes naturally to him. He won the historic Longines Grand Prix of Dublin at the Dublin Horse Show in August, and in November he competed in his very first Longines World Cup Qualifier Grand Prix in Verona, Italy, and won it.
Allen lives in Germany and has been mentored by Marcus Ehning and Billy Twomey. He gets up every day and goes to work doing chores in the modest stable yard where his horses live, no different than thousands of other teenagers who love horses and put in many hours of work to strive towards succeeding in the sport. Unlike those others though, he has already touched the very top of show jumping.
Highlights
Winner, Christmas Cracker, London Olympia Horse Show
Winner, World Cup Qualifier Grand Prix CSI5*, Verona
Winner, Round 1, FEI World Equestrian Games
Winner, Longines Grand Prix of Dublin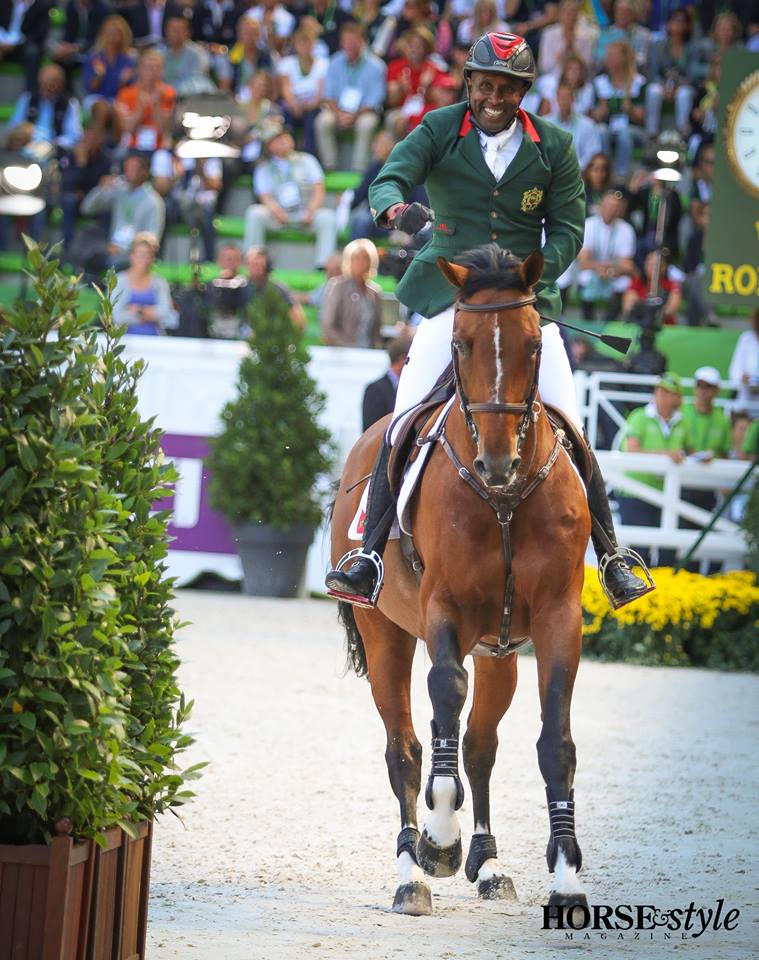 Abdelkebir Ouaddar soaks up the adulation of the crowd at WEG in Normandy, France
Abdelkebir Ouaddar
Unless you attended a horse show in Europe this year, you probably haven't felt the atmosphere in the arena when Morocco's Abdelkebir Ouaddar rides through the ingate. But that's ok, I have been ringside when this happens, and I'll tell you about it. The feeling that sweeps over the audience and spills out in a deafening cascade of cheers is enough to give a person chills. That is how loved Ouaddar is by his fans. His broad smile and the antics of his quirky stallion Quickly de Kriesker have made him a fan favorite in his adopted country of France, where he lives and trains. Don't miss H&S Contributor Winter Hoffman's profile of Ouaddar, which appeared in this year's H&S June/July issue.
Ouaddar's ties to the Moroccan Royal Family have helped him gain the horses and training to rise in the worldwide rankings – he's currently 45th in the world, and this year became the first Moroccan rider to ever qualify for and compete in the FEI World Equestrian Games, where he finished 13th. When the time comes that you do have the opportunity to watch Ouaddar in the ring, it will be impossible to not become his latest fan.
Highlights:
Winner, Grand Prix of Tetouan CSI3-W
Winner, Moroccan Royal Tour CSI3*
13th Individual, FEI World Equestrian Games