These last 12 months proved that the hunter/jumper world's navy-and-white slump is a thing of the past, as color and individuality reemerged to rule style in the show ring over the course of the year. Thanks to brands like Ogilvy, Personally Preppy, Le Fash, and Grand Prix (just to name a few), riders can choose to customize, personalize, and stand out to their hearts' content. There are also the riders themselves, at all levels and at all shows, who inspire each other to take risks not only in their riding but in their fashion choices, as well. So here's to a fashionable 2014 — and to the hope that next year tops the one that just passed.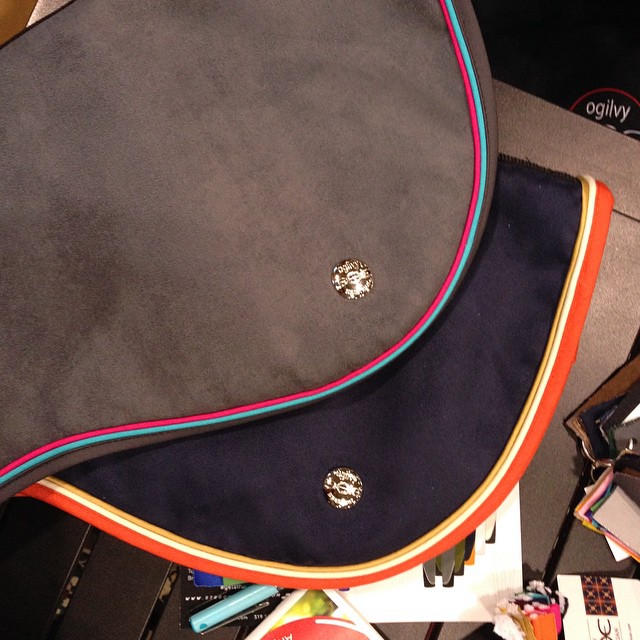 The Ogilvy Social Media Explosion
2014 was the year of the Ogilvy customized half pad and matching square pad. Despite the lengthy wait period, hunter/jumper riders, as well as dressage riders and eventers, lined up (in a virtual sense) to place orders for these monogrammed, color coordinated pads. By the close of the year, the brand's Instagram account is just shy of 38,000 followers with 2,000 posts—most of which are user-generated photos that feature riders, their horses, and their Ogilvy pads. Luckily for all those holiday pad orders, this trend doesn't appear to be on the outs anytime soon.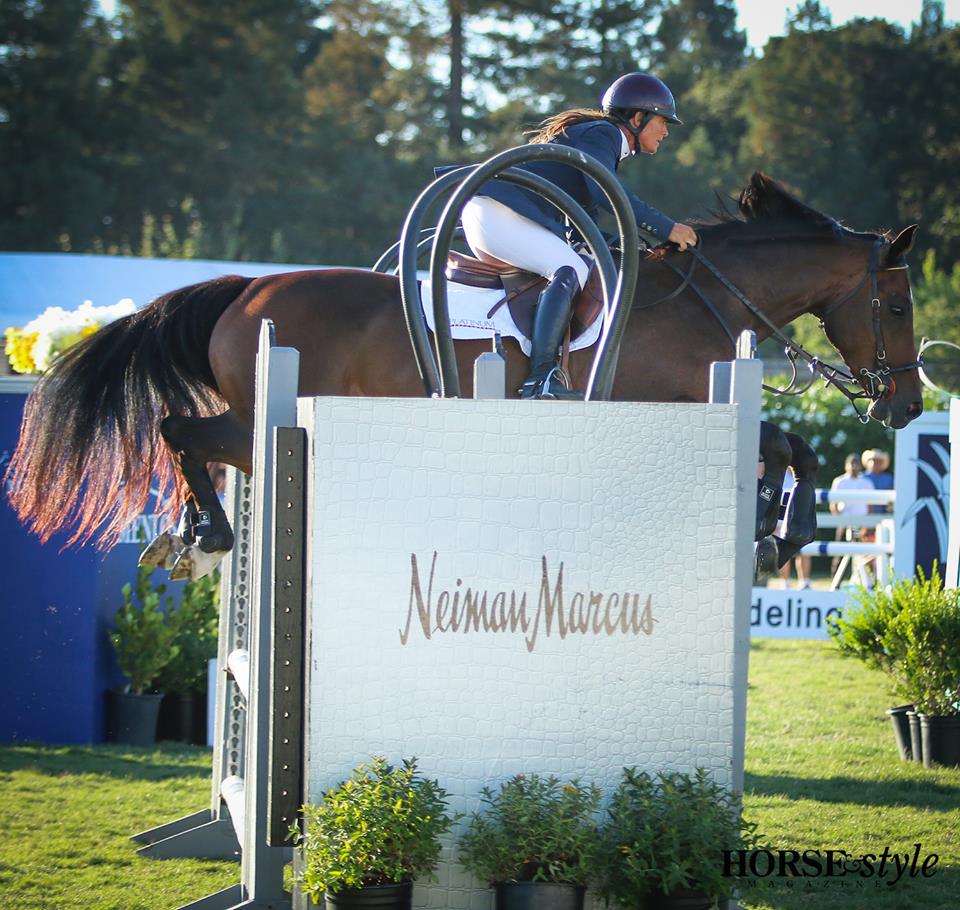 Kristin Hardin competes at the 2014 Menlo Charity Horse Show
Kristin Hardin and Hairgate 2014
When The Chronicle of the Horse featured California grand prix rider Kristin Hardin, the post launched a hundred Facebook comments—about her hair. As many on the West Coast know, Kristin, an uber-successful grand prix rider who ruled the roost on the West Coast circuit in 2014, rides in the jumper ring with her hair tied below her signature burgundy helmet in a low ponytail paired. The article may have been about her unusual relationship with one of her top mounts Bert, but the comments didn't go beyond her un-tucked hair (sans hairnet). Kristin maintains that her helmet fits best with her hair loose while Chronicle commenters counter that she should find a better shaped helmet. So to tuck or not to tuck—does it really matter, at least in the jumpers?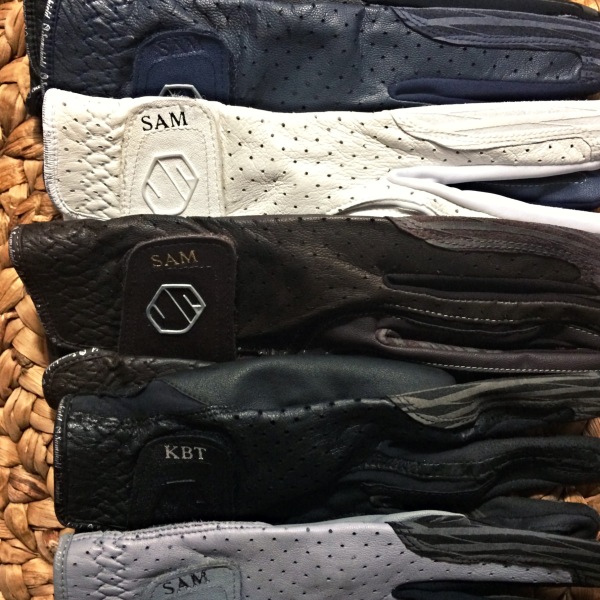 Gloves customized with Personally Preppy stamps
Monogram Happy with Personally Preppy
Ogilvy taps a small corner of the equestrian world's obsession with monograms while Personally Preppy goes full tilt with it. This year, on show grounds across the country, monograms graced everything from helmets to bats to horse boots thanks to the brand's customization efforts. As much as these stamps add a classic, personal touch to all things horsey, they also help the universal barn problem of mixing and losing items. If you're guilty of falling prey to this epidemic, then order the full range of monogram products and stick to a New Year's resolution of never misplacing an item for the entire, upcoming show season.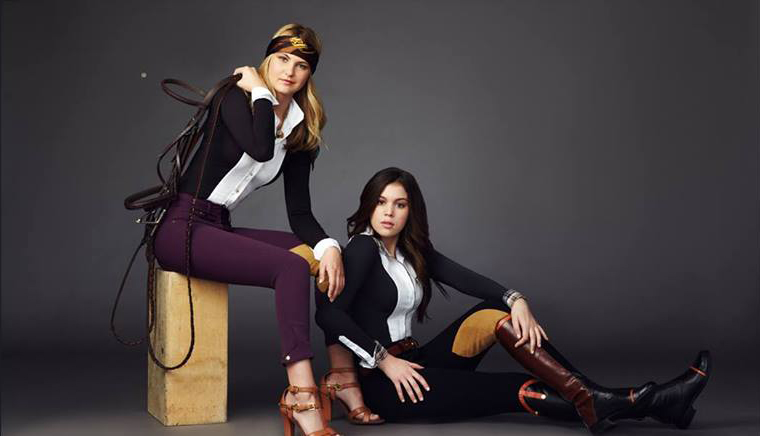 Models wearing the Le Fash Riding Shirts and breeches
Le Fash Riding Shirts
This NYC-based brand may singlehandedly bring back interesting show shirt and jacket combos to the hunter ring. The shirts feature solids and prints that contrast with the side panels, allowing the rider to show in a traditional look with a hunt coat, and school in a more fashion-forward look. This last season saw Hunter Holloway in the big eq finals and Jen Alfano in the big hunter ring, both dressed in Le Fash shirts. Maggie Jayne shed the jacket completely in the jumper ring, showcasing the full flair of the shirts. Le Fash's breeches are just as gorgeous, especially the jewel tone colors with tan patches, but the tan and the white varieties remain the only options for the show ring. Le Fash founder Arianna Vastino is successfully bringing her crossover line to riders everywhere, and she has even more innovations planned for 2015. Watch out!
Outfitted in a thin tie, Saree Kayne (mounted) placed well in competition at the Longines LA Masters
Bow Ties and Ties
The Longines Los Angeles Masters set the perfect, illuminated stage for a big fashion moment this year. And while bling and color abound, it was Saree Kayne's monochrome shirt and tie that made the biggest statement. The younger sister of popular LA-based fashion designer Jenni Kayne looked refined in her outfit of choice. Although it's unlikely that the trend will take off in the coming year, the bold move just may shake up fellow competitors to take more fashion risks in the show ring. In the male camp, Karl Cook occasionally wore an FEI-approved bowtie throughout the season. Bow ties, ties, stock ties—at the very least, there's room for all of the above.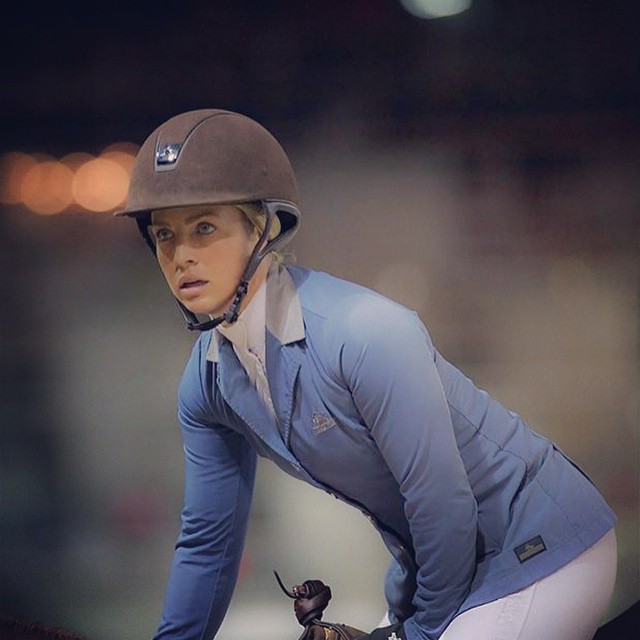 Ashlee Bond staying stylish while showing in Europe this fall
Lightweight Show Jackets
When this photo appeared on Instagram of Ashlee Bond in her Grand Prix TechLit Rylie in French Blue, it was almost as though a collective gasp of delight came from the hunter/jumper style community. The jacket is the triple threat: it's lightweight, slimming, and available in chic colors like a lighter navy and this light blue. As much as this jacket's moment was in the jumper ring in 2014, there's hope that its moment in 2014 will be in the hunter one. And word on the street is that Ariat has plans to release a couple ultra-lightweight hunt coat options in the new year, as well. It's not too late to jump on this trend because it has only just begun.