During the first two years of the Trump Invitational, it seemed that we couldn't have one thing without another. In 2013, the sun streamed down. . . onto unsafe footing that was unprepared for holding up to the test of galloping hooves. In 2014, the footing was meticulously prepared. . . but the heavens opened up and unleashed a relentless rainstorm onto the event.
But this year, during the Third Annual Trump Invitational Grand Prix presented by Rolex, everything finally came together. Thirty-eight entries and a nine horse jumpoff proved that the grass turf at Mar-A-Lago was better than ever, and the weather gods cooperated to produce a picture perfect day.
The third time was also the charm for Laura Kraut and her veteran partner Cedric, who competed in but incurred time faults in the 2013 and 2014 editions of the Invitational. So perhaps she rode with a little extra motivation to get around clear today, which she did as the final entry in the first round. Cedric was on perfect form to jump fastest in the jumpoff, winning the 2015 $125,000 Trump Invitational Grand Prix.
"Finally on the third year they got lucky. All the conditions were perfect," said Kraut after the class. "This turf footing, I think it's probably the best grass footing in the world. I went last in the class and last in the jumpoff, and I had as good a round as the first ones did. It's an absolutely great event."
It's true that the day's events went off without a hitch, much to the relief of everyone who attended last year and received a thorough soaking. There were many close eyes on the weather reports this week, and it was with a sigh of relief that we woke up to blue skies today.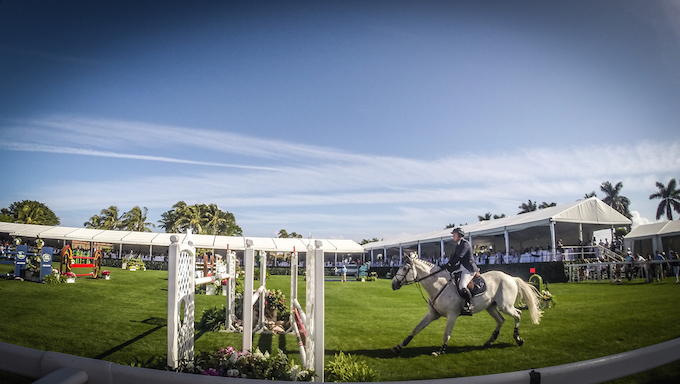 Blue skies indeed. Callan Solem approaches the first jump on course.
Bigger and Better
Mark Bellissimo has made a show jumping fan out of Donald Trump, who has done nothing but ratchet-up his support for the sport since getting involved in 2013. The pair produced 2014's Central Park Horse Show together, and Trump has steadfastly worked to improve the Invitational, and support FTI WEF down the road in Wellington. During today's press conference, Bellissimo couldn't help but hint at even bigger and better things to come for the Trump Invitational.
"I think we're going to introduce something a little more innovative next year, a little more prize money, and a more extensive competition given the success we've had," he commented.
The Trump Invitational is an FEI-rated 2* event, and Bellissimo didn't deny inquiries about raising that rating in the future.
It's true that the venue, held annually right on the water at the private, over the top Mar-A-Lago Club on Palm Beach Island, is spectacular, and riders have come to enjoy kicking off the new year with the event. The day also serves as a kick off for the Great Charity Challenge, the annual fundraising night during FTI WEF that supports Palm Beach charities and has raised over $6.2 million dollars for the community.
Make or Break
It became clear in the jumpoff that the final turn to the last fence was the make or break factor between winning and losing. After clearing a liverpool oxer flanked by giant Perrier Jouet champagne standards, the time saver was making an immediate turn inside a Rolex clock and galloping straight on to the last oxer.
For Kent Farrington, who won the Trump Invitational in 2013 and 2014, the class was unfortunately lost in that turn. Aboard the blindingly fast Blue Angel, he ranked the favorite going into the jumpoff, but a slip around that corner and subsequent rail landed him in an eventual 9th place as the fastest four-faulter.
Kraut sang a different tune after the same risk paid off well for her and Cedric. "When I was in the air I thought, you know if I just turn really short and pull him almost to a stop and turn there, it would be better than running all the way around," she explained. "And he was great, he stood up and turned and I think that did it."
Cedric, whom Kraut earned Olympic gold medal with in 2008, has been on great form lately, with a recent World Cup Qualifier win in Wellington.
"I couldn't be more pleased with him," Kraut said of Cedric. "He's 17 but he feels better than ever. I thought this would be a good event for him, I targeted him for this, and he just came through."
Darragh Kenny had a successful day on a new mount, placing 2nd with Fantasy, a nine-year-old Hanoverian. Kenny joked that Cedric was just the faster horse, but his ear to ear smile after the class made it clear that he was thrilled with his result.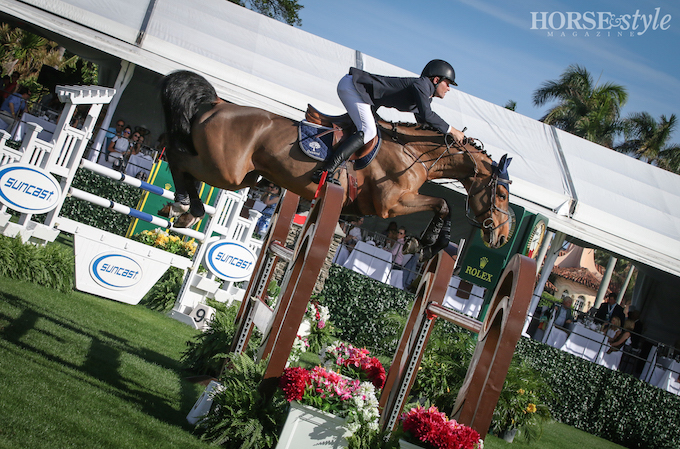 Darragh Kenny and Fantasy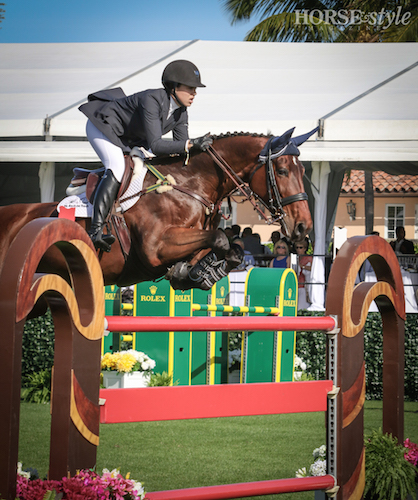 Brianne Goutal and Ballade Van Het Indihof – 3rd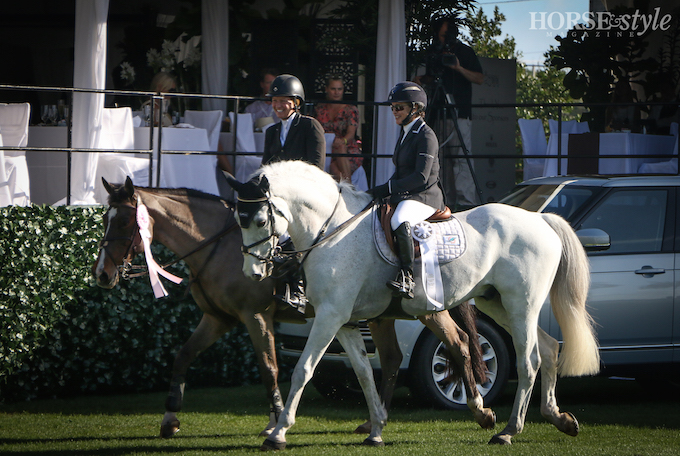 Margie Engle and Indigo – 4th, with Beezie Madden and Vanilla – 5th
A Memorable Week for Simpson
Sophie Simpson started her 2015 off with a bang; all week she participated in the George H. Morris Horsemastership Training Session, which wrapped up on Saturday, Jan 3rd. It was good that she was free today, because she ended up riding to a big victory at the Trump Invitational with HC Woopy 14.
Simpson was fastest in the $10,000 Low Junior/Amateur Owner Invitational Jumper Speed, held immediately after the Trump Invitational Grand Prix. She was thrilled to win at Mar-A-Lago, especially since it was her first year competing at the venue.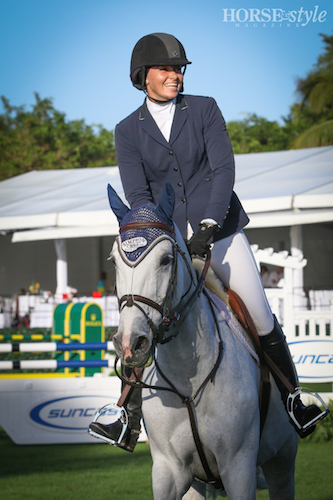 Simpson beamed after moving into the lead.
Thirteen riders competed in the invitation-only, unrated class that gives amateurs and up and comers a chance to ride at the spectacular venue.
Did Simpson hear Morris' voice in her head when she was going around? Naturally:
"'Where are your feet and pick your hands up. Where are your feet and pick your hands up' those are the two things that I for sure are bringing into my everyday riding now," Simpson said.
Simpson fell under Morris' eye again today at Mar-A-Lago, and when she went over to thank him for the week, he had a few choice words, as George tends to have.
"I watched your flat work. I watched it. It was very, very good," he told her, much to Simpson's relief.
It's clear to George Morris and many others that Simpson is one to watch in 2015, and the 17-year-old rider was deeply grateful to the team that she works with under her mother Nicole Simpson's barn, Simpson Show Stables.
"I'm very, very fortunate to have great horses, and I have a great support system," Simpson said. "I really have found that it takes a team to go to the ring and I'm so thankful for mine. I have so many people supporting me and backing me, and day to day getting me to the ring."
You can watch both the Trump Invitational Grand Prix and the Junior/Amateur Speed online beginning at 9:30pmEST at this link.
Top Ten – $125,000 Trump Invitational Grand Prix FEI 2*
Laura Kraut | Cedric | 0 | 0 | 39.96
Darragh Kenny | Fantasy | 0 | 0 | 40.12
Brianne Goutal | Ballade Van Het Indihof | 0 | 0 | 40.67
Margie Engle | Indigo | 0 | 0 | 40.74
Beezie Madden | Vanilla | 78.39 | 0 | 0 | 41.48
Alexander Zetterman | Flecu | 0 | 0 | 41.83
Callan Solem | VDL Torlando | 0 | 0 | 43.10
Gabriela Mershad | 0 | 2 | 46.03
Kent Farrington | Blue Angel | 0 | 4 | 36.81
Meredith Michaels Beerbaum | Atlanta 541 | 0 | 4 | 37.97
Top Ten – $10,000 Low Jr/Am Owner Jumper Speed
Sophie Simpson | HC Woopy 14 | 0 | 57.004
Addison Gierkink | Tiffany | 0 | 58.369
Joyce Green | Cassidy | 0 | 63.369
Andre Mershad | Man In Black | 4 | 55. 060
Kira Kerkorian | 4 | 55.313
McKayla Langmeier | Promised Land | 4 | 56.546
Alex Crown | Basic | 4 | 59.721
Hannah Patten | Love | 4 | 61.587
Hilary McNerny | Oscar | 4 | 65.228