I am a Thoroughbred addict.
I grew up outside of Boston, MA riding Thoroughbreds. I fox hunted, evented, horse showed, played games, all on Thoroughbreds – they have always been my go-to horse. Now, I live in Wellington, Florida, where the Thoroughbred might as well be some mysterious creature that is rare to spot and widely misunderstood. Most people here only see Thoroughbreds playing polo and assume they are hot and crazy, which could not be farther from the truth. I play a bit of polo and jump a little, and most of my quietest horses to ride are actually TB polo ponies. I am certainly not an expert in either area but I love being part of both sports, probably because I am surrounded by my favorite horse, the Thoroughbred.
A few years ago I was playing polo and decided that I missed jumping, so I bought a green OTTB. I named him Liviano (track name Royal Buddy), and with the guidance and training help of Nicole Shahininan- Simpson during season, and the help of my friends all the time, Liviano and I worked our way all the way up to the 3'6" A/A Jumpers at WEF. I sold him last winter and he went on to earn the National TAKE2 High-Score Jumper Championship with his new owners that same summer. I was so proud! Not only did we show, but we hunter-paced, competed in dressage, played a little polo, and even ponied younger horses around our training track at home. Liviano was an all-around horse and a perfect example of what Thoroughbreds are and can do, which in my opinion, is everything.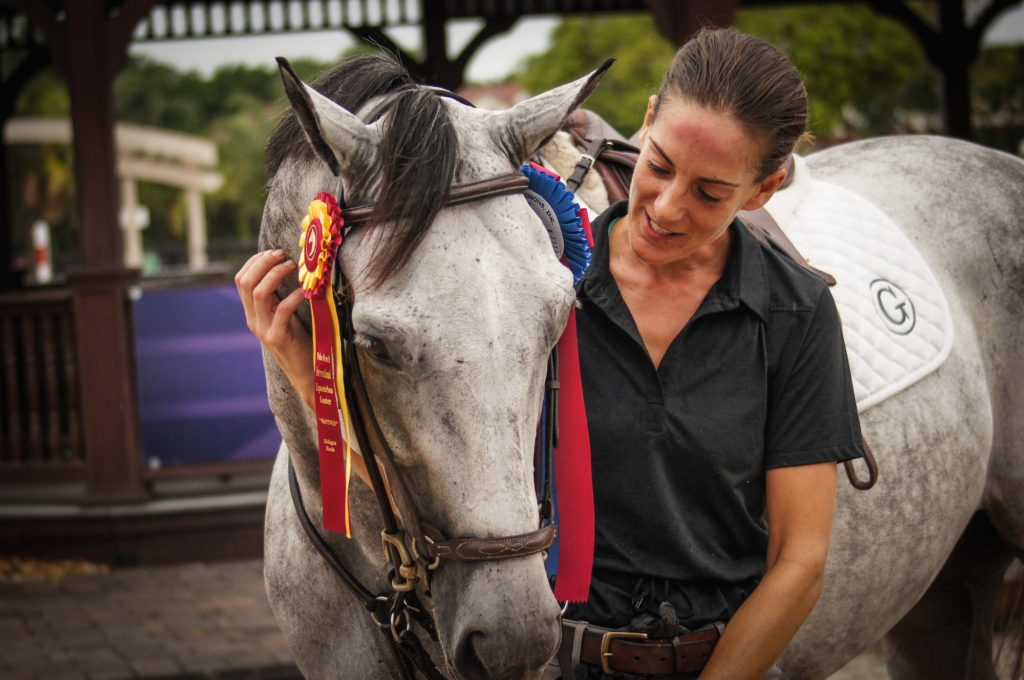 Liviano and I in 2013 after a successful outing at a schooling show.
After I sold Liviano (now re-named Yet-Tee) Nicki told me she had a neat Thoroughbred that I might be interested in riding. Billy was a big, bay four-year-old owned by her father, who is a blood stock agent for racing. Even though he would not have a career as a racehorse, they wanted to keep him and find him a second job. I was thrilled and honored to be asked by Nicki to ride one of her family's horses.
Then, everything changed.
One week after I sold my beloved Liviano, I had a freak riding accident. The horse I was riding slipped and fell without warning, and I hit the ground hard. I was diagnosed with a traumatic brain injury (a bleed in my brain, which luckily re-absorbed), and was sidelined for nine months from riding – and life. It has now been 11 months since my fall and I am still recovering. I would rather break every bone in my body than have a head injury. I am still re-training myself and re-learning basic things every day. I still have some vision issues, a bit of balance problems (probably due to the vision) and slow reaction times. However, I am able to ride again and I have found that riding is helping me improve. And guess what? The first horse I rode, nine months after my accident, was an OTTB! In fact, the only horses I have ridden since my accident have been OTTBs!
So that brings me back to present time. Nicki spends summers in Kentucky and winters in Florida, and when she came back for season, she brought Billy with her. There is nothing like having a project and goals again. Our goal is to participate in the TAKE2 classes at WEF by the end of winter season. Billy is now coming five, he is big, he is cocky, and he is just so cool! These first few weeks that I've been riding him, I've just been trying to figure out my balance, remember how to ride a youngster again and hoping to do the right work for him. Billy is putting up with me and we are somehow both improving (pictured at top, and below during a recent hack on a sunny Florida afternoon.)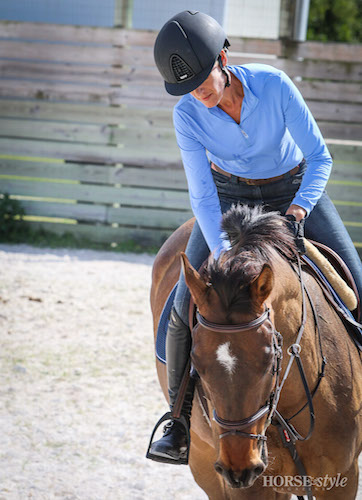 I swear that this is a Thoroughbred thing; once they know and trust you they will take care of you and try, try, try. For example, I will catch myself dropping my hip because I am leaning with my head so I can focus my vision. When I do that I feel that he is drifting his hind end out (too much inside seat bone) but he doesn't get mad at me, he corrects me! I feel like we are both in a TAKE2 program. I am trying to give him a second career after racing and he is giving me a second chance at riding. He tells me when I am riding wrong, and corrects me. He just turned five and he is teaching me how to ride again. Hopefully, I will teach him something too!
Siobhan Gallagher grew up outside Boston, Mass, and spent most of her childhood on the back of a horse. She is an amateur rider with a background in show jumping and polo, and worked with horses professionally for many years before switching careers to real estate. She is currently an agent for Equestrian Sotheby's International, and continues to ride in her spare time. Siobhan is a year-round resident of Wellington, Florida, where she manages an active polo facility with her partner, Ruben Gracida, while bringing along her own personal horses. This blog follows the progress of her newest project, a five-year-old Thoroughbred named Billy.