It's sparkly, it's shiny, it comes in every color…. and it is serious business. Welcome to the world of glitter – more specifically, the business of equine glitter tattooing. When Horse & Style first connected with the UK-based Equidivine via email, we incorrectly assumed that the folks behind all things glitter spent their time turning horses into real life "My Little Ponies" did glitter tattooing as a fun hobby.
We couldn't have been more incorrect. While Michelle and Sean Inch, founders of Equidivine, began their glitter career as a fun side business, but quickly, it very quickly grew to encompass much more, and has a wide reach in the UK. Equidivine has been invited by The Royal Ascot, The Olympia International, and many other top international horse shows in the United Kingdom to "glitterfy" their horses.
When Michelle and Sean heard about the Great Charity Challenge at WEF, they hopped a flight to Florida to show us their talents in glittering. With custom glitter tattoos, many pots of glitter and tattoo glue that they'd brought all the way from the UK (Sean reported that Customs didn't know what to make of them), it was clear that we'd connected with a couple of bona fide glitter experts. Upon their arrival to the USA, we in turn connected Equidivine with the Kerkorian/Couch team that was set to compete for Take Stock In Children in the Great Charity Challenge. As the sun began to set on Saturday night, Michelle and Sean were hard at work preparing the Kerkorian/Couch "Powerpuff" Team for their appearance in the GCC relay. In a night of creative costumes and decorated, the Powerpuffs stood out under the Saturday Night Lights and were even named one of the top three Best Costumes of the Great Charity Challenge!
Check out this behind the scenes look at how Equidivine took a trio of horses from show ready to glitter-tastic.
Congratulations to Isabel Napper/@dappergrey for winning a glitter tattoo gift set from H&S and Equidivine on Instagram. Want your own? Visit equidivine.co.uk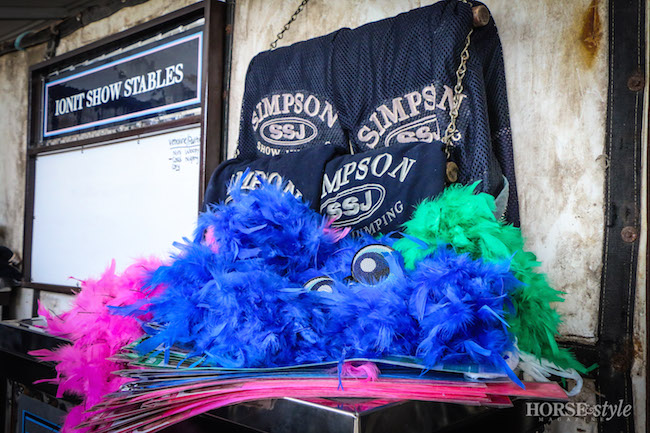 You know it's not your typical horse show night when this is piled in the grooming stall. . .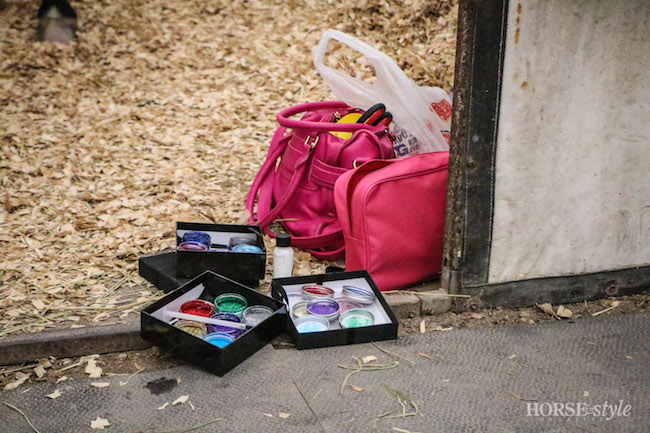 Equidivine glitter tattoo sets, locked and loaded…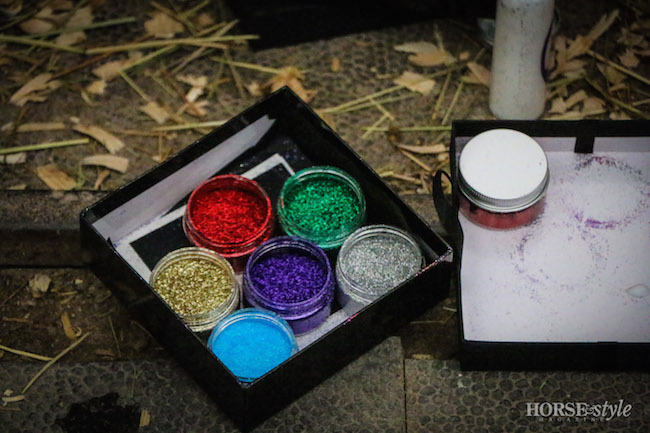 It really is as simple as pots of glitter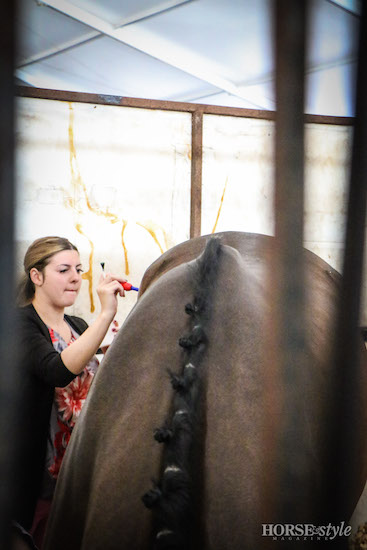 The artist at work on her equine canvas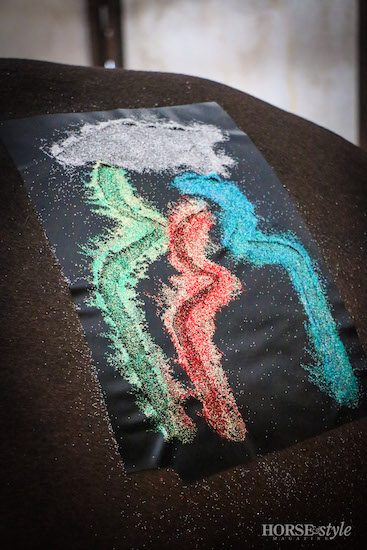 First, the stencil goes on the horse, water-soluble glue is brushed on the design, then the glitter is added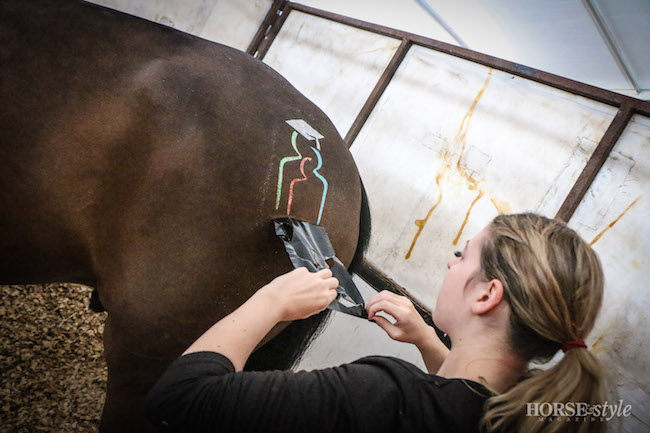 Viola! This was the logo for Take Stock in Children, one of 34 charities that benefitted from the GCC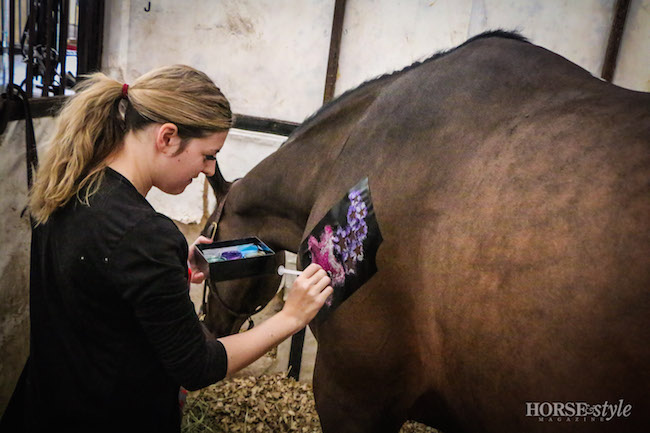 In addition to the charity logo on each horse, Michelle went to town with a variety of color-coordinated designs.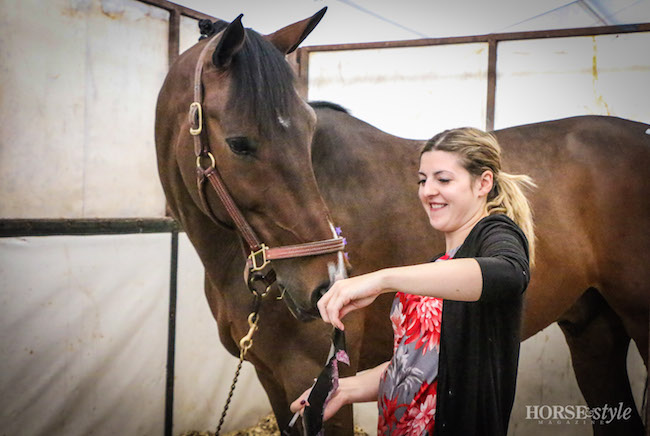 One of the equine "canvases" checking out the lady who was painting them with stencils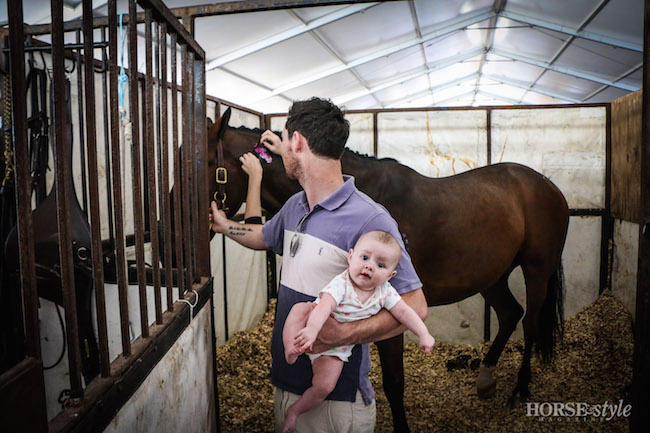 Baby Lilly Mae traveled to Florida with her parents to "help" with the glitterfying. Sean deftly multitasks…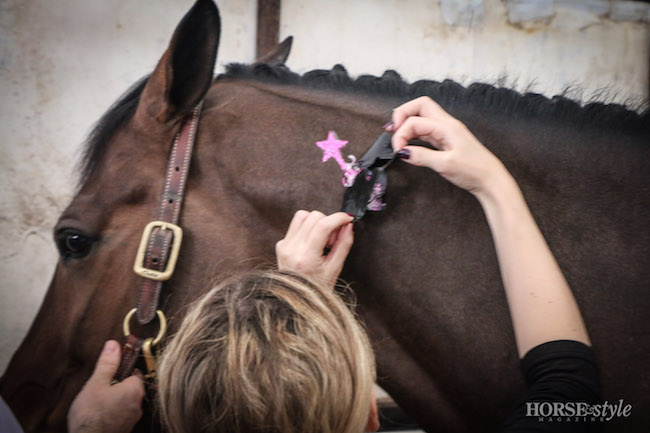 . . . so that Michelle can carefully peel away this star stencil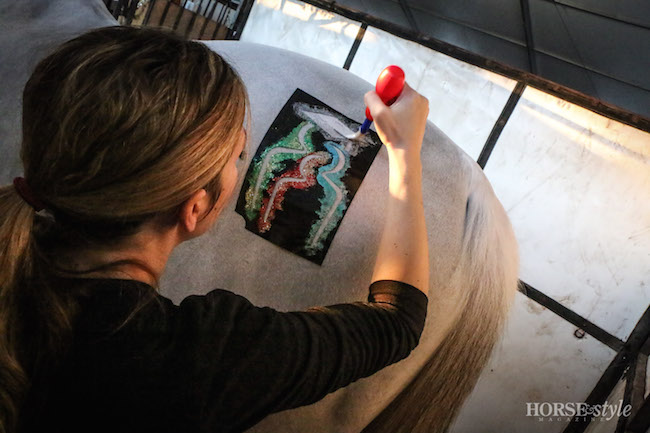 Michelle outfits EV Commander with his hindquarter logo. The entire process took about three hours, but Michelle was able to take her time, rather than rushing before the horse went in to warmup!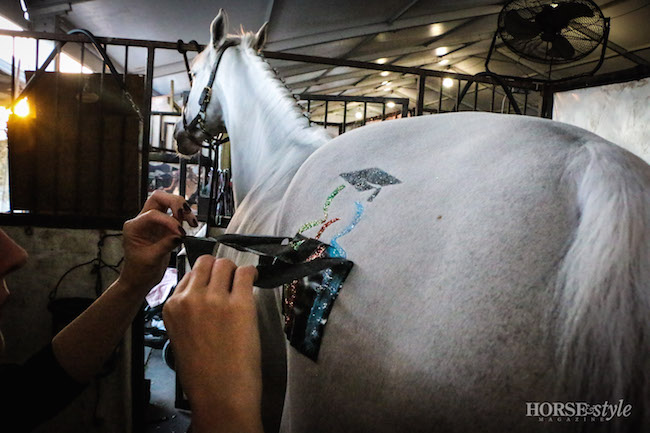 EV Commander's tattoo is revealed.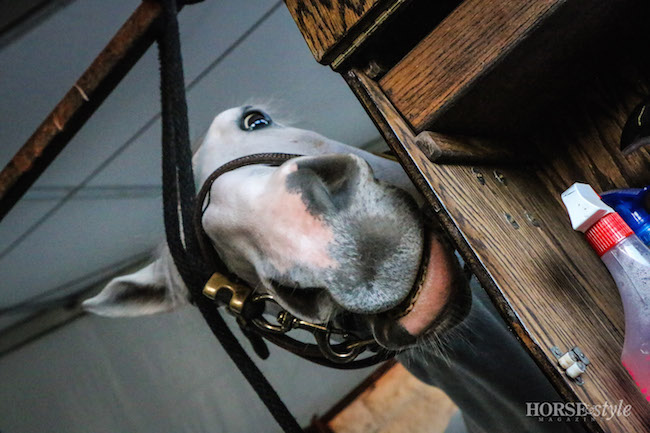 "Let's do this!"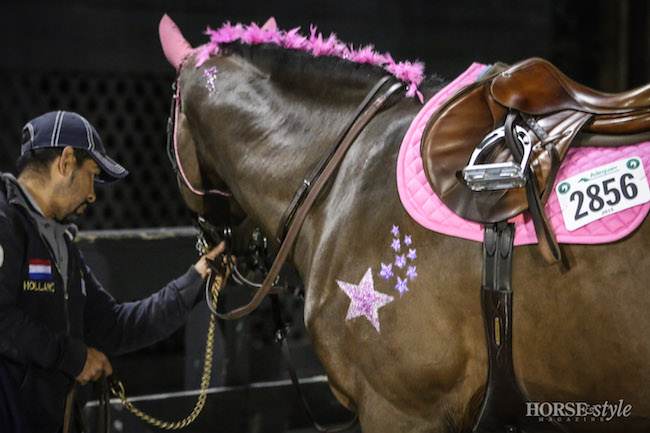 The finished product sparkeled at the ring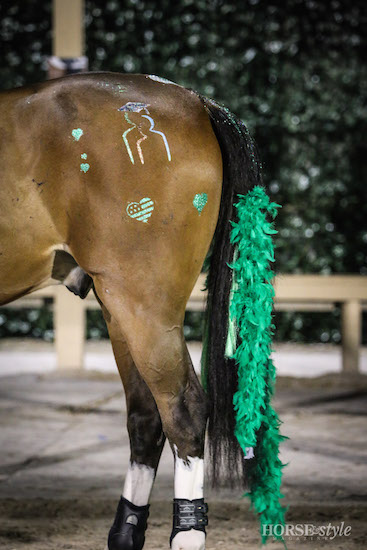 The tattoos wash off with water and soap, and are completely non toxic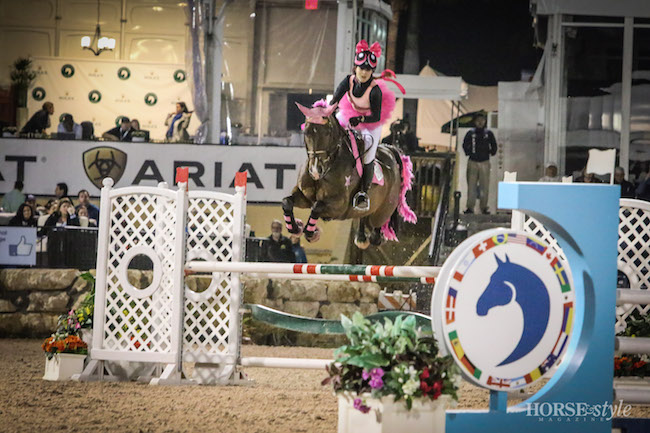 Pink Powerpuff girl Kira Kerkorian sparkles and flies for Take Stock in Children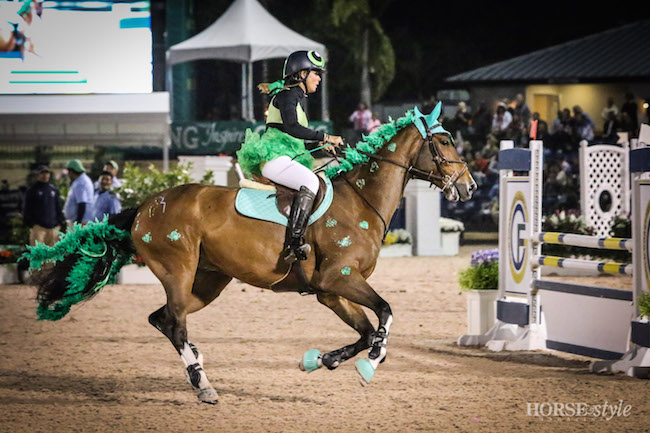 Nicole Shahinian Simpson rounded out Team Powerpuff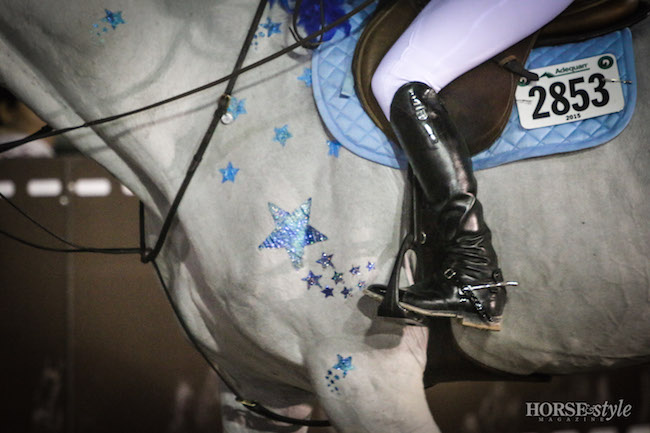 Tara Couch's EV Commander was a shining star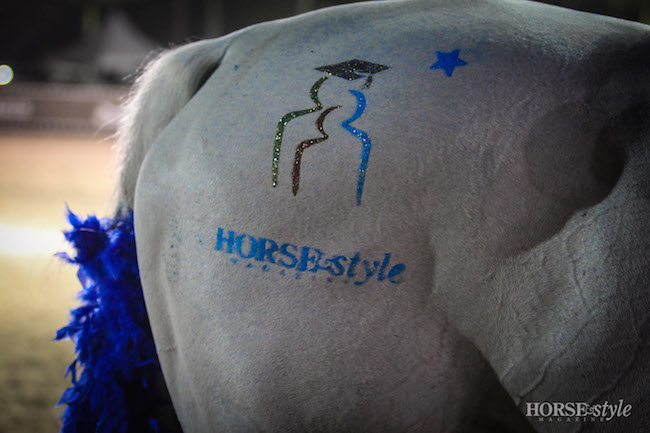 Thanks to Equidivine for letting us get in on the fun!