The Longines Global Champions Tour will launch its spectacular 10 Year Anniversary season in Miami Beach, Florida on April 2nd through the 4th with three days of world-class show jumping. Visitors to this unmissable event will enjoy electric, 5-star sport for FREE as the very best show jumpers in the sport do battle on the beautiful sands of Miami Beach, just feet from sparkling ocean waves.
The event is open to the public, with 1,400 general admission seats free to those on a first come, first serve basis, beginning 30 minutes before the first class of each day. Along the long side of the arena, an open view will allow passersby to view the action as they stroll along beautiful Miami beach, just steps from the ocean.
The exciting line-up of five 5* classes features two highly prestigious competitions. On the evening of Friday 3rd April, the historic $127,000 American Invitational will take place. From Rodney Jenkins, the very first winner of the class in 1973, to Beezie Madden, last year's victor, the roll call of winners of the American Invitational reads like a who's who of showjumping. Created by visionary Gene Mische, the class has a special place in many riders' hearts.
The feature class of the show will take place on the afternoon of Saturday 4th April – the $600,000 Longines Global Champions Tour of Miami Beach Grand Prix – where riders can earn vital Championship ranking points and set themselves on the path to becoming the GCT Series Champion 2015. With 15 events across 13 countries, the Tour is a truly global spectacle featuring the greatest names in the sport.
"I think it's very exciting to have a Longines Global Champions Tour event come to the United States. It's even more exciting that it's bringing a brand new event to a brand new venue. I expect both will be top class, with top international competitors," said Madden, double Olympic Gold medalist, USA No1 ranked show jumper and 2014 American Invitational winner.
"It's very exciting to have a world-class event like the Longines Global Champions Tour coming to North America. I am very much looking forward to competing against the best in the world when they arrive in Miami Beach," said McLain Ward, double Olympic Gold medallist, USA No3 ranked show jumper and 2013 American Invitational winner.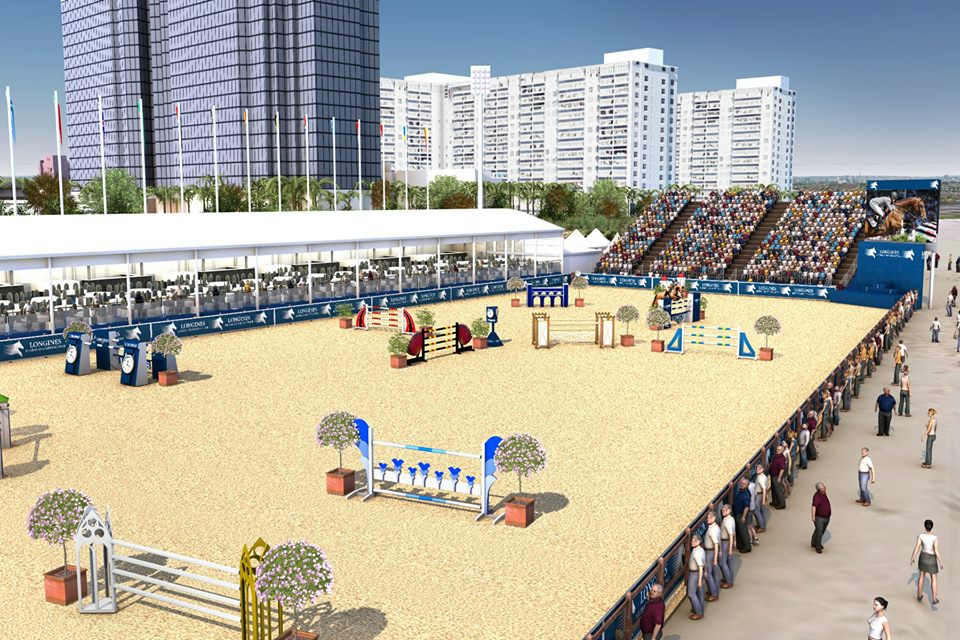 3D renderings of the planned GCT Miami venue promise a spectacular, beachside setting
The 2014 Longines Global Champions Tour saw World No1 Scott Brash retain the overall Championship title after an intense three-way battle between four-time Olympic Gold medallist Ludger Beerbaum and double Olympic Silver medallist Rolf-Goran Bengtsson. Scott and his 2012 Olympic-Gold-medal-winning partner Hello Sanctos proved unbeatable, winning a record-breaking three Grand Prix in the same season.
Longines Global Champions Tour of Miami Beach is set to be one of the showjumping events of the season and you could be there enjoying it all live and for free! For more event information, including the provisional schedule, please visit globalchampionstour.com