They're not exactly scales, and they're not exactly your run-of-the-mill leather. . . but they are always, always a head-turner. Now don't go jumping to conclusions; this is not an "only in Wellington" post. However, we can put Mr. Charles Pinnell's alligator half chaps squarely into the category of "only among equestrians." Pinnell Leather Goods, which is based in Charlottesville, NC but is better known as a frequent East Coast horse show vendor, is known more for its unique, custom half chaps than its other leather offerings, and for good reason. Enter: the alligator skin half chaps. On permanent display at the front of Pinnell's stand at the Winter Equestrian Festival, they are an eye catcher and a conversation starter.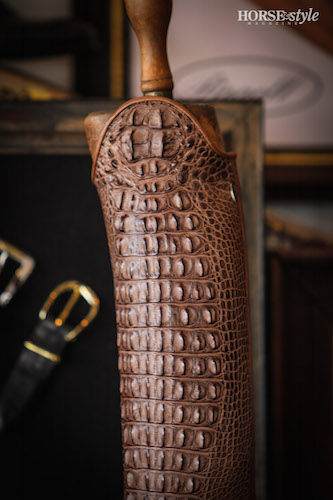 You can browse the Pinnell Custom Leather website for mind-blowing examples of half chap customization, but fancy fringe, carved floral designs, and unusual colors can't hold a candle to real-life alligator hide wrapped round your leg.
Pinnell stocks alligator skin in several colors, and custom measures for each pair of half chaps he creates. One pair will set you back $5,900, and that's before any add ons. So how popular are these bold statement chaps? Pinnell revealed that two bold riders have taken the plunge and gone all-in for alligator half chaps.
So keep your eyes peeled, an alligator may be coming to a warm up ring near you. . . in half chap form!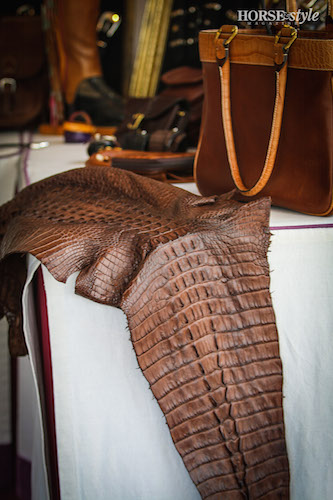 From gator. . .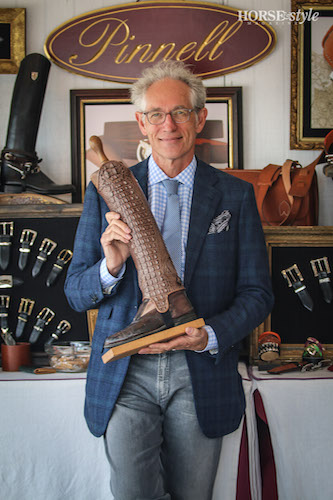 . . . to chap! Mr. Pinnell with his wares