Today was one of those days when working with a young horse paid off. Last week I had a bit of a pity party about not feeling able to school amidst the hecticness of WEF. Fast-forward to the following Tuesday, and it was once again schooling day at the show. I was just planning to school at home when Nicki called to say her father was in town and could I bring Billy over to the show so that he could see Billy school. I couldn't say no to a request from Billy's owner, so I finished what I was doing and headed to the barn.
Well, wouldn't you know it but Billy was a rock star. He was great last week and then this week he turned it up a notch. I still didn't feel ready to school over fences, so I warmed him up and Nicki jumped him. She said he felt even better than last week and her dad said he looked much more ride-able than the last time he saw him. I felt a wave of relief rush over me because I had felt that we were getting better, but to have that feeling validated was amazing.
I have always felt that if you give a green horse enough time to understand what you are asking, you will see a steady progression forward. Every once in a while you might have a backwards day, but typically, if you are patient, they are like a train chuga-chuging up a mountain, slowly and solidly progressing to a final destination.
I have had a few backward days with Billy that were all my fault. Usually when we have a less than optimal day it is because I am pushing him too much and he does not understand what I am asking. He is a bit like a toddler sometimes; if he doesn't understand or gets tired, he might have a mini-meltdown. But when that happens, I believe he's justified in it. While he is young and willing, in that moment I have pushed him past his mental or physical capacity.
Having said that, Billy always comes out the next day as if yesterday never happened, ready and willing to work and try again.
Patience is a key tool when working with a young horse. I believe I was more patient before I got hurt. After my injury I notice that I react too quickly to things that I find frustrating. In riding Billy, I have to make a conscious effort not to react when I am frustrated. I try to take a deep breath and a time-out if needed, and try a different approach. Billy is making me work hard at my recovery, and is helping me heal both physically and mentally.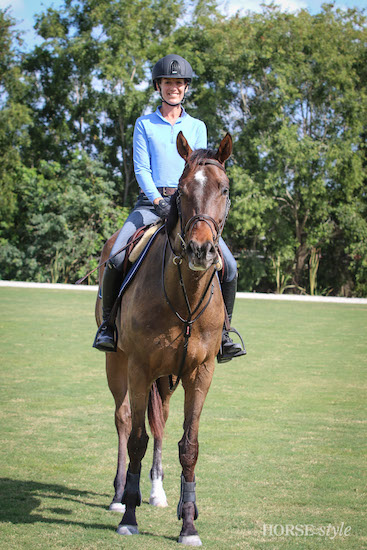 I would never trust another breed other than a Thoroughbred to bring me back into riding. It is as if they know you are fragile and they want to protect you. Billy is helping me become me again. Horse therapy is real and is an amazing thing.
Siobhan Gallagher grew up outside Boston, Mass, and spent most of her childhood on the back of a horse. She is an amateur rider with a background in show jumping and polo, and worked with horses professionally for many years before switching careers to real estate. She is currently an agent for Equestrian Sotheby's International, and continues to ride in her spare time. Siobhan is a year-round resident of Wellington, Florida, where she manages an active polo facility with her partner, Ruben Gracida, while bringing along her own personal horses. This blog follows the progress of her newest project, a five-year-old Thoroughbred named Billy.