What is it like to compete on the Global Champions Tour? Horse & Style asked grand prix rider Paige Johnson, a regular on the GCT circuit, why she makes a special effort to participate in one of the world's best show jumping tours.
Johnson, who just notched the biggest win of her career this past Saturday night in the $127,000 Engel & Volkers Grand Prix CSI4* during the Winter Equestrian Festival's Week 11, is a lifelong rider who trains with Kent Farrington out of her family's Salamander Farm in Wellington, FL and The Plains, VA. She remembers visiting the Global Champions Tour at Valkenswaard, The Netherlands, as a teenager, and being wowed by the experience. "I was 15 and I remember calling my mom from the show and telling her I couldn't believe how amazing it was," Johnson recalls. "Just to see how [the GCT] has grown since then and how many locations it is in now is incredible."
Johnson competed in London, England last year at the GCT Horse Guards Parade venue, and is excited to compete at GCT stop in Paris, France for the first time this season.
"It takes you to places you never thought you'd be competing," she says. "Jan Tops and his entire team at the GCT are visionaries in that aspect. The VIPs are beautifully crafted, the shows are so well run and the atmosphere is fantastic. It truly is another league."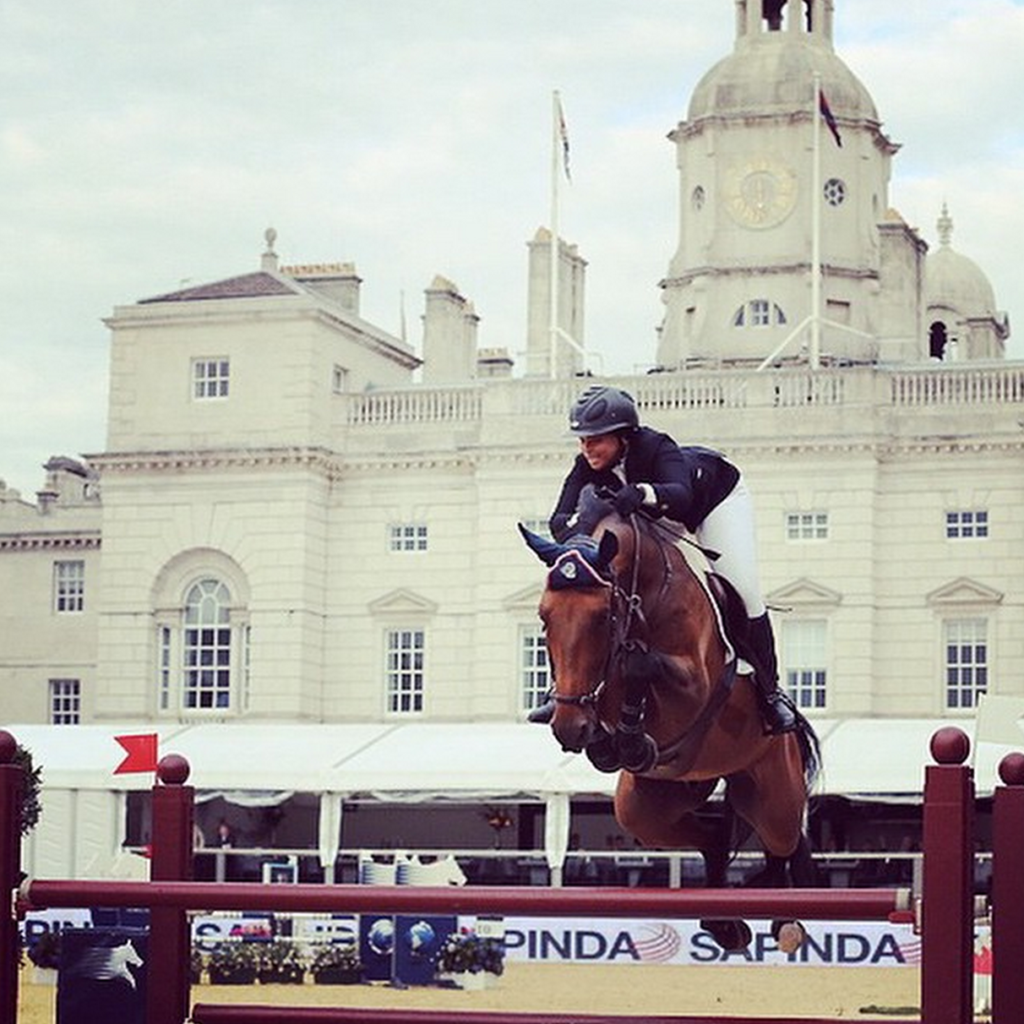 Top and above, Johnson competes at GCT London, summer 2014
With the WEF Week 11 grand prix win under her belt, Johnson is looking forward to competing at the GCT Miami more than ever. The tour will make its US debut in Miami from April 2 -4 with a spectacular venue right on Miami beach. "It's definitely going to be a nice change of scenery!" Johnson jokes. "Who would have thought we'd be having a horse show right on the beach. And the timing in really smart. For the riders who are doing the World Cup [Final, April 15-19 in Last Vegas, NV], they can set themselves up for indoors. It's a great transitional show for them."
Not to mention, an amazing opportunity to watch the best in the world compete. That's one of Johnson's favorite things about the GCT. The quality of riders who flock to the tour's 15 stops are unmatched, and for Johnson, just being around them, not to mention riding against them, is inspiring in itself.
With just two weeks to go until the 2015 Global Champions Tour kicks off in Miami, Johnson is taking the time to rest her top mount Dakota, a 12-year-old Belgian Warmblood mare. Dakota carried Johnson to the win in the Engel and Volkers Grand Prix, giving them both an essential boost of confidence before they tackle the brand new venue in Miami. The coundown is on.