If you are a true horse person and haven't journeyed to Lexington, Kentucky, the Horse Capital of the World, then what are you waiting for? I visited Lexington with my family in 2010 and then again in 2013. During those two visits, we toured six breathtakingly beautiful Thoroughbred stud farms.
Three Chimneys Farm
We toured Three Chimneys both times we visited Lexington, and each time we had a wonderful experience. The stallions reside in a handful of smaller (but gorgeous, of course) barns which end up forming a circle around this portion of the property, with a statue nearby the honors Seattle Slew. Among others, we met Point Given, Smarty Jones, Rahy, Dynaformer, and Big Brown. At the end of our tour in 2013, we were invited to stay and watch a breeding. That was my first time seeing a live cover, and I'll never forget watching Flower Alley strut into the breeding shed like he owned the place!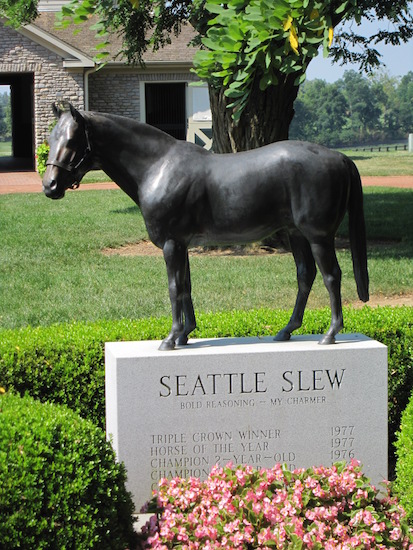 Darley Farm
The tour for Darley Farm was exceptional. We started in the reception area, which was as grand as you'd expect with cascading staircases and large portraits of the farm's champions. Our tour guide was very kind and enthusiastic as she showed us their trophy room, the breeding shed, and pointed out Holy Bull, Bernardini, Medaglia D'Oro, and Street Cry grazing in their pastures.
Ashford Stud
Ashford Stud, in my opinion, wins the "Most Beautiful Farm" Award, which is virtually impossible to give because each farm is absolutely breathtaking. Ashford is so appealing, however, thanks to its very long, tree-lined drive which leads to large, stone barns surrounded by exquisitely landscaped gardens and pathways. We visited Ashford in 2010 and 2013 and had the pleasure of meeting: Fusaichi Pegasus, Giant's Causeway, Hansen, Lookin at Lucky, Stay Thirsty, Thunder Gulch, and Uncle Mo.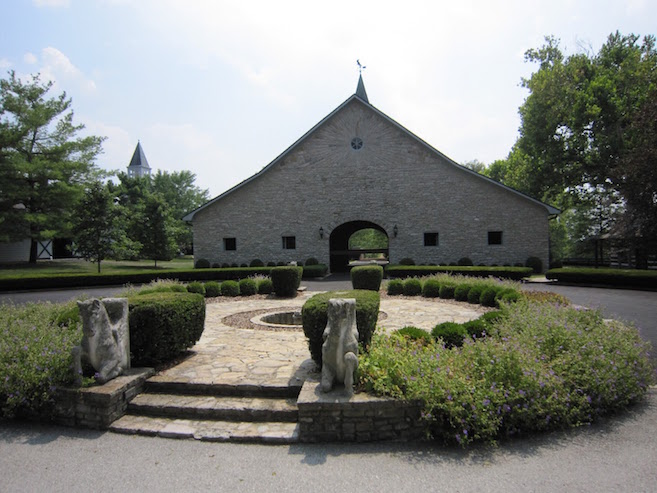 Ashford Stud
Claiborne Farm
When we arrived at Claiborne, it was cloudy and rain was on its way. However, it didn't stop us from touring the farm where the great Secretariat once stood at stud. Unlike the other farms, we were allowed to pet these stallions! We took many pictures with Arch and Blame. I told Blame that while I was NOT happy with him for beating my beloved Zenyatta in the 2010 Breeder's Cup, I understood that he was just doing his job. I'm sure he was quite relieved to hear that – ha! After the tour, we ventured into the graveyard where Secretariat is laid to rest.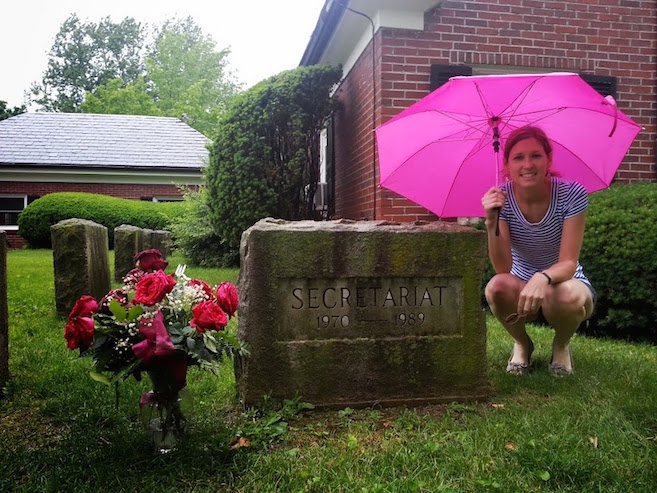 Secretariat's final resting place
Darby Dan Farm
Darby Dan does not offer tours, but, long story short, it was a 'right place at the right time' sort of situation. Earlier in the day, we met someone who knew someone, and before we knew it, we were at Darby Dan Farm having a personal meet-and-greet with our main man, Shackleford! The Shack was waiting for us when we arrived, and the stallion manager graciously answered all of our questions and allowed us to pet him as well! It was a dream come true as my family adores their Shackleford! We watched him win the 2011 Preakness Stakes in person and enjoyed following his career.
A trip to Lexington won't be complete without a tour or two of some of the nation's top breeding facilities. Even my husband and step-dad, who are not 'horse people,' loved seeing these picturesque farms and meeting champion Thoroughbreds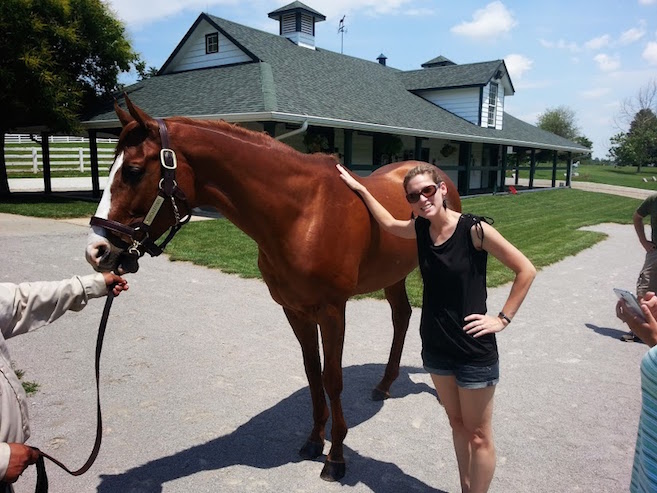 With Shackleford