It's not everyday that a rider enters the world stage as a rookie and gallops out the winner. But in one round at this summer's Alltech FEI World Equestrian Games in Normandy, France, that's exactly what Bertram Allen did.
The 19-year-old from County Wexford, Ireland, could have been forgiven a nervous moment or two as he was ushered toward the ingate of d'Ornano Stadium. After all, he was the youngest and least experienced member of the Irish team, appearing in his first international world championship team competition.
But when he entered the arena, it was without a shred of hesitation. He handily won the first leg of the 2014 World Equestrian Games, riding a no-holds-barred speed round aboard Molly Malone, a horse he had brought up the levels himself, topping a staggering start list that was, by definition, made up of the best 153 riders in the world. By the end of the week Allen would finish his first WEG squad appearance as the best Irish rider and 7th individually in the world.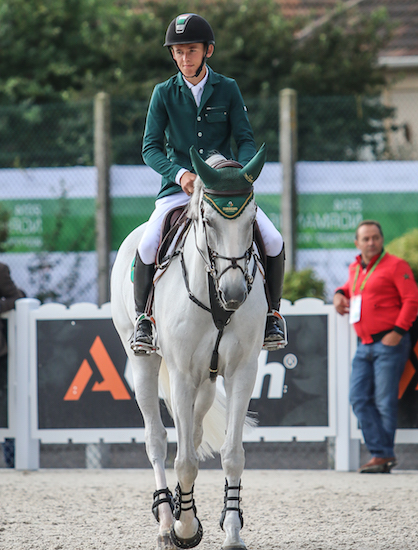 Allen and Molly Malone competing at WEG in September, 2014. Photo ©Shannon Brinkman
So no, Allen isn't affected much by high-pressure moments. "I'm lucky in that I don't get very nervous," he remarks. "At times you get a little bit of nerves and that's only natural, but I'd never be scared of taking on something. You either have that or you don't."
Allen unquestionably has "it," even if his heavily lidded eyes tend to give the impression that he's only half-paying attention to the task at hand.
BIDING HIS TIME
Nothing could be farther from the truth. The Irish have taken notice of Allen since he began setting records as a pony rider. He blazed a path through the pony jumpers before moving on to a storied junior career. All the while it was as if he was merely biding his time until he could age into the international divisions.
Within weeks of his 18th birthday, Allen officially burst onto the international stage, fittingly claiming his first international victory at the 2013 Dublin Horse Show. It was a homecoming for Allen, who moved to Germany when he was 16, and hadn't competed in Ireland in three years.
Since then he's been called the next – well, you name it. The next Eddie Macken. The next McLain Ward. The next Marcus Ehning. That latter is with whom he trains; Allen is based just down the road from Ehning in Hünxe, Germany. Allen spent his formative years training with Con Power of Ireland, as well as Irish rider Billy Twomey, with whom he now rides side-by-side on the Irish team.
Before Allen rode the great Romanov to a heartstopping second place in August's famed Longines King George V Cup at Hickstead (coming within a millisecond of Beezie Madden's winning time), the 16-year-old stallion by Heartbreaker, was campaigned by Twomey. The plan was always for Romanov to eventually go to Allen, when he was ready for an experienced horse that would show him the ropes during his first year at the international level. All the while, Allen has been bringing along his younger stars, including WEG partner Molly Malone, a 10-year-old KWPN grey mare that the Allen family purchased as a five-year-old.
"Molly means a lot to me," he says of her. "She's quite strong, so I try to just go with her. She's got such a great attitude, a will to win and a great finesse. I'm very fortunate to have her in the stables."
Allen is also fortunate to have the support of his family – both of his parents are successful in business – which allowed Allen a string of competitive horses growing up. His family still lives in County Wexford an hour south of Dublin, and his younger brother Harry is currently following in Bertram's footsteps as a champion pony rider.
With a baby face that is always noticed and often remarked upon, Allen himself could still pass for a child rider. Even now at the age of 19, he looks closer to 15 in appearance. It's ironic then that he's looked at as an old soul who possesses the kind of insight into horses that others spend a lifetime trying to cultivate.
NO FLASH IN THE PAN
Three years in Germany haven't changed the sudden "r"s in the Irish accent that mark Allen's sentences. He runs his own yard of 18 horses, among them Barnike, the seven-year-old mare that Allen guided to become the first pair in history to net back-to-back wins at the FEI World Breeding Championships for Young Horses at Lanaken in 2014.
No matter their status, all the horses get ample time in the paddock. As if there was any doubt that Allen was more than a flash in the pan, in November he competed in his very first FEI World Cup League Grand Prix, at the CSI5* in Verona, Italy. After winning the Friday welcome, he jumped double clear aboard Molly Malone and won the Grand Prix of Verona CSI5*-W, a stunning achievement, once again, for a rookie.
Allen is matter of fact when he describes that the 2015 FEI World Cup Final wasn't necessarily a goal of his, but now that he has "a few points on the board," he might make a go for it.
American audiences would be so lucky to see this young man compete at the 2015 Final in Las Vegas, Nevada. Allen has yet to appear on U.S. soil, but that, much like Allen's next big milestone, is inevitable.
This article was originally published in Horse & Style Magazine December/January 2014/2015. To read the latest issue of Horse & Style Magazine now, visit this link.