When 19-year-old Bertram Allen rider and his grey mare Molly Malone V beat out Thursday's impressive field of 39 other horse-and-rider pairs, it tempted thoughts and remarks to credit the win to a little luck – both the Irish and the beginner's kinds. But while this year's Longines FEI World Cup Finals may be the young Irishman's first, his commanding clear round, clocking in at 65.45 seconds in the opening speed round showed the skill of the rider and his trust in his longtime mount.
"Molly is a strong character, [I] know her quite well," Allen revealed following the inaugural class. "Even this morning, in the arena, she was running away with me, and I wasn't happy with her at all." But once she stepped into the warm-up ring before their round, Allen could feel her readiness to perform. She was a different horse, he explained.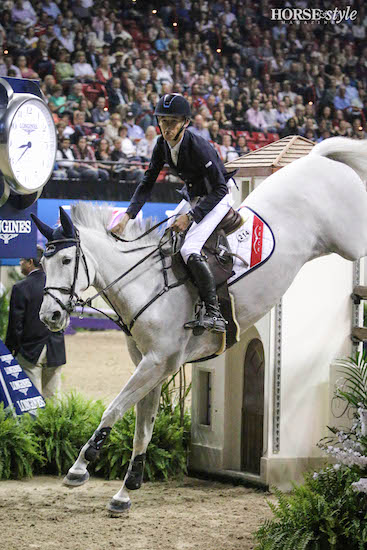 Allen and Molly Malone fly over Fence 2
So as the slight framed rider, aboard his 11-year-old Anglo European Studbook (AES) horse entered the arena as the 32nd to compete, the two approached the course and its questions in a calm, albeit aggressive, manner. Allen rides with an uncanny, natural instinct that keeps the rails up and the time short. 
A hard-earned second place went to Rich Fellers and another 19-year-old Irish competitor – America's favorite chestnut stallion Flexible. Just one round apart from Allen's, theirs clocked in at 66.11 seconds. At times in the course, it felt as though the Irish Sporthorse and his longtime partner were logging better time. As the pair cleared the triple combination without fault and headed toward the Las Vegas plank jump, the crowd of 7,802 released a roar of approval that rang through the Thomas & Mack Center.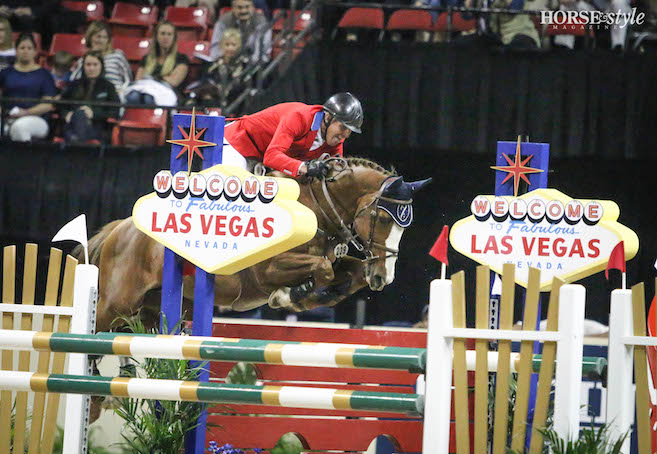 Flexible and Fellers are crowd favorites in Las Vegas
Flexible noticeably lost concentration, his eyes rolling toward the stadium seating as the next jump quickly approached. It was only for a moment, but it could very well have cost the pair the win. Still, second is a comfortable place to sit leading into Friday's phase of competition. When asked about his expectations of his mount, Fellers replied, "I have to say, I wasn't so surprised [of his performance]. He feels as good as he's ever felt, and the crowd took four or five years off his age."
That said, it was uttered often throughout the night that a Round 1 performance can't win the Final, but it can lose it. The latter applies to the veterans such Marcus Ehning and Edwina Tops-Alexander, and to Katie Dinan, all of whom retired after various mishaps on course. But for Allen and Fellers, the show continues with Sunday's ultimate title within eyesight. Riders like Patrice Delaveau and Jur Vrieling (the two riders that tied for third in Round 1) will surely give them a run for the prize. And since it's all happening in Las Vegas, it's only fair to tip off the betting types that at this point, it's (nearly) anyone's game – from the front runners to the ones keeping steady in the middle of the pack.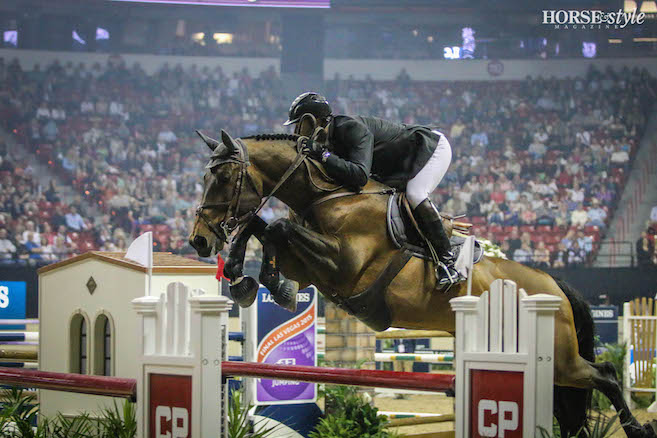 Patrice Delaveau and HDC Orient Express of France finished equal third with Holland's Jur Vrieling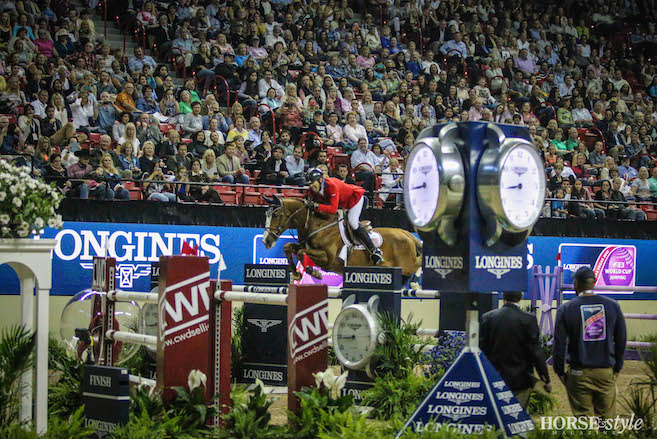 Rich Fellers and Flexible sailed over the final fence in front of an adoring crowd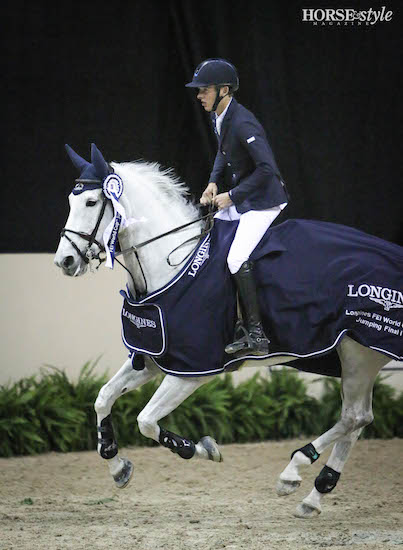 Bertram Allen showed American audiences what a talented rider from Ireland can do.