Here in Las Vegas, my luck is running high. Not only do I get to attend my first World Cup Finals ever but I am going as a Horse & Style Magazine Social Media Intern. I have been working with Horse & Style Magazine, creating online and magazine content for several months. So when Editor of Horse & Style Magazine, Erin Gilmore, offered me a chance to be a part of the H&S press team at the Longines FEI World Cup Final in Vegas, I knew I had hit the jackpot. I had planned to attend with my family, but going as part of the press corps offers a unique perspective on one of the equestrian world's most prestigious events.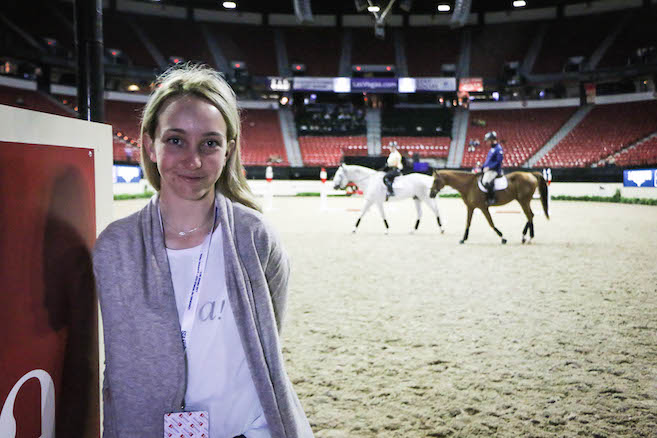 Getting a behind the scenes look at the ingate area on Thursday.
I arrived on Wednesday, fully armed with camera, computer and hand held recorder at the ready. I wanted to make a good impression since Erin had taken a gamble on me. Admittedly, I was a bit nervous. Not only because this was new territory for me, but because I am only 15 years old and among the youngest of the press corps, no doubt. Having staked out my position at the rail to capture photos of the warm up Wednesday morning, I was starting to relax… just a bit. But then, I made the unfortunate decision to pop open a Coke. What could possibly go wrong?
My stars must have fallen out of alignment because the coke exploded all over me, my equipment and my professional attire. All the while, the best show jumpers in the world looked on from inside the ring. Note to self: next time, don't aim the exploding Coke at your camera or computer. After the initial embarrassment had passed, I realized this explosion was a metaphorical reminder to not take myself so seriously. The pressure I had been putting on myself would only get in the way of me doing a good job.
With that behind me, I resolved to stay calm and cool going forward, and it paid off in spades. On day two, I met up with H&S Staff Contributor Esther Hahn and Erin to get my press credentials. Being with them gave me a chance to really ask for advice and observe them in action. Erin had me shadow her as she interviewed American show jumper Laura Kraut. Everyone knows how decorated Laura is, but most impressive was how humble and gracious she was when she spoke about her fellow competitors. She knows everyone at this level is good and it's anyone's Cup to win.
Later, in the press office, while watermarking photos, uploading to Instagram and Twitter, I heard Erin casually calling Marcus Ehning to set up an interview. Marcus Ehning! And in the evening, during the speed round of the World Cup I was set up at my press table with 3 devices. One for Twitter, one for Instagram and one for research. I was given the task of manning the Twitter feed and uploading photos during the event. I wanted to focus as much as I could on style and atmosphere rather than a play by play.
Erin and Esther have been such great mentors for me that this alone was worth the trip. Observing Erin in an interview really helped me understand what more I can do in my own interviews.  They are teaching me how to organize my day when covering a big event – you have to rest in the morning and to be up all night.  And, I won't forget Esther's #1 rule of journalism: "always take  advantage of the free food!" My experience as Horse & Style Magazine's Social Media Intern has been outstanding and we've only just begun.